GreenHouse Lab Set to Launch Demochella
GreenHouse lab, Nigeria's first female focused tech accelerator program, set to launch "Demochella", a demo day where each companies get to pitch the various problems aimed at solving. The launch is set to happen on 17th Nov, 2018 at Vibranium Vally in Ikeja, Lagos, Nigeria, with prominent venture capitalist.
About Greenhouse Lab
Greenhouse lab is a group of five female lead companies comprising "Bitmama", "Bankly", "AMPZ", "Allpro" and "Nicademia" each with different problems they aim at solving.

 Bitmama is a crypto-fiat exchange that allows customers and trader to buy and sell Bitcoin, Ethereum and other digital currencies in Africa while also offering institutions and professional the ability to trade a variety of digital currencies on a regulated exchange.

Bankly is a global based digital saving and peer to peer transfer product that allows users fund their wallet using tokens available on Bankly vouchers nationwide in a recharge to save model.

AMPZ is an online media platform that connect the Africa sport ecosystem from grassroots using mobile and web technology with aim to bring Africa 928 million sports enthusiasts together.
Allpro is an end-to-end lending platform for schools in Nigeria. Allpro's solution underwrites credit risks for lenders while making financial-access easy for various users in the school ecosystem including school owners, parents and teachers.
Nicademia is a video streaming and content distribution animation company for promoting the culture and languages of Nigeria and other African countries with the mission to prevent the extinction of Nigeria and Africa languages as well as create market for Africa Animation.
The main discussions will be focused at each company pitching the various problems they aim at solving and unleashing the potential of Africa. This with no doubt is a remarkable feat as it will cause a great deal of diversity and a great thing that women are getting involved.
The more problem solved, the more impact is being made. So if you are in the neighborhood, join in by registering for free here
Lagos Binance Meetup: Exposing The Community To The Binance Ecosystem
When it comes to serving the people, Binance employs a start-to-end approach, from helping users learn about crypto to giving them a cryptocurrency exchange platform they can securely and conveniently use. This is why a Meetup was put together. find out more about the Binance Ecosystem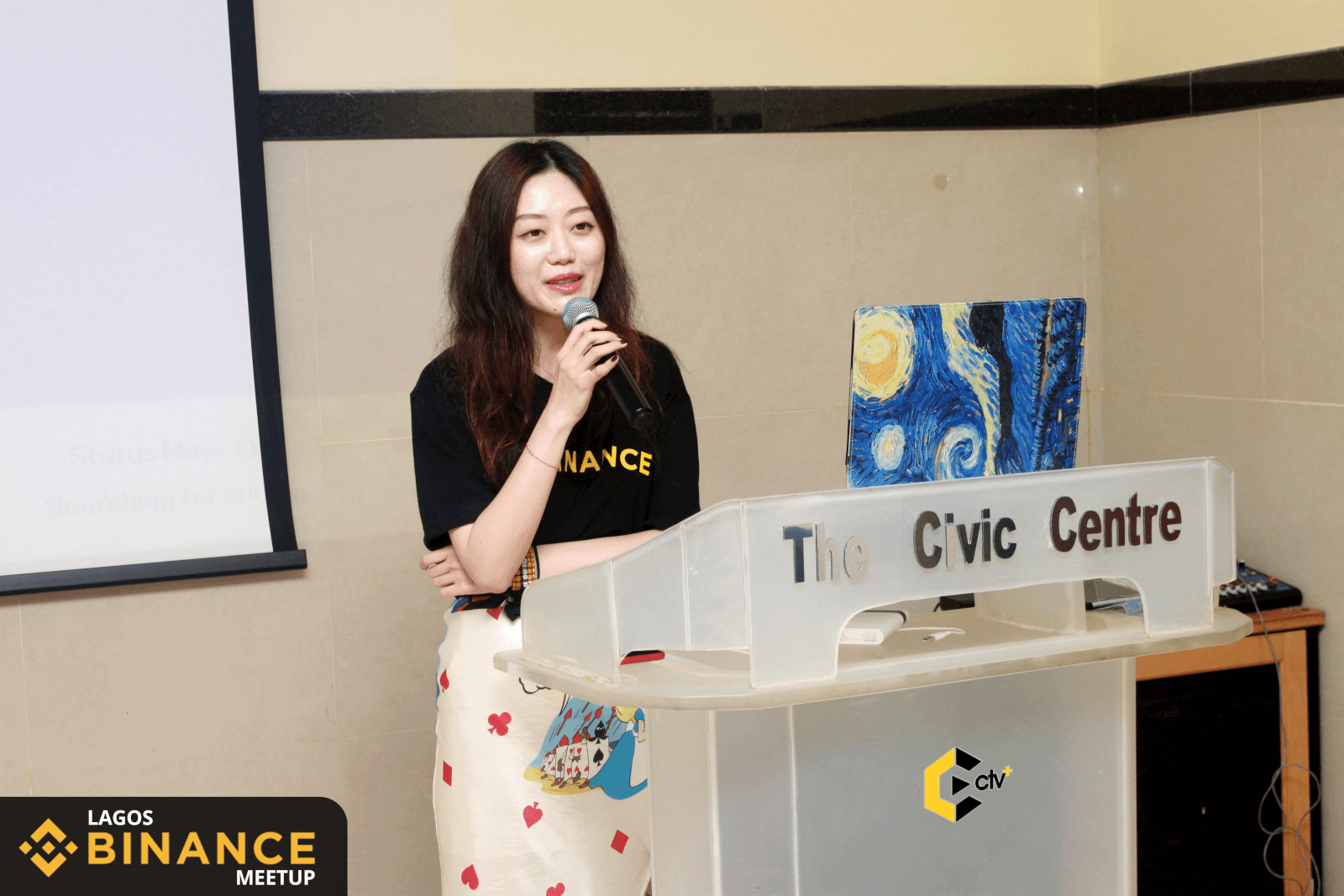 The yet unbelievable transition process for Binance from being a startup to making a global impact not just as the world's biggest cryptocurrency exchange, but also as a recognized conglomerate in the creation of blockchain infrastructure.
"Spreading the freedom of money!"
The above is the supposed reason behind the milestones as put by the team.
In a statement from the Binance medium handle, the Binance crypto exchange may be the number one in the industry, but the team does not regard it as the only source through which she hopes to achieve global financial freedom. Hence, the introductions of the Binance ecosystem.
The Binance Ecosystem features numerous avenues through which Binance Global hopes to initiate change. As you might already know, the Binance Exchange, Binance Academy, BinanceInfo, BinanceLabs, Trust Wallet, Binance Charity stand as pillars of change for the blockchain Giants.
In the recent weeks Binance had set out to create more awareness of its ecosystem and one of the media used is through meetups.
Just on Saturday 25th of May, Binance Held its first Nigerian meetup in Lagos Nigeria. The meeting started immediately after the just concluded Lagos Blockchain, AI and Digital Asset Conference 2019 together by the blockchain Nigeria User Group.
While it featured trading testimonials of users of Binance exchange, it also served as a medium to draw the attention of community members to the endless possibilities with the Binance Ecosystem.
Athena who represented Binance Charity was available to officially welcome the community members and also expose the several pillars of the Ecosystem to participants.
Binance Exchange: Blockchain and Crypto Asset Exchange
Binance Exchange is the first working expression of what freedom of money looks like: secure, robust, and fast. Since day one, Binance set out to present the best way for people to exchange a wide selection of worthwhile cryptocurrencies. But even at its pole position, the exchange is still adding new features and strengthening existing ones, including an upcoming all-around blockchain ecosystem. For as long as there is a better, more free way for people to use their money, Binance is at the forefront of bringing it to the people.
Binance Labs: Incubator for Top Blockchain Projects
Binance knows that the path to a blockchain-powered future is a unified front of innovators, so it's important to create opportunities for them and unleash their full potential. Binance Labs was born to support top blockchain BUIDLers and value-creation projects.
Binance Launchpad: Token Launch Platform
As a strong supporter of blockchain startups, Binance recognizes that some of them are better off being directly granted the right funding, advice, and connections, while others have established solid plans and just need a wide-reaching platform to launch their ideas. At Binance Launchpad, great projects that make it through our rigorous vetting process are given the resources to use the Binance platform to launch their token and raise funds along the way. This platform is a great boon to these startups, given its ease of use and top-notch security.
Binance Info: Cryptocurrency Information
Binance became the world's leading cryptocurrency trading platform because we offer a wide list of coins and tokens that are worthy of trading. This places us in a unique position as one of the trusted sources of information when it comes to cryptocurrencies that are in the market. Now that we have established support systems for cryptocurrencies and blockchain companies, the next step for fulfilling our vision is equipping all users with adequate information about blockchain
Trust Wallet: Binance's Official Crypto Wallet
When it comes to serving the people, Binance employs a start-to-end approach, from helping users learn about crypto to giving them a cryptocurrency exchange platform they can securely and conveniently use. We further extended that service level to the storage space, with the recent addition of Trust Wallet to the Binance team. Trusted by hundreds of thousands of users, Trust Wallet empowers people to extend the secure and convenient user experience they have on Binance down to the mobile wallet level.
Blockchain Charity Foundation: Decentralizing Worldwide Poverty Alleviation
Empowering people through blockchain goes beyond equipping them with the needed tools and knowledge. Blockchain can — and should — be used to improve the welfare of mankind more efficiently and directly. At Binance, we believe in using blockchain for social good and bringing forth the end of poverty worldwide. That's why we laid the groundwork for a decentralized charity with the creation of the Binance Charity Foundation (BCF).
The event featured a lot of testimonials from Traders and users of the Binance launchpad, with all of them explaining how users can gain maximally from participating in the various listed project on the Binance Chain.
In other news, KubitX One of Africa's foremost home-grown exchanges has sealed a ground-breaking deal with Interswitch.