Blockchain Saturday: Nigeria's Most Prestigious Crypto Event!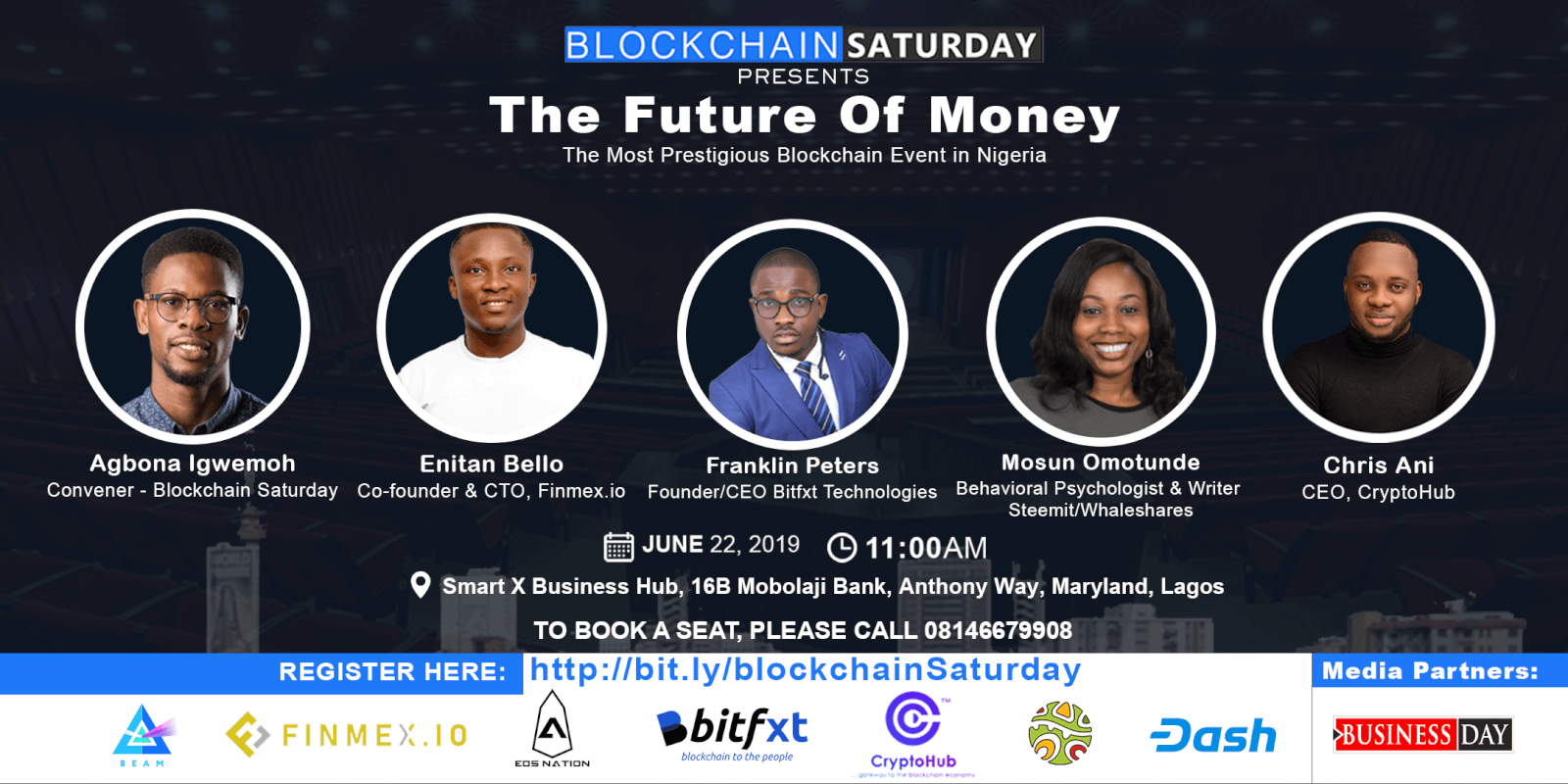 The much anticipated prestigious blockchain event, Blockchain Saturday is set to return in Lagos, Nigeria. We are proud to announce that the 6th edition of The Blockchain Saturday event is here. After weeks of planning and execution, most of our plans have come to fruition, most of which centres around the venue, speakers and of course sponsors.
The theme for the event is "The Future of Money" and it is safe to say that despite the progress Bitcoin and Cryptocurrencies have made over the years in going mainstream, there are still millions who doubt blockchain and cryptocurrency, and there are a whole lot more who are oblivious to this space entirely. So, the conversation about the history of money is super important, as it tells the story of where money is heading.
About Blockchain Saturday
Blockchain Saturday is a periodic meet-up where renowned experts, industry leaders and practitioners, as well as enthusiasts, within the blockchain and cryptocurrency ecosystem come together to synergize, share ideas, and network. This gathering is to facilitate the cross-pollination of ideas to drive towards a more sustainable blockchain ecosystem in Africa. At Blockchain Saturday, it is our belief that the idea of the next disruptive project similar to Bitcoin, can be conceived at this meetup, and for that reason, every idea is worth considering as we work together towards the nurturing and development of projects that will later become products that will solve real-world problems.
We all can create an enabling environment that is geared towards learning, and against the imposition of ideas on participants.
So, What is the Future of Money?
Bitcoin has left a remarkable dent in the future of money, and at Blockchain Saturday, we are always exploring ways to better leverage the disruptive power that blockchain and cryptocurrency offers. And we are excited that the speakers' line-up to make presentations at the event will be speaking in line with this theme, with their respective projects in mind. They will be sharing their unique crypto journey, and how far they've all come, and the plans for the future.
The speakers we will be having the privilege of listening to are:
MEET THE SPEAKERS
Chris Ani
Founder, CEO CryptoHub
You can't mention the top personalities in the cryptocurrency and blockchain space in Nigeria without mentioning Chris Ani. The Founder and CEO of CryptoHub is a well-respected figure in the space, CryptoHub, which is one of the many arms of Digital Abundance is a platform focused on Bitcoin, blockchain and cryptocurrency trading education.
It's a place where highly skilled tutors train newbies on important areas of the crypto world. It is hard to ignore the strides Mr Chris and his team have made in the space since their emergence, in enlightening interested people about cryptos.
The serial entrepreneur and author of Crypto 101, will be speaking on the title of his book "Crypto 101" which is focused on the newbies that have limited knowledge of cryptocurrency.
Enitan Bello
Co-Founder, CTO, Finmex.io
The need for technical people in the blockchain space can never be overemphasised, as they are the builders of any sustainable system. Mr Enitan is a seasoned developer, who also serves as the CTO on the Agricultural project – Agricblock, a project that aims to create a successful marriage between Agriculture and Blockchain technology, hence opening up a new market to an endless flow of possibilities.
Finmex.io, which is a peer to peer digital assets trading exchange that aims to provide cutting edge solutions to the challenges exchanges currently face. Enitan is the Co-Founder and CTO of this promising project, and he will be discussing the role crypto exchanges will play in the "The Future of Money"
Toju Kaka
EOS Nation Ambassador
Toju Kaka is the Africa Community Manager for BOS and an EOS Nation Ambassador working to facilitate the adoption of EOS in Nigeria. His newest venture EmpowermeEOS is a social enterprise that is helping marginalized young people earn EOS based tokens.
Prior to his engagement with BOS and EOS, Toju Kaka got his fame in the Nigeria blockchain space via Steemit (a blogging platform built on the Steem blockchain). Where he was one of the reputable Steemians in the country.
During the forthcoming BCS event, Toju Kaka will be speaking to the role the projects he represents (EOS/BOS) are going to play in the next monetary revolution.
Mosun Omotunde
Behavioural Psychologist & Writer, Steemit/Whaleshares
Everybody loves Mo, as she is popularly called across the Maschains (Steemit, Whaleshares and Trybe). A behavioural psychologist by training and a writer, Mo is actively engaged in the Mas-chains where she actively participates several communities and gets rewarded for her efforts.
She earns from creating content and blogging on platforms like Steemit, Whaleshares and a few others.
She will provide tips on how to earn cryptocurrencies by content creation on the blockchain, and she also will share some insights on how community activities can become a rewarding endeavour.
Franklin Peters
Founder/CEO, Bitfxt Technologies
Franklin Peters is the Executive Director Peters Blockchain Consults, Co-founder Billionairescode business club and the Founder/C.E.O Bitfxt. He is a Visionary leader and a business mentor and coach. He has a vast knowledge of Blockchain and cryptocurrency, financial intelligence and asset management.
He will be speaking about "Blockchain, the New Economic Goldmine" his discuss will be an offshoot from his project "Bitfxt" which is truly leveraging blockchain technology in solving our everyday transactional needs.
This promises to be an insightful discussion as Bitfxt are doing some exciting things in the financial space with their coin, and some innovative ways as to how it can be utilized.
Steven Moses
Jamaa Lead Ambassador
Also known as the "The Blockchain Pastor" Steven Moses is the founder of Blockchain Chapel which has a strong presence across the mas-chains (Steemit, Whaleshares, Weku Easysocial). Being a strong personality on these platforms, Blockchain Chapel rewards posts that are centred around Christianity, love and peaceful and harmonious living.
He recently became Jamaa (a new content rewarding platform) Lead Ambassador for the Nigerian communities. And he will be Introducing Jamaa to the participants of the event.
Nathaniel Luz
Lead, Dash Nigeria
Nathaniel Luz is the Lead for Business Development, Dash – Nigeria. He is a Chief Player in the Blockchain space in Nigeria. He serves on the advisory boards of many remarkable Fintech startups and long-established firms in Africa. As a Pan-African, he has been rebuilding Africa since yesterday which establishes his life's mission and vision statements. He has published several international journals, and articles ranging from topics like Blockchain and Future Technology, African politics, Free Market and Limited Government on leading web platforms.
Agbona Igwemoh
Convener Blockchain Saturday
Agbona is a tech entrepreneur who is passionate about technology and how it was designed to improve efficiency in our everyday life. He ventured into the world of cryptocurrency via the Steemit and Mas-chains portal, and he currently serves as Beam (a privacy-based coin) ambassador to Lagos Nigeria.
Ever since he ventured into the blockchain and cryptocurrency space, he has actively advocated for Africans to participate in this decentralized world. As it's his belief that Africa's problem can be solved with the decentralized power blockchain. Finance, elections, agriculture, governance, if these systems and the others are decentralized, it will immensely solve the majority of Africa's problem.
It is based on this premise he created Blockchain Saturday, which is meant to a grass root outreach to informing people who know little about the crypto space about the potentials of a decentralized platform. By creating an enabling environment where both newbies, crypto seasoned experts, enthusiasts can come together to interact, network, share ideas. Who knows, the next Satoshi Nakamoto might just get inspired to create something revolutionary.
Why Should I Attend
Awesome learning, networking opportunities with leaders of the blockchain and cryptocurrency community in Lagos Nigeria
Free copies of Crypto101 book by Chris Ani
Free branded shirts
Free EOS and BOS account creation
Free Dash, Beam, Karma tokens, whaletokens and many others
Refreshment and dope professionally took pictures
Register HERE to save a seat
Venue: Smart X Business Hub – 16B Mobolaji Bank Anthony Way, Maryland, Lagos (View on Google Maps Here)
Time: 11:00 am
Date: 22nd June 2019
Strictly by Registration
MoneyGram's New Time Remittance Technology backed by Visa not Ripple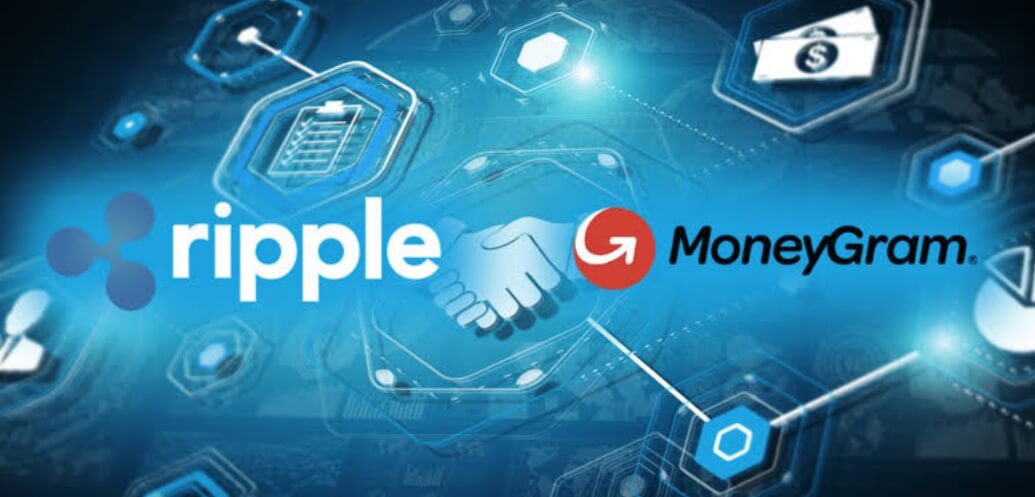 A new service introduced by remittance giant (MoneyGram) which allows users to send and receive money in real-time has been credited to visa and not the work of its blockchain-based partner (Ripple) in an announcement by representatives of the company.
The recently launched Fastsend, a new service which allows clients to send money in real-time to a phone number through a mobile application or dedicated website. While responding to enquiries from news sources about the latest concept, it was revealed to much surprise that MoneyGram did not make use of the technology of Ripple to achieve the latest product.
Do we need blockchain for real-time settlements?
MoneyGram Chief Operating Officer, Kamila Chytil informed news sources that FastSend makes use of Visa's Direct Original Credit Transaction to send funds to bank accounts making use of Debit card deposit which is clearly not blockchain-backed or related.
Without the need for DLT, the dedicated website and app make use of an open-source cloud-based microservices. Chytil further stated that although Ripple is not involved in the new product, the firm still makes use of Ripple's blockchain in other fields of the company.
Also, Chytil made mention of MoneyGram's continuous effort on how to utilize blockchain in areas where it could assist to solve data privacy and regulatory obligations via distributed ledger technology. In her remarks, she spoke highly of DLT technology and cryptocurrencies, stating that the firm believes blockchain to be the future of global cross border payments and transfer of money.
As MoneyGram continues to research on the multiple use cases in order to tap into Ripple's tools while integrating with the recent version of Ripple's service suit to introduce cash-out service to all network members.
It is worth noting that Ripple is gaining increased support and approval among financial institutions to provide them with its DLT services in Africa with the National Bank of Egypt joining its network, this has been seen as a welcome development as it would do well for the inward remittance within the region the Ripple Network.