Blockchain African Ladies (BAL) calls for Scholarship Applications to the ConsenSys Academy & African Blockchain Alliance (ABA) Female Skills Acquisition Program.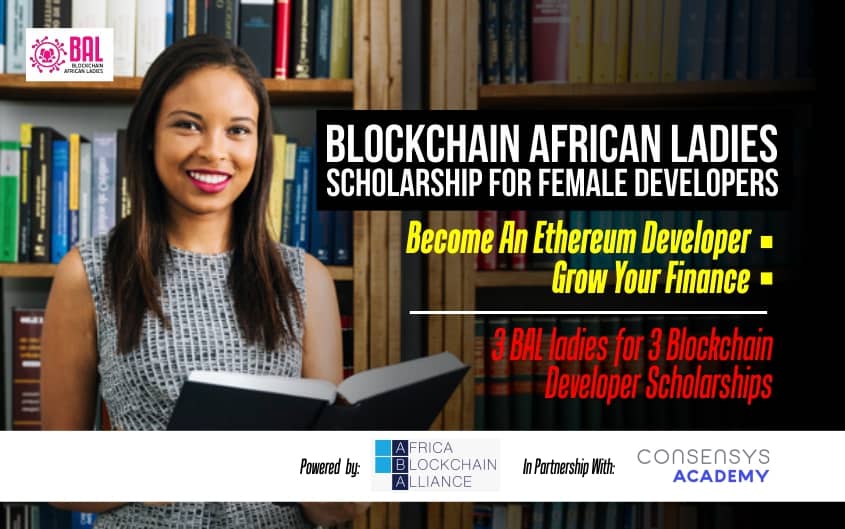 The African Blockchain Alliance (ABA) in partnership with ConsenSys Academy the Educational arm of the US Based Ethereum Blockchain firm ConsenSys has announced their collaborative effort in driving the adoption of blockchain technology by female gender via the Female Blockchain Skills Acquisition Program.
In fostering this, the Blockchain African Ladies has received scholarships to be given to its members. This initiative according to the partners is to build a pool of blockchain developers building creative solutions for the African continents.
According to a report published in 2018, the demand for Blockchain Developers has grown in a considerably 400% over the few years the Blockchain technology found a global interest and the lack of female developers working and building on the technology has been disturbing.
The Blockchain African Ladies is a non-profit blockchain educative forum which educates African ladies on the potential opportunities on the blockchain and how they can leverage the technology to change lives.
It should be noted a few weeks ago, in driving its mission; the Blockchain African Ladies had their conference in Lagos, Nigeria where significant issues in the blockchain industry were discussed upon. It also has an upcoming conference in Ghana.
The program is highlighted to benefit successful applicants by offering rates from $1,000 to $650 to be part of the program as well as bring representation to the continent.
Successful applicants will also enjoy a Mentorship & In-Person Sessions with international mentors from ConsenSys and the Ethereum Ecosystem as well as in several numbers of Cities in Africa.
Understanding how imperative practical demonstration of acquired talents is in building oneself, the African Blockchain Alliance will also offer job opportunities to the participant who successfully completes the program via its network of working relationship with global organizations, corporate and government. The program will also serve to successful participants certificates verifiable on the Ethereum Blockchain issued from the ConsenSys Academy using their certificate issuing platform the #Ethense.
Desiring to apply for the scholarship, applicants are expected to be Female Developers and must follow the below-stated steps:
Signup/Join BAL here
Join the BAL Telegram Community;
Apply here
Deadline for submission is May 1, 2019
Selected applicants will be contacted.
EOS Versus TRON, The Dapp War Continues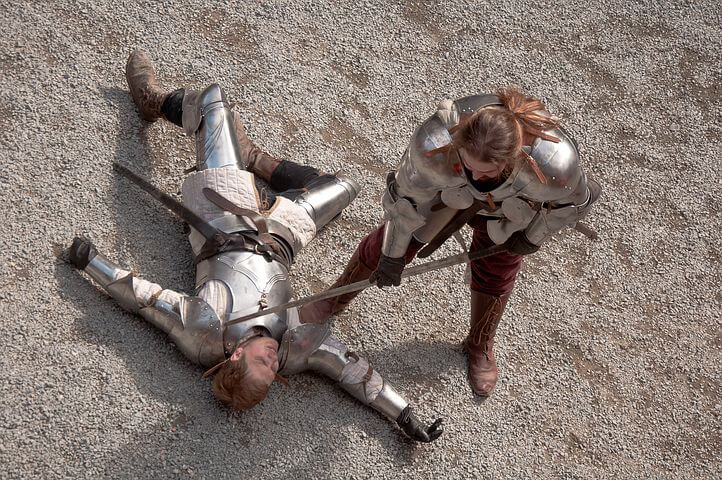 The world of Decentralised applications (DApps) began with Ethereum. However, it has grown to include more blockchains Networks utilizing smart contracts to build DApps on the blockchain. With over 1,800 listed DApps according to Dappradar.com TRON network and EOS seems to be on a warpath for dominance.
Before we crown the King of DApps, it is important to note that a DApp must have an open source code available to all. A DApp must also be decentralized, incentivized and have an algorithm that generates token or an inbuilt consensus mechanism.
While the battle of supremacy on DApps revolves around TRON and EOS, it is important to note that these blockchains are not so different from each other. Both Tron and EOS started on the Ethereum blockchain as ERC-20 tokens. However after creating their own Mainnet they moved all of their tokens to their own blockchain network.
It is also important to note that both TRON and EOS are built on the delegate Proof of stake mechanism (DPos). The DPos is a mechanism where the selection of block producers will be done by voting. EOS has 21 block producers of which 20 will be selected by top 20 received votes and 1 will be randomly chosen. On the other hand, TRON has a total of 27 block producers (super representatives) who have to go through voting systems. It is impressive that both blockchains allow its token holders to Vote for their Block producers or Super representatives.
TRON Foundation was created in September 2017 by its CEO Justin Sun and it's mainnet was launched in June 2018. TRON based network claims to have the capacity of clearing 2000 Transaction per second. However, the TRON network block explorer TronScan reveals that it is currently close to 750 TPS.
On the other hand, EOS is own by Block.One, an open source software publisher. Its white paper was published in 2017 and the open source software was launched on June 1, 2018 by Dan Larimer, who is also the founder and creator of Bitshares and Steem. While EOS has been called the Ethereum Killer, however, it currently processes around 4000 Transactions per second.
According to TPS, EOS is winning the race. Also, in Q2, 2019, EOS has almost 62% DApps active in Q2. Although AnChain, blockchain intelligence firm claims that in Q1, 75% of the traffic from the top 10 gambling dApps on EOS were driven by bad bots. That means about $6 million worth of transaction volume was carried out by bots. TRON's DApps, on the other hand, had 82% active uses in Q2, 338 out of 412 of all TRON's DApps were active in Q2.
As at press time, EOS is the top blockchain network with 2,231,299Op activity while TRON is coming 5th with 842,442Op. However, TRON DApp TronBet is taking the lead on DappRadar with more than 3000 users and $6.1 million in its 24hour volume. EOS DApp, Dice, comes after TronBet more than 97,000 users and a 24hour volume of $266,000.
Although there have been whispers on the state of DApps and their relevance, but it is important to note that DApps are pulling their weight in the blockchain sphere. While it will be difficult to name who is King of DApps, there are other Blockchain networks building DApps that are worth keeping an eye on such as Steem, IOST, and TomoChain.