AFRICUNIA BANK To Launch The Fastest Financial Blockchain Technology– Creates New Paradigm In The Way Global Banking Operates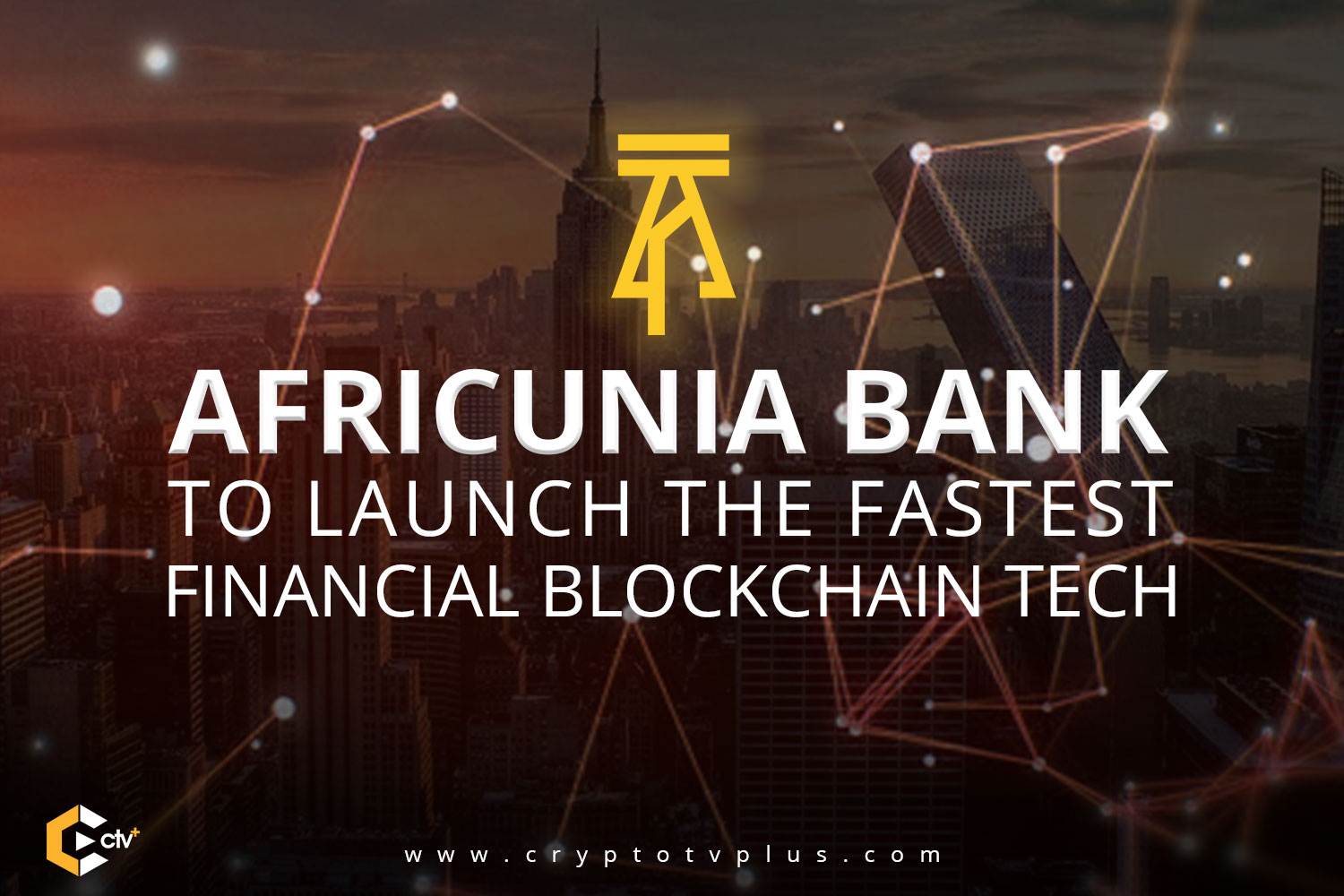 AFRICUNIA's primary goal is to become the industry standard and a one-stop shop for setting up tokenized funds, regardless of whether these funds invest in the fiat or crypto universe.
London, United Kingdom – March 12, 2019 – The global banking industry has utilized existing methodologies for decades. Along comes Bitcoin and other crypto currencies based on Blockchain Technologies, and it was only a matter of time before an organization would step-up and disrupt the entire Global Banking Industry. This would affect not only typical banking, but also investing and commerce. Every sector of the Global Marketplace would be affected, including: Healthcare Providers, Insurance Companies, Manufacturing, eCommerce, Custom, Land Registry, Identity Management, Governments, and others.
A forward thinking group, led by Don Chancellor, Founder & President, has announced the formation of "AFRICUNIA BANK", destined to forever change the global banking system. During a recent interview, Don Chancellor explains that "AFRICUNIA is introducing an innovative banking model that allows the use of digital currency without hurdles, risks and technical barriers linked with owning, transferring, and trading in crypto currencies and tokens. Open exclusively for investment, AFRICUNIA is a third generation closed-end fund that uses the AFRICUNIA Blockchain Technology to create a peer-to-peer cryptocurrency called AFCASH."
He further says that ''AFRICUNIA Bank will be 100% fully Digital Crowdfunded Open Bank based on the Blockchain Technology 4.0 and that this Blockchain Digital Bank will be a new and unique Financial Institution that will offer not only traditional banking services related to opening of savings & current accounts, issuing of debit & credit cards, loans and forex exchange services but also will provide innovative banking services such as bank-to-bank transactions, interconnecting the world of traditional finance and cryptocurrency startups.''
AFRICUNIA Blockchain will be the very first Blockchain Technology that will be Afro-centric, aims to bank the unbanked and commits its revenue to humanitarian causes for the welfare of the less privileged ones in Africa and around the World. This new banking platform will lead the way for the Global Banking System to bridge the gap between fiat and cryptocurrencies. AFRICUNIA is a virtual bank that will be issuing AFCASH using AFRICUNIA Blockchain 4.0 Technologies. It is well positioned to become an industry standard for seamless funds tokenization and management by leveraging its own Blockchain Technology. AFRICUNIA is registered in the UK as AFRICUNIA LIMITED with offices in Austria, Malta, Switzerland, Ukraine, the Philippines and Nigeria to provide banking and financial services.
At the heart of AFRICUNIA's mission is to bring about investment globalization, transparency and decentralization to the next level by leveraging Blockchain Technology. Here are their primary value propositions:
Offering The Best of Both Fiat and The Cryptocurrency World:The majority of tokenized investment platforms are either fully crypto-oriented or are pegged to some tradable assets such as gold or fiat currency. AFRICUNIA intends to create a platform that allows users to gain from both.
Promoting Sustainable Investment of Funds:All the tokenized funds will be reviewed and approved by their legal advisors to make sure they are fully compliant with the existing laws and regulations.
Developing a Standardized Platform:AFRICUNIA believes that this is the right time to launch industry standards for setting up the tokenized investment platforms.
Enhanced Transparency:The tokenization of interests in funds, or shares in profits, provides accountability and transparency to the investment process.
Scalable Fund Development:By using the AFRICUNIA platform, any approved investment manager can setup and run a tokenized investment fund without going through the pain and effort of developing the necessary IT and legal infrastructure.
For complete information, please visit AFRICUNIA
Chilliz, the Sports Platform Partners with Binance Chain
Chiliz, the digital currency for sports and entertainment platforms, has announced a strategic partnership with Binance Chain, to bring about the usher in in of football giants such as Juventus FC and Paris Saint-Germain FC (PSG) into the growing cryptocurrency industry.
Chilliz released thannouncementent in a press release issued on the 17th of May 2019 signaling in a new phase of its growing business.
Chiliz raised more than $66 million through private placement in 2018, with Binance as one of its major investor amongst others.
Chiliz is a digital currency that fuels blockchain-backed platforms and products geared towards casual, mainstream consumers, starting with Socios.com, a tokenized fan influence mobile app. It aims to bridge the gap between mainstream users in a 3.5 billion people powered sports industry and blockchain technology.
While blockchain as a pervasive technology, continues to gain grounds globally by finding use cases, Chiliz takes it a step further to bring about real use cases with it socios.com platform.
Socios.com, the consumer-facing tokenized fan influence product from Chiliz, powered by the platform's native currency $CHZ, will allow sports fans to participate in club-related polls and access exclusive rewards with the purchase of club-branded Fan Tokens.
Speaking on this development, Alex Dreyfus, the CEO of Chiliz and Socios.com said:
Integration of Binance Chain protocol will increase our access to the large liquidity pool of the Binance community, one of the largest and most vibrant communities in the cryptosphere. Through Socios.com, we will highlight blockchain to a more mainstream audience – an addressable audience of 3.5 billion fans around the world – as well as allowing global brands and household names the chance to access the crypto space.
Binance CEO, Changpeng Zhao, an equally excited partner to the Chiliz project had this to say:
Sports is the perfect vehicle through which to educate mass consumers about the potential and the utility of blockchain technology. I'm proud that Binance and Chiliz are leading that charge globally.
Alex Dreyfus further highlights the important of this partnership and the Binance Chain move undertaken as a strategic step for the Chiliz project. He continued by saying:
Binance Chain's focus on usability, security and incredible one-second block time speed will be crucial to the success of the platform we are building, and for the eventual audience of hundreds of millions of sports fans
May 27th, 2019, has been set as the date for the unveiling of this partnership. The Binance team will be joining Chiliz for a meetup in Seoul, South Korea joined by the legendary Juventus FC striker, David Trezeguet to discuss more on the importance of fan engagement and the use of blockchain in football.
Further details to be released in the coming weeks of the technical integration of the partial migration of ERC20 tokens to BEP2 with competitions and giveaways to entice and engage the community.