Africa Buidl Club Celebrates Women In Blockchain On International Women's Day
Women as many would believe, are generally built to be careful and cautious. They can be very meticulous when in comes to business and investment. This does not in anyway imply them as weaklings in risk-prone ventures, as I seek only to draw an inference from the brevity of the few women who delved in, regardless of the vulnerability of the Technology.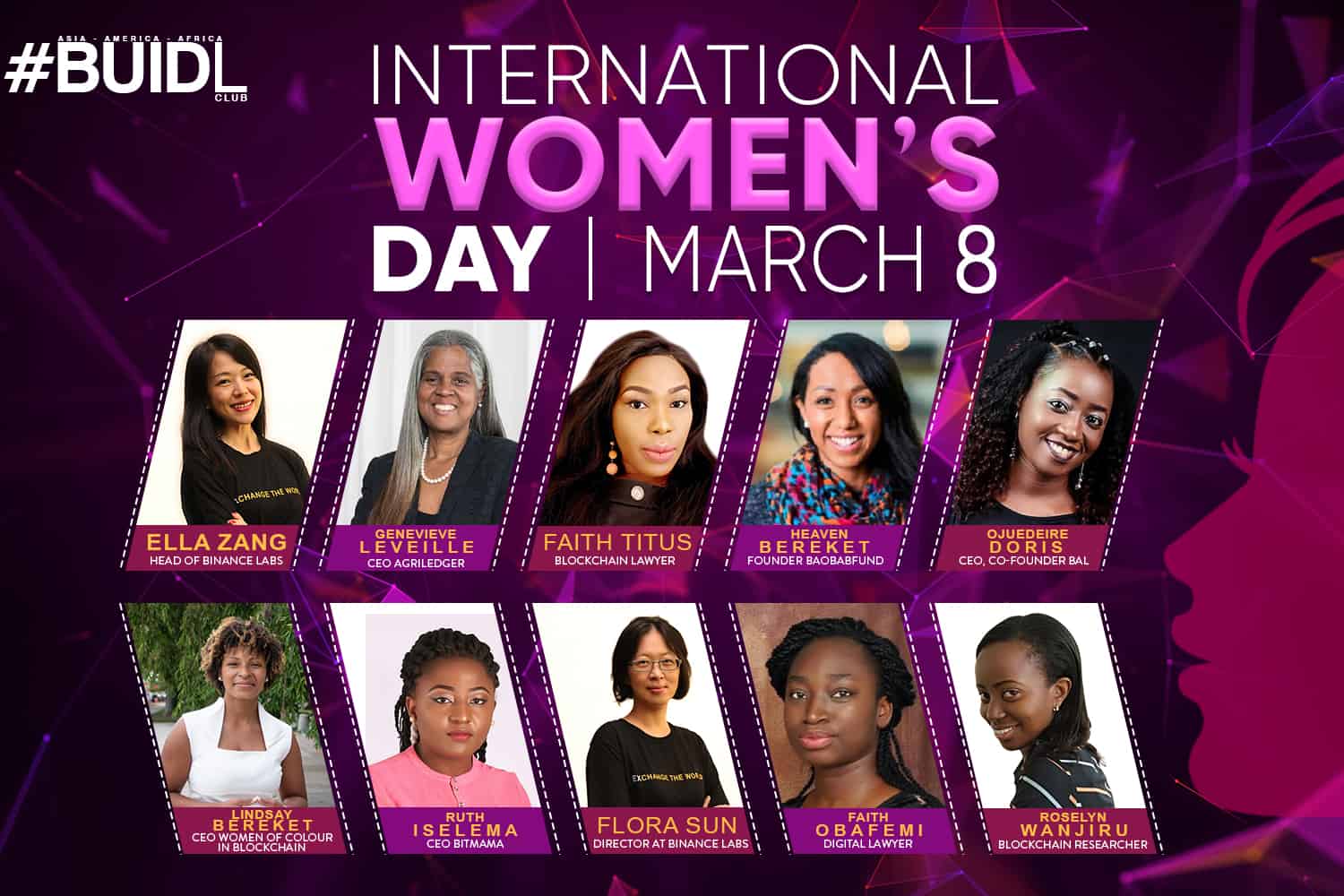 Technology was not built just for a particular gender, it is an incorruptible advocate for gender equality. Technology welcomes people from all races with same motive – to change the world.
In this article, we will be celebrating the women who have made tremendous impact in Technology and particularly in Blockchain Technology in Africa.
Gender diversity in the tech industry is smart economics. Despite receiving 50% less venture capital funding, global technology firms led by female entrepreneurs typically achieve 35% higher return on investment than those run by men. Moreover, entrepreneurial spirit in Sub-Saharan Africa is significant. The number of pioneering women in business is the highest globally.
Women as many would believe, are generally built to be careful and cautious. They can be very meticulous when in comes to business and investment. This does not in anyway imply them as weaklings in risk-prone ventures, as I seek only to draw an inference from the brevity of the few women who delved in, regardless of the vulnerability of the Technology.
Thus, it is very rare to see a woman who can pay rapt attention to an emerging technology which is yet to record global adoption. A woman who can learn the basics, apply them, produce results from the application of what she learnt and then, go ahead to spread the knowledge across the community she had built and in turn change lives. This is why we celebrate the women in Blockchain today.
A friend of mine calls these kind of woman "Shero".
A lot has been said about women in crypto. Binance, in a recent article, using its organization as a case study, disagreed with about five myths associated with women in blockchain.
In a recent interview, Tyler Gallagher asked Jonha Richman"What would you say to young women considering a career in blockchain? How would you encourage them?"
This was her response;
Identify your key skills and what exactly you bring in to the table. Keep harnessing and developing those skills so you'll become more confident on your skills and place in the industry. There will always be people who will undermine and try to downplay your value and success. When you have that inner confidence and assurance of what you're capable of, you will not let these distractions and detractors baffle you from achieving the best that you can be.

There will also come a point when people will try and compare you and your success with contemporaries. Don't try to compare your first few chapters with someone else's climax or ending.
Jonha Richman is a venture partner at JJRichman,a private investment firm investing in diversified assets around the globe including real estate, cryptocurrencies, stock market, and digital assets.
In a similar interview of Shannon Grinnell, an award winning Filmmaker and TV Producer who recently initiated a podcast called Speaking of Crypto, Tyler gallaher of Thrive global inquired on what is expected of women in crypto.
I think we need to make being smart, strong and successful — cool, desirable, and beautiful. Society puts a lot of focus on young girls being pretty or likable or good communicators and not as much on being smart, strong and successful. There are a lot of women in this industry that are smart, strong and successful and I think that's cool, desirable and beautiful. Thank you for including them in your article because the more we see smart, strong and successful women highlighted like this, the more it becomes cool, desirable and beautiful.
Without mincing words, it is obvious that the women have refused to be left behind in Blockchain Technology Industry. They have consistently made statements that have helped encourage enthusiasts in the ecosystem, they have also spear-headed projects that have seen the light of day.
African women are not left out in this epic times. Leading organizations such as Blockchain African Ladies, Bitmama, eWealth Athlantic, mDoc, GirlHype our cryptotvplus very own Rebbeca Asseh and Faith Obafemi passionate writer at Blockleaders have all contributed to putting Africa on the Blockchain map via Education, Financial Inclusion and Awareness. It goes without doubt to show that the women in blockchain who have availed themselves the opportunity to bring the necessary change in the space are worthy of some accolades.
#BuidlClub takes out time to celebrate their efforts and we are very open to working closing with all the Female-led Blockchain projects across Africa to create and maintain a healthy communication line between their Companies and their Communities.
Once again, I celebrate the women in Blockchain today on International Women's Day!
Chilliz, the Sports Platform Partners with Binance Chain
Chiliz, the digital currency for sports and entertainment platforms, has announced a strategic partnership with Binance Chain, to bring about the usher in in of football giants such as Juventus FC and Paris Saint-Germain FC (PSG) into the growing cryptocurrency industry.
Chilliz released thannouncementent in a press release issued on the 17th of May 2019 signaling in a new phase of its growing business.
Chiliz raised more than $66 million through private placement in 2018, with Binance as one of its major investor amongst others.
Chiliz is a digital currency that fuels blockchain-backed platforms and products geared towards casual, mainstream consumers, starting with Socios.com, a tokenized fan influence mobile app. It aims to bridge the gap between mainstream users in a 3.5 billion people powered sports industry and blockchain technology.
While blockchain as a pervasive technology, continues to gain grounds globally by finding use cases, Chiliz takes it a step further to bring about real use cases with it socios.com platform.
Socios.com, the consumer-facing tokenized fan influence product from Chiliz, powered by the platform's native currency $CHZ, will allow sports fans to participate in club-related polls and access exclusive rewards with the purchase of club-branded Fan Tokens.
Speaking on this development, Alex Dreyfus, the CEO of Chiliz and Socios.com said:
Integration of Binance Chain protocol will increase our access to the large liquidity pool of the Binance community, one of the largest and most vibrant communities in the cryptosphere. Through Socios.com, we will highlight blockchain to a more mainstream audience – an addressable audience of 3.5 billion fans around the world – as well as allowing global brands and household names the chance to access the crypto space.
Binance CEO, Changpeng Zhao, an equally excited partner to the Chiliz project had this to say:
Sports is the perfect vehicle through which to educate mass consumers about the potential and the utility of blockchain technology. I'm proud that Binance and Chiliz are leading that charge globally.
Alex Dreyfus further highlights the important of this partnership and the Binance Chain move undertaken as a strategic step for the Chiliz project. He continued by saying:
Binance Chain's focus on usability, security and incredible one-second block time speed will be crucial to the success of the platform we are building, and for the eventual audience of hundreds of millions of sports fans
May 27th, 2019, has been set as the date for the unveiling of this partnership. The Binance team will be joining Chiliz for a meetup in Seoul, South Korea joined by the legendary Juventus FC striker, David Trezeguet to discuss more on the importance of fan engagement and the use of blockchain in football.
Further details to be released in the coming weeks of the technical integration of the partial migration of ERC20 tokens to BEP2 with competitions and giveaways to entice and engage the community.