CORUM8; A Fast-rising Cryptocurrency Marketing Agency In USA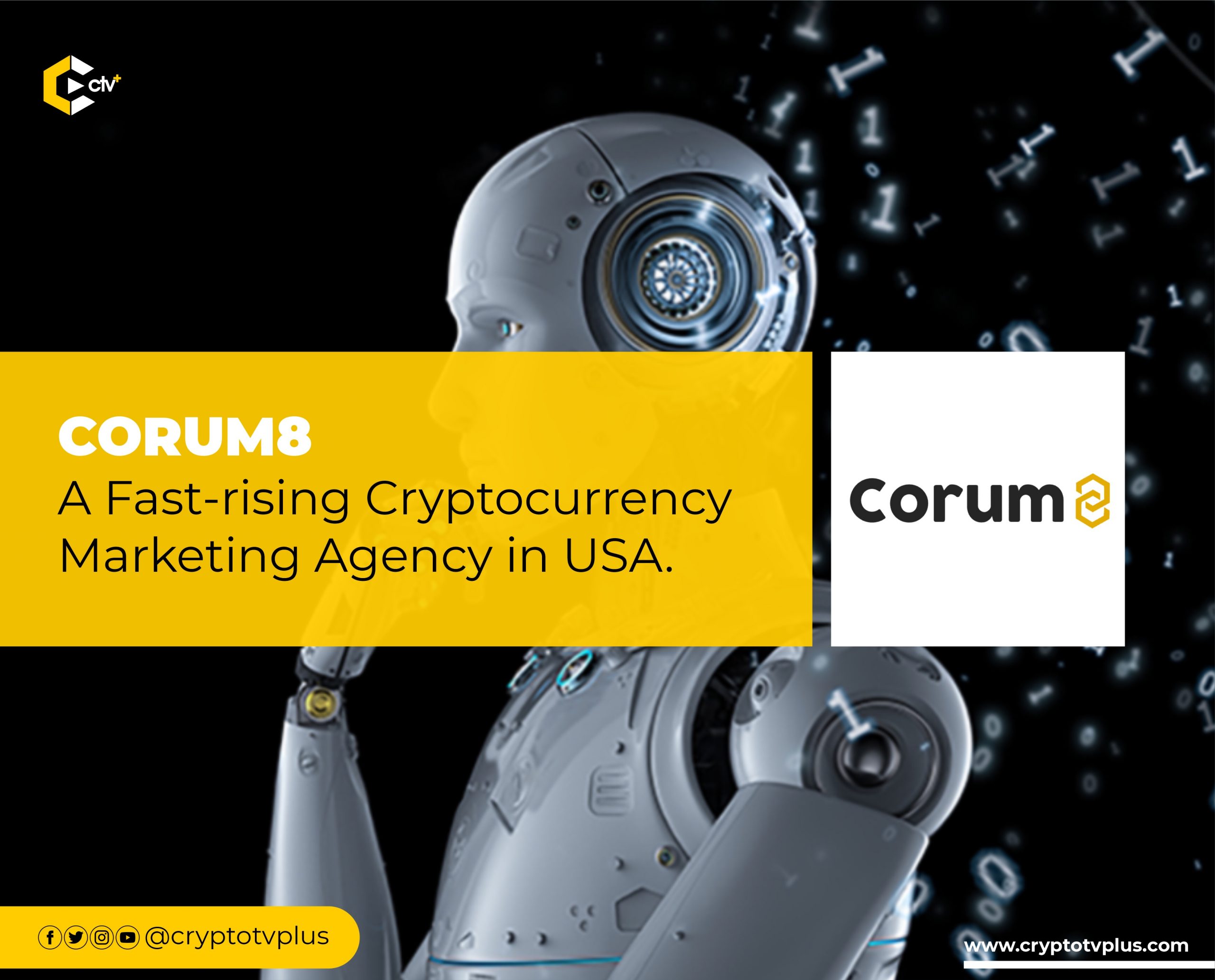 Unlike before, individuals are no longer ignorant as to the happenings in the world of crypto, and as such over the years, Cryptocurrency and Blockchain have consistently gained more ground in the USA and other countries of the world with a series of cryptocurrency marketing agencies erupting like a volcano.
One of such of these agencies is Corum8.
About Corum8

Corum8, founded by Neha Soni, an ex-IBMer, passion-driven entrepreneur, and Blockchain queen is a cryptocurrency marketing agency in the USA which focuses on providing blockchain marketing and cryptocurrency services in the USA. It aims to discover the present setup of enterprises and consequently provide them a robust solution in terms of technology, time cost, marketing, and growth hack.
Corum8 is an award-winning Blockchain development, crypto marketing, and PR company that specializes in Fintech, NFT, Defi platforms with a team of 58+ members.
Corum8 has amassed for itself a good number of achievements with the most recent being an award for the " Best Crypto Marketing and Development company" at the Blockchain Dubai Summit 2022.
Corum8's Team

Corum8's team is made up of highly experienced and extremely talented team members.
Members Of The Core Team
Anuj Garg is the Chief Operating Officer with over 19years of experience in the field.
Manish Awasthi, the Chief Technology Officer with over 15 years of experience in the field.
Damini Chelani, the VP of partnership with over 6 years of experience.
Nishant Kothari, the Head of Operations with over 5 years of experience.
Kushal Bansal, the legal head with over 3 years of experience.
Bernardt Venter, Chief Business Development Officer with over 30 years of experience.
The agency also has a body of ADVISORS which includes:
Jean-Marc Mensiah, Technology Advisor.
Shelle Fantastic, Blockchain Solutions Advisor.
Alan Brownie, Business Development Advisor.
Anthony Silver- Digital Innovations Advisor.
Andrey Baral, Market research Advisor.
Priyank Dahunukar, Mentor and Business developer.
Ambassador Sandeep Mehta, Advisor.
Partnership

Over the years, Corum8 has strategically partnered with a number of Bitcoin and Cryptocurrency agencies. Some of these agencies include:
International Diplomatic mission.
Salamantex.
Wazirx.
Corum8 has as also partnered with a couple of Event planners which includes:
Vertex events.
Trescon.
Agora and
Sigma, to mention a few. Services.
CORUM8 offers a wide range of services which includes:
Blockchain Development.
ICO/STO/IEO Development.
Cryptocurrency Development.
-Blockchain consulting.
Cryptocurrency Marketing.
Wallet Development.
Cryptocurrency Exchange.
Security Token Offering and Exchange.
Smart Contract Development.
Hyperledger Development.
Ethereum Development.
Website Development.
Mobile App Development.
White paper Development.
Press Release.
Social Media boost.
Read also:
Bitlocus, the Trading Platform Transforming Crypto-to-Fiat Transactions.
The Inside Story of FXT GameFi Unit Launch
Metarun; The First Blockchain Endless Runner P2E Multiplayer Game
Exploring Mobland; The Free-2- Play-2- Earn Mafia Metaverse
Corum8 Academy

According to research, Blockchain jobs are growing at 60% every year. Assuredly, this technology is here to stay but the problem is, there are no practically skilled resources to fulfill the demands of the industry.
Having realized the existing gap between industry and resources, Corum8 has designed blockchain and cryptocurrency courses that will help both commerce and engineering students to get industry knowledge as well as become financially independent.
CORUM8 academy runs with a vision to bridge up the gap that exists between Industry requirements and resources and a mission to empower students to get practical. Corum8 Academy offers a broad range of courses including; Cryptocurrency trading, Blockchain foundation, Cryptocurrency mining, Hyperledger Fabric (DLT Technologies),
Ethereum Development (Smart Contract (Token) Development) amongst many others.
Lifetime Access To Forum For Troubleshoot
In a bid to support students and provide them assistance in their learning journey, CORUM8 has created a forum where students can openly and freely discuss blockchain applications, code, and cryptocurrencies related doubts. On the forum, an expert team would be available to answer questions and also provide them the needed support.
What do you think of this article? Let's hear from you in the comment section!!!