The Reserve Bank of India (RSI) has given greenlight for Banks in the country to facilitate cryptocurrency transactions. 
The Apex Bank in a circular dated 31st May, 2021 and signed by the Chief General Manager, Shrimohan Yadav, sought to give direction to the future of cryptocurrency in the country.
The circular read that banks and other financial institutions may continue to carry out customer due diligence processes in line with the regulations governing standards for Know Your Customer (KYC), Anti-Money Laundering (AML), Combating of Financing of Terrorism (CFT) and obligations of regulated entities under Prevention of Money Laundering Acts, (PLMA), 2020.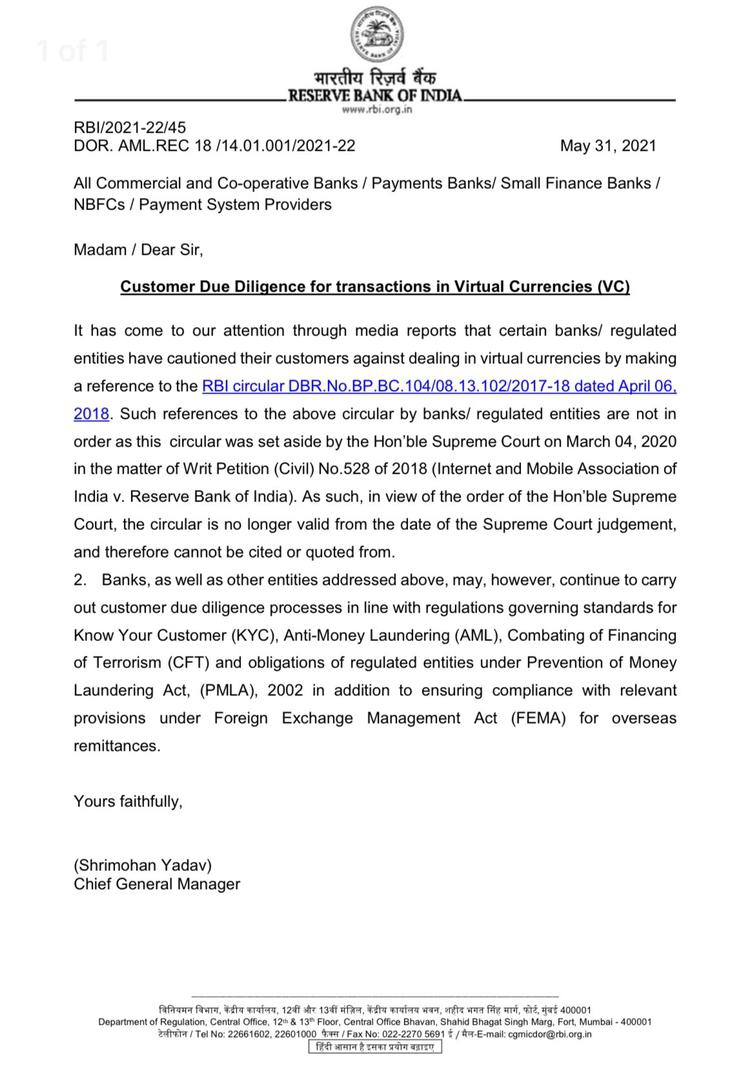 The RSI before giving greenlight referred to the ban on cryptocurrency in the country which was contained in a circular dated April 6, 2018. 
The RSI said the anti-crypto activities of Banks in the country were not in line with the current position of the country citing that the circular the banks and other entities were following has been rendered invalid or set aside by the Supreme Court on March 4th, 2020 in a case between the (Internet and Mobile Association of India V. Reserve Bank of India).
As a result, the circular is no longer valid. Consequently, Banks and other regulated entities are now able to deal in cryptocurrency. 
In addition to adhering to local regulations, the Reserve Bank of India also advised regulated entities to ensuring compliance with relevant provisions under Foreign Exchange Management Act (FEMA) for overseas remittances.