CertiK Announces The Completion of Binance British Pound Backed Stablecoin BGBP Official Audit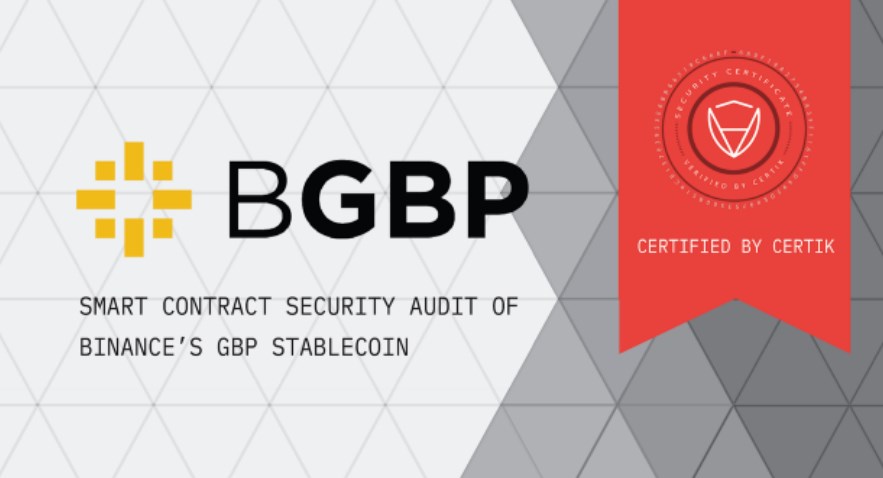 In a post on micro-blogging site, CertiK announced the completion of audit on Binance British Pound backed Stablecoin, the BGBP.
Binance had some weeks ago through its CFO, Wei Zhou in an interview with Bloomberg hinted of the top exchange's plans to issue own stablecoins. According to the Binance rep, the token will be called Binance GBP and will be fully backed by reserves of the British Pounds. He further continued that more fiat currency pegged stablecoins will also be launched on the Binance Chain.
The Binance British backed stablecoin was verified by CertiK. According to a blog post by CertiK, the auditors utilized their Formal Verification Technology and were able to identify undetected vulnerabilities in the stablecoin providing a more thorough security sweep and offering suggestions.

CertiK is proud to have successfully completed the official audit of @Binance's first self-issued #stablecoin, BGBP, earlier this month.

Always an honor to work with the leaders in the space.https://t.co/wqPugl0vO1

— CertiK (@certikorg) August 8, 2019


Commenting on the Audit and why the exchange sorted the services of CertiK, CZ, CEO of Binance said "CertiK's Formal Verification bypasses the limits of manual detection, offering one of the most thorough audits in the industry".
According to CertiK, the audit was done to ensure the source code of BGBP's smart contracts were free from issues and vulnerabilities. By utilizing its Formal Verification Platform, Static Analysis and Manual Review, the team at CertiK applied a comprehensive examination during which they ensured that the codebase meets best practice and industry standards, that contract logic meets specifications etc.
The results of the audit carried out on the Binance GBP code showed that best practices was followed, the contract is not vulnerable to known securities challenges and that the BGBP is "a more secure, safe, and protected asset".
CertiK is a blockchain and smart contract verification platform founded by experts from Yale and Columbia University. Incubated by Binance Labs, CertiK has been able to secure strategic partnerships with world's leading exchanges such as OKEx, Binance etc and has been able to carry out audit on projects such as the LEO, TUSD etc.
The BGBP is a dual issue token, created on both the Ethereum (ERC-20) and Binance (BEP2) Chains. The Binance GBP is currently trading on the Binance.com and Binance.je exchanges.