BitMinutes Announce A 2 Million Naira Prize for Bitminutes Registered Agents in Nigeria Ahead of its Mega Event in September.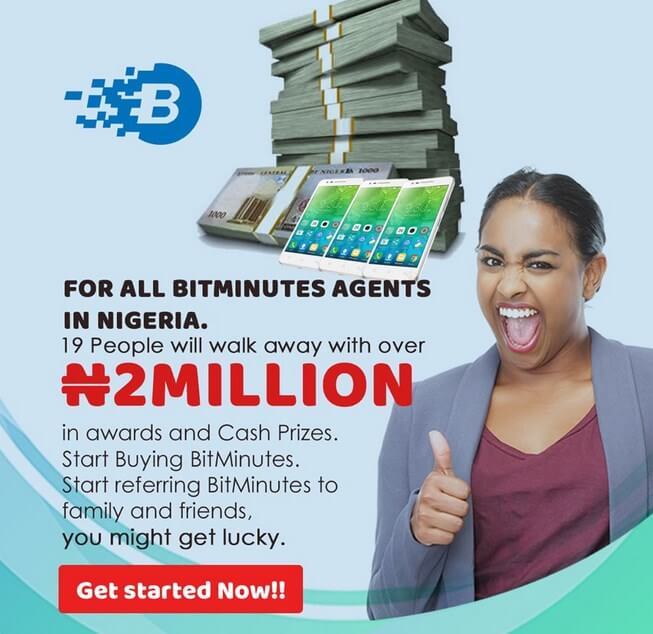 Bitminutes via its Facebook Page had announced few hours ago the official launch of its Mega event coming up in September 14th, 2019 where registered agents will stand the chance of winning over 2 million naira cash prize and gifts items.
BitMinutes are prepaid mobile minutes that provide financial services to over 2 billion consumers in 70 countries. Micro-loans are too small/unprofitable for banks, so consumer pay high interest rates. BitMinutes turn any corner retailer into the corner banker, offering micro-loans at 50% discount to current rates.
Having identified the challenges of access to fund via transfers in rural areas and inability to access micro-loans from banks and non-banks lenders with higher interest rates, BitMinutes aims to provide unmatched financial services to 2 billion people providing "prepaid minutes" usable in over 4 billion cellphones on 300 carrier network in more than 100 countries as at today.
BitMinutes utilizes the Ethereum and/or Ripple Blockchain in recording transactions to achieve trust. It employs smart contracts to create Smart Loans.
Trusted Agent Network (TAN) Agent helps bring affordable, secure, mobile phone-based financial services to communities that lack traditional banking services. As a TAN agent, an individual becomes a local financial center sharing financial services.
TAN Agents sell BitMinutes. BitMinutes can be used to call anywhere worldwide and can be sent to any phone worldwide. Users will be able to use BitMinutes to pay bills, or transfer to other people.
As a TAN Agent, an individual is expected to enjoy increase business traffic flowing to their businesses, have the ability to issue guaranteed consumer loans and receive low interest loans based on TAN Score.
To be part of BitMinutes, Agents must hold some BitMinutes in Escrow to qualify.
To qualify and stand a chance to win in the September, 14 upcoming events, registration as a TAN is imperative or for free users, they would need to migrate from a free user to a TAN Agent. The Promo is already on and is expected to terminate a on the 7th of September, 2019, a week to the Mega Event. The event is scheduled to hold in Lagos, Nigeria at White House Hotel, 23A Toyin Street, Ikeja. Time is 12 noon.