I Am NOT A FAN OF BITCOIN AND OTHER CRYPTOCURRENCIES, SAYS DONALD TRUMP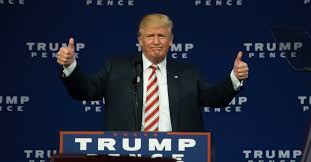 The 45th president of the United States, Donald Trump, has taken to his twitter handle to announce his opposition against bitcoin and other cryptocurrencies. His tweet made today, 12 July at about 1:15 am, reads "I am not a fan of bitcoin and other cryptocurrencies."
For him, bitcoin and other cryptocurrencies are not money and they are highly volatile. He also states that the assets can facilitate unlawful behaviour. The tweet reads thus:
"I am not a fan of Bitcoin and other Cryptocurrencies, which are not money, and whose value is highly volatile and based on thin air. Unregulated Crypto Assets can facilitate unlawful behavior, including drug trade and other illegal activity…."
Olivier Jansses, a very early bitcoin adopter, entrepreneur and investor tweeted back to the president inquiring whether dollar is not based on thin air.
"So the dollar isn't based on thin air? The gold standard is long gone and inflation is a huge hidden taxation. At least Bitcoin and Ethereum won't be inflated & are decentral. Also, I bet you a million dollars that the dollar is used much more for illegal activity. Care to wager?" Jansses tweets.
Trump goes further to stress that Facebook's Libra is not of the exception stating that if Facebook and other companies want to become banks, they have to seek a new Banking Charter.
"….Similarly, Facebook Libra's "virtual currency" will have little standing or dependability. If Facebook and other companies want to become a bank, they must seek a new Banking Charter and become subject to all Banking Regulations, just like other Banks, both National…"
He reinstates the USD currency as the only real currency in the USA and the most dominant in the world.
" …and International. We have only one real currency in the USA, and it is stronger than ever, both dependable and reliable. It is by far the most dominant currency anywhere in the World, and it will always stay that way. It is called the United States Dollar!" He says.
Expectedly, Trump's tweets stirred up the crypto community. A lot of cryptoprenuers and enthusiasts streamed into the tweets to air their opinions. Among them include key figures such as: Josse Powell, and Justin Sun.
The co-founder and CEO of Krakef FX, Josse Powell, replies him thus: "Mr. President, one could say the same of unregulated fiat currencies, like the privately operated US dollar. The advantage of cryptocurrencies is that they are predictable and transparent. Regulated or not, useful tools can be used for good and evil. Don't let the US fall behind." He goes on to say that; "If you study crypto, you will find much to agree with. Crypto is about personal responsibility and choice. It is about free markets and competition. It is about mathematical, verifiable, perfectly enforceable regulation. Crypto is to commerce what Twitter is to speech: democracy."
Justin Sun, the CEO of Tron and BitTorrent replies to him saying; "Mr. President, you are misled by fake news. #Bitcoin & #Blockchain happens to be the best chance for US! I'd love to invite you to have lunch with crypto leaders along with @WarrenBuffett on July 25. I guarantee you after this lunch, nobody will know crypto more than you!"
For quite a long time, the crypto community has been expecting a say from Donald Trump as the president of the United States. And now, he has just fired the long awaiting shot. As it stands, the president's tweets are buzzing with comments and retweets, mostly against his open opposition of cryptocurrencies.