Nitroneum-an Ecosystem of Value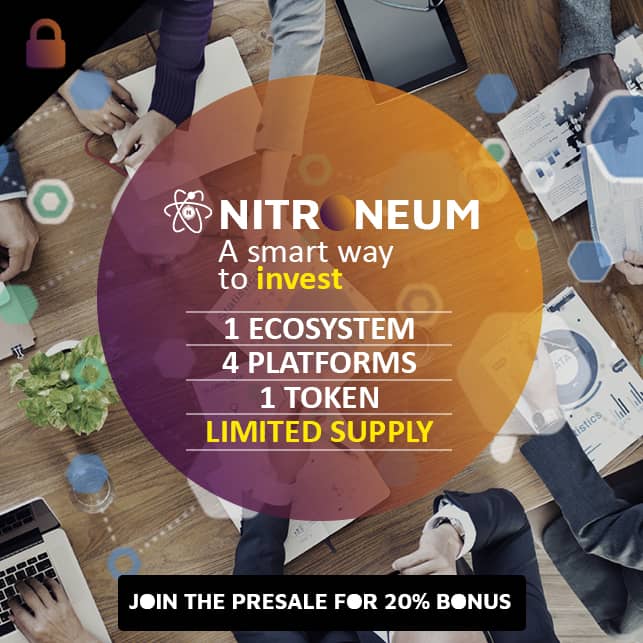 Nitroneum Technology is releasing its XTN tokens to investors accross the globe via Initial Coin Offering (ICO) in 5 rounds sales schedule which includes Pre – Sales of 3,000,000 XTN @$0.50 + 20% Bonus, while the remaining 4 rounds @$0.65 + 15%, $0.75 + 10%, $0.85+ 5%, and $0.95 + 4% in the last round, as published on the official website and the project whitepaper.
According to the official website; nitroneum.io, the token is referred to as "The Next Generation Value Driven Tokens Built On The Ethereum Blockchain ," and the funds from the token sales will be used to launch four unique platforms in the ecosystem which includes;
A decentralized video and picture content social media platform (N-Tube & Nitropixs) with users activity rewards with XTN tokens.
A Media Hub (NitroHub) for Crypto, Blockchain, Tech, Finance, and markets, a.decentralized ICO and wallet service.
Live AI BOT for premium trading signals.
A decentralized eMarket place for buying and selling, with XTN as a payment option.
With a total supply of 100,000,000 XTN, 45,000,000 is released for token sales, while the remaining 55% is for token purchase bonuses, referrals, platforms development and security, social media activity rewards and development team as shown on a chart in the whitepaper.
Nitroneum Technology offers 5% referral bonus from total token purchase during the ICO, and will also contribute 1% of the sales and subsequently, 1% of annual proceeds to Blockchain technology development and education across the globe for a more wider adoption of cryptocurrency into the mainstream payment system, to support fintech development in developing economies through the Nitroneum foundation.