Bringing the Blockchain Technology to the Legal Sector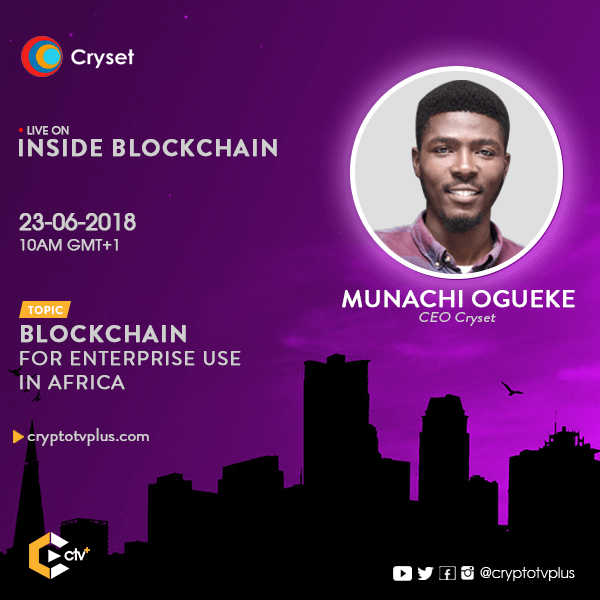 The Blockchain technology has the potential to be a transformative agent across diverse industries. The blockchain offers immutability, transparency and is a distributed and shared ledger that accommodates the storage of information. This makes it a choice for most industries constantly in need for a better means and technology as opposed to their way of doing things. But one industry that doesn't pop into your mind when you think of high tech will be the legal sector. Paper work seems to be synonymous with the legal profession however, the blockchain technology can be a transformative agency for the legal sector in Africa.
The world is already leaning towards change as there exist a Global Legal Blockchain Consortium  with the aim of standardizing and promoting the adoption of the technology. But what about Africa in general and Nigeria in particular. During an interview on "Inside Blockchain" at the Cryptotvplus studio, Senator Ihenyen, a partner at Infusion Lawyers, a digital law firm that helps innovators in Africa protect their intellectual property. He was discussing on the topic, "how the blockchain technology will revolutionise law."
Considering the numerous challenges facing the legal system in Nigeria, a newer, better and more sophisticated way of doing things will surely turn things around. Senator explained why the law is slow saying,
"the law should regulate competing interest of the society. The law should bring about about law and order. There should be orderliness and some level of predictability about people's rights, liabilities and actions. What the law is facing right now is a lot of challenges and it is trying to meet up with the realities of our time. Especially with the disruptive technology you hear about everywhere. We talk about digital currencies for instance, digital age (the age of e-commerce), and the law is supposed to catch up with these. It is a big struggle for the law.
Counterfeiting
The legal sector is constantly struggling in many sectors, what can the blockchain technology do to bring the legal sector up to par with its shortcomings? The blockchain technology and its transparency is well suited for supply chain management. The National Agency for Food and Drug Administration and Control (NAFDAC) is constantly battling counterfeit drugs. Recently some major pharmaceutical companies in Nigeria were shut down because of evidences that was revealed by investigative journalism that revealed that codinene was been sold illegally. With the use of the blockchain technology, drugs can be tracked from manufacturer to patient and this can help curb counterfeit drugs as if a counterfeit drug is discovered, not is easy to trace its source.
Land Registry
Determining the real owner of a landed property can sometimes prove to be difficult because of the bulky paperwork involved.  Senator described the African Land registry system as "terrible". He goes on to say that, "Over 60% of litigations today are land related issues." He explained further, "Right now we use an analogue system. If I do an assignment of a property in Lekki to Party today and tomorrow I do the same thing to Party B. They would not be able to trace it immediately. But, when you have a land registry system on the blockchain, they will be able yo use the blockchain to record the title owners name, address and history of the property." This would prevent a lot of court cases that tend to drag on for years. He talked about how Ghana was using Bitland, a blockchain land registry platform to revolutionise land ownership in the country.
Smart Contracts
Nigeria still depend largely on an analogue system ridden with paperworks requiring a significant amount of time to accomplish all that is needed for a binding legal agreement. The  blockchain can change this into a digital process called 'smart contracts'. Senator affirms, "Smart contracts can enable transactions verification". This means that smart contracts can be built on the blockchain and executed between stakeholder involved without having to go through rigorous paper works.
Intellectual Property
The law is in a constant struggle when it comes to intellectual property protection, infringement especially in the digital age. Protecting images, audio, and video files, designs and symbols, efforts of artists and musicians keep proving difficult as most their works get used without their permission and profits do not get to them. Senator used "content ID" from YouTube as an example. He explained that it was a means of protecting an original song every time a cover is made.
As technology advances, so does the question of security. Smart contracts makes it easy to protect your intellectual property across borders. When this technology will be adopted in the Nigerian legal sector, we cannot say. Nigerian lawmakers have remained silent on the tecnology since its mention in the National Assembly early this year.

 




What do you think about adopting the blockchain in the legal sector? Share your opinion with us in the comment section below.
Image credit: Pixabay
Disclaimer:
The Information provided on the website is designed to provide helpful information regarding cryptocurrency subjects. The content is not meant to be used, nor should it be used as a basis, foundational knowledge or prerequisite for decision making regards trading. Always do your own research and due diligence before placing a trade. We are not liable for any outcome based on any content found on the site.