Third Phase of Binance Lending To Launch on the 11th of September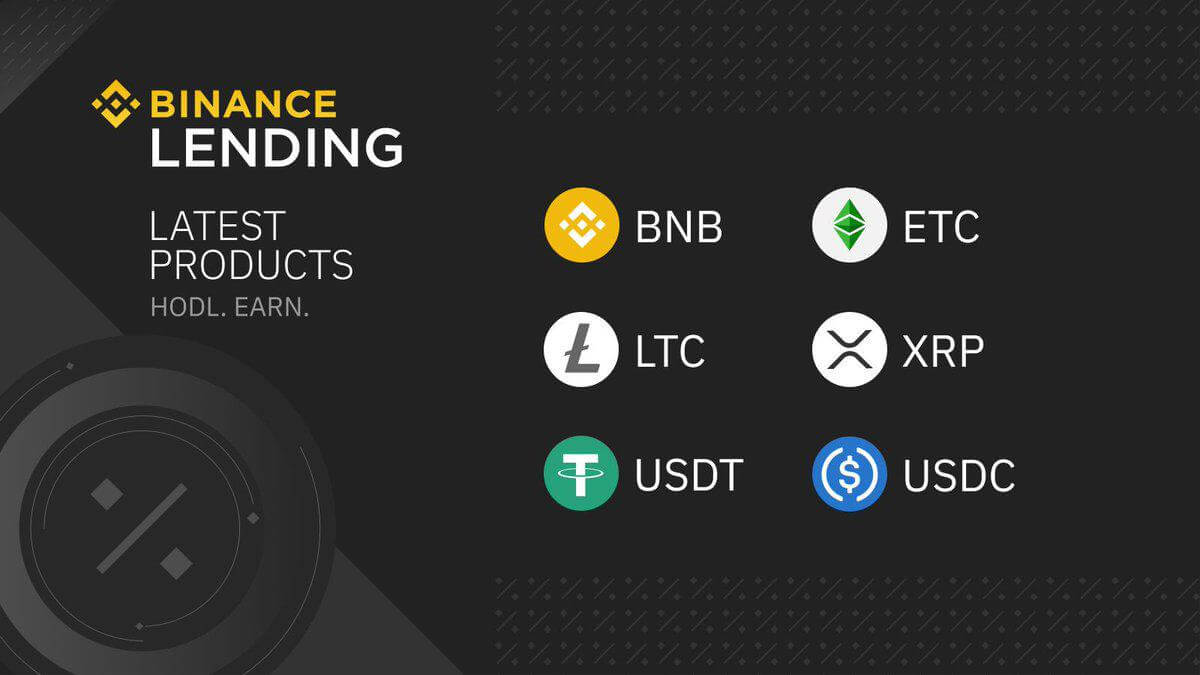 Cryptocurrency Exchange and blockchain ecosystem – Binance is set to launch the third phase of its Lending Service in two days time. According to the Binance, the third phase will carry a 14-day product maturity term just like the first phase and unlike the third phase which had both a 14-day and 28-day term.
Subscription will follow a First-come-first-served basis. Subscription time is set at 6:00AM (UTC) on the 11th of September to 12:00AM on the 12th of September, 2019.
The third phase will allow Binance users to lend their idle Litecoin crypto assets to Binance and receive interest of 7% at the end of the Product Maturity date.
Other than Litecoin (LTC), users will also be able to lend BNB, ETC, XRP, USDC and USDT. Each asset carries a 14 day maturity term.
Binance revealed the details for the third phase with Binance Coin (BNB) having a total subscription cap of 200,000 BNB with individual cap set at 500 BNB. Interest is set as 10%.
Ethereum Classic ETC carries a 30,000 ETC total subscription cap with an individual cap of 1500 ETC expected to generate an interest of 7%.
XRP Lending Product offers a 7% annualized interest product. Total subscription cap of 1,000,000 XRP with personal cap set at 50,000 XRP.
Litecoin LTC is expected to generate an interest return of 7% from a total cap of 6000 LTC with an individual subscription cap of 300 LTC.
Stablecoins USDC and USDT lending products are both offered on a 7% and 10% annualized interest returns. The former is has a total cap of 2,000,000 tokens and a personal cap of 500,000 tokens. The latter has restricted individual subscription to 5,000,000 USDT tokens with a total cap set at 20,000,000.
Binance continues to be on the news each week. With a unique public image strategy, it continues to remain at the forefront of crypto innovation.
Interest calculation will commence from the point of subscription to the end of the Lending Phase which is scheduled to be 25th of September, 2019 at 6:00 AM. Interest Payment will be immediately the products reaches maturity.
Coinbase, Binance and Bitmex Rank Top in Web Traffic in October
According to a report published by ICO Analytic, Coinbase, Binance and Bitmex rank the top in web traffic in the month of October, 2019.
The report which featured 20 exchanges reports Coinbase with unique visits in the month of october having 20.5 Million. This figure represents a 0.7% reduction compared to the month of September.
Binance was the second on the list having a 18.2 million unique visits for the month however, this reduced by 3.0% in comparison to the month of September.


Crypto Exchanges web traffic in October, 2019.
Margin trading platform Bitmex had 9.8 million visits with a 14% drop from its September height. This could be influenced by the leak user email addresses scandal it faced.
Fourth on the list of top cryptocurrency exchanges in terms of web traffic was Coinsbit which saw an 83% increase in October from September received a web visit of 5.7 million.
Top losers for last month according to the report were Bithumb which saw a nosedive of almost 50% reduction as it stood at a 44% reduction of web traffic in October as compared to September.
Bithumb traffic was 4.0 million. Kucoin was the number two loser as it lost 26% traffic in October as compared with September. It received 1.5 million visits.

Both Bitmex and UPBIT was a tie as they both received 14% reduction in their web traffic in October. UPBIT saw 4.1 million users visits.
bIndorax gained 7.8% with a 3.4 million user visits. Bittrex received 3.0 million visits against its 7.7% growth.
HitBTC had the least user visits for October with its stats showing 1.2 million visits at a loss of 5.5%.
Highest gainers in terms of percentage of visits were Consbit, ZB.com and Bitbank which received 83%, 57% and 22% respectively.