A little birdie tells me that you are reading this piece on a phone, laptop or tablet and not on a paper. Am I right or am I right? If this is so, then you are a big part of the digital revolution that is renovating our world.
One of the products of this digital revolution is blockchain technology and its many children. It is most likely that you may not be able to call to mind a generation where the internet had not gained mainstream adoption. In fact, not so long ago in 1995, only 10% of households in America embraced the now Worldwide Web. Exactly five years later, a whopping 50% of households in the US had hopped into the train of internet users.
The same way you cannot wrap your mind around a world without the www, is the way millennials will feel about blockchain technology and cryptocurrencies in the near future. No doubt, this nascent technology of trust is causing a huge paradigm shift by disrupting the way we do even the most mundane things.
It is redefining the way we transact, participate in the capital market, auction, and even buy vegetables etc.
Blockchain and cryptocurrency are facing similar stumbling blocks that the internet faced when it was first birthed. Most people believe it is a Ponzi scheme, others wonder if it will scale the test of time. Many others worry that their privacy rights will not be infringed upon.
A writer once said that the best way to fast-track its mainstream adoption is for blockchain and crypto proponents to wear the hat of a user experience designer. This way, they will be able to accelerate its adoption all over the world.
To be honest, Blockchain is not as easy as recording a Tiktok video. In fact, the technology originates from the combination of multi-diciplinary fields such as engineering science, software engineering, distributive computing, cryptographic science and economic game theory etc. This makes it not the simplest of technologies to embrace. It may be simple to some, but this is not so for a huge majority of people the world over. Proponents of this technology must devise a user friendly medium for users to embrace. The masses have to be educated about this disruptive technology. The fact that many people do not grasp the essence of stuff like private keys and crypto wallets, etc. is preventing them from taking advantage of a rather promising technology.
A good number of people do not know how Bitcoin works or why it may be a better option instead of most fiat currencies. Bitcoin is a good hedge against inflation because it has a restricted supply. This makes sure that it increases in value over time unlike most fiat currencies around the world. It is important to make it known that using blockchain is not a war against the traditional banking system. In fact, banks and other institutions should look for ways of adopting this technology to secure their future in business.
The application of blockchain should be as easy and as user friendly as possible if mainstream adoption is not a joke to the promoters of blockchain technology.
The masses should be educated about how to buy and sell cryptocurrencies, operate their wallets and how to withdraw cash from crypto ATMs. They do not necessarily need to know how the nitty-gritties of the technology works but enough to be able to improve their everyday endeavors.
The evangelists of cryptocurrencies should make efforts to build the trust of the masses in blockchain. This will help users to be more comfortable and confident in its use.
Making potential users understand the advantages of cryptocurrencies over other fiat currencies is key. I mean, why should anyone adopt a new and perhaps crazy technology if their traditional banks offers them all they want? The fact that they will have more autonomy over their monies should be preached with a loud speaker.
What makes it more attractive is that they do not have to be in a bank to access their finances. Blockchain and cryptocurrencies are here to stay, therefore the earlier people hop on this train the better before they start paying through their noses to own digital assets.
In fact, the advantages of this technology are far too many for anyone to be left behind in this paradigm shift. All these knowledge need to find their way into the society so as to accelerate the adoption of blockchain and its many disruptive applications.
Dapper Labs raises $12M from Blockchain firms and NBA players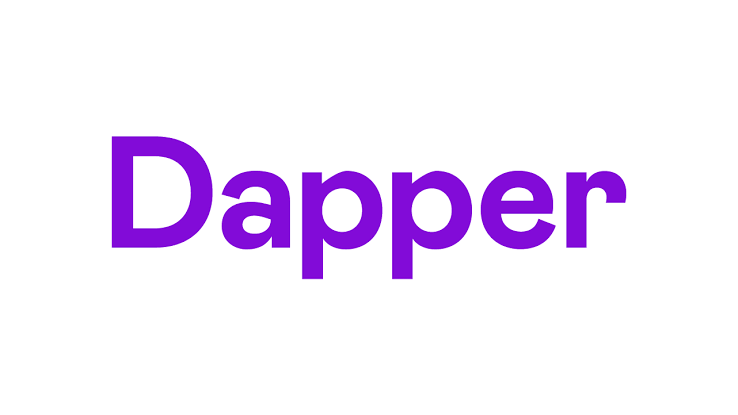 Dapper Labs Says it has raised $12 million from its latest investors for its flow blockchain. Dapper Labs are the masterminds behind the CryptoKitties and the NBA Top Shot project. Pro NBA players as well as notable blockchain companies were part of the investors that raised the $12 million fund.

The NBA players Andre Iguodala of Miami Heat, Spencer Dinwiddlie and Garrett Temple of the Brooklyn nets, JaVale McGee of Los Angeles Lakers, and Aaron Gordon of the Orlando magic were one of the new investors. Coinbase ventures and BlackTower capital were as well part of the investors.

Dapper Labs has now raised an approximate of $38 million dollars all together. Roham Gharegozlou, Dapper's founder and Chief Executive officer has said that the funds secured will be monitored to make "sure Flow can scale to the size of projects appealing to fan bases as big as NBA."
$1.2M in token sales
Dapper also stated that it has sold crypto-collectibles worth $1.2 million dollars to a number of early users on the two-month old experimental version of its NBA Top Shot platform. Top Shot players can buy non-fungible tokens (NFTs) used to depict certain moments in basketball history. Over 22,000 packs of these NFTs worth $1.2 million dollars have been sold on the beta platform.

Each NFT token represent a significant moment and they offer players an experience to see data and videos that each token depicts in multimedia form.

The CEO, Roham noted Flow blockchain can host tokens that feature 3DI animation. He stated it was built to ensure any of the token (NFT) has access to topnotch environments wile talking to Cointelegraph – "to make sure that any NFT has a chance to be able to access a high-throughput environment, have people build applications for them, [and] scale to billions of users".
Notable raise in Blockchain gaming firms
Blockchaingamer.biz data together with the recent fund raise of Dapper, a total whooping sum of $550 million dollars have been raised by Crypto gaming firms. This total comes from $336 million in sale of tokens, Initial Coin offerings (ICOs), $189 million from stocks and capital offerings in form of traditional investments and other fundraising techniques.

Last month, about $18 million was raised in total. Sorare, a fantansy soccer game raised $4 million in seed fund raise and Animoca Brands got $4.1 million from specific investors. DMarket was able to raise $6.5 million in June. Other companies like Horizen Blockchain Games and SuperTree raised $5 million and $2.5 million respectively in the first quarter of the year.

However, CEO of Animoca, Yat Siu has said the $550 million mark is just the inception as it is quite small compared to the current worth of gaming which is a $150 billion industry. He said while speaking to cointelegraph – "Gaming today is a $150 million industry and $500 million invested today is still a small amount, given both the potential in games as well as, we belive, the most viable path to mass adoption of blockchain, we think this will only grow more significantly".