Golix Partners With Blockstarters, A Start-Up Incubator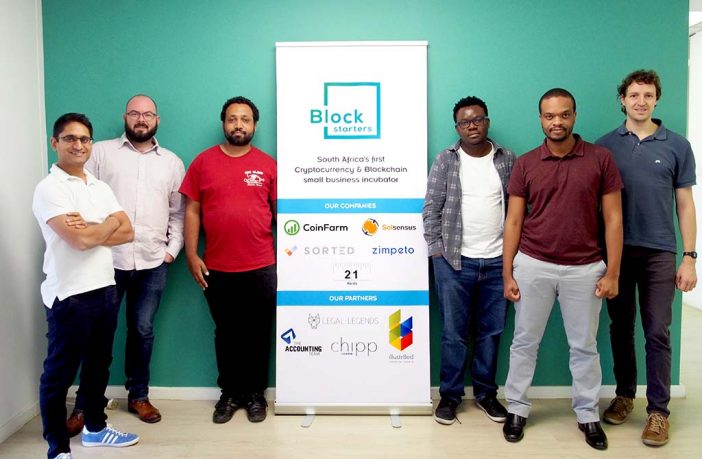 Recently, the first ever cryptocurrency ATM in Africa was shipped to Zimbabwean by a cryptocurrency startup Golix. The startup raised the bar as it tries to penetrate the African market by partnering with south African Blockchain incubator Blockstarters. Golix aims to expand the reach of its services to the rest of Arica but is starting with South Africa.
Golix Heads Off to Capture the South African Market
The partnership with Blockstarter, a Johannesburg-based crypto/blockchain hub and incubator will help ease Golix's entry to the market as a startup. Blockstarters focuses on helping startups attain their maximum potential by providing various blockchain expertise and capital ventures.
The startup has a positive outlook to the situation as Golix's Product Manager, Yeukai Kusangaya, said during a press release: "This is a positive and a promising move. The crypto/blockchain hub and incubator is set to be a huge learning platform for Golix in an all new different environment. During this period the hub will be more of a compass to us as navigate into a new market factoring in the cost of exploring new depths like this."
Blockstarters  whose sole aim was outlined by the co-founder Krean Singh who said: "As entrepreneurs ourselves, we created Blockstarters to bring together the very best in the crypto & blockchain industry. We want startups to grow together, and to inspire one another to create innovative solutions for Africa. How better to do this than to bring everyone under one roof? We the Blockstarters founders have been involved in the industry since 2013, and now live much of our lifestyles off cryptocurrencies. Companies like Golix will one day help millions of other people to do the same."
Despite the caution the government of Zimbabwe is holding towards cryptocurrencies, Golix is undeterred as it plans to add the South African Rand (ZAR) as a new currency to its platform. This will aid the 3 million Zimbabweans currently living in south Africa to utilize the platforms during their annual remittance.
Golix plan is to grow beyond its two offices and 22 staff members in Zimbabwe's capital. We hope to see the startup expand its reach to other countries making a name for themselves in the crypto space such as Kenya, Ghana and Nigeria.
What do you think about this partnership? Leave your questions and comments now below.
Japan's LIQUID Exchange Announces Telegram Digital Token Public Sale
Japan's top cryptocurrency exchange Liquid has announced the upcoming Public Sale launch of Telegram digital asset token for the (Telegram Open Network).
As reported by Finance Magnates, this development is made possible by Liquid's recent partnership with Gram Asia, the largest holder of the native token of TON blockchain in Asia. Public Sale for the TON token will commence by 10th of July 8 am UTC and is open to accredited LIQUID Exchange users. Interested participants in the public sale are also expected to have enough funds in their accounts.
Excited Mike Kayamori, co-founder and CEO of Liquid, "We are excited to be partnering with Gram Asia to launch the Gram token sale, which is wonderful news to our community who are native users of Telegram. We share the vision for a more secure and open value transfer system in order to enable the mainstream adoption of cryptocurrencies." said.
It should be noted Telegram organized a private sale in 2017 when it announced plans to launch its own Blockchain and native token via the no longer popular ICO. It raised a total of $1.7 billion via private sale as at March 2018 making it the second largest amount raised through ICO second only to Block.one's EOSIO which still ranks tops after raising over $4 billion.
"The TON Blockchain infrastructure can help enhance Telegram's current capabilities as a peer to peer network of value, with the launch of their cryptocurrency light wallets for Telegram's highly engaged user base," Kayamori continued.
As TON is expected on its own Blockchain, Liquid Exchange will make provision for integration of the TON compatible wallet where investors are expected to receive TON tokens upon the launch of TON Mainnet which is expected to go live by October 2019. As Japan's first FSA licensed global exchange, it assures its users of an unconditional refund should the initial plans not follow through by the TON Team.
"As the first Japan FSA licensed global exchange, Liquid has demonstrated strong governance capabilities for protecting its users; therefore, I firmly believe Liquid is the right partner to launch this historic token sale. We are excited to invite all believers in Telegram's vision, globally and in Asia, to build on top of TON, leveraging the critical mass of Telegram's user base." Dongbeom Kim, founder and CEO of Gram Asia, said.