Geneva will host the second Blockchain & Bitcoin Conference Switzerland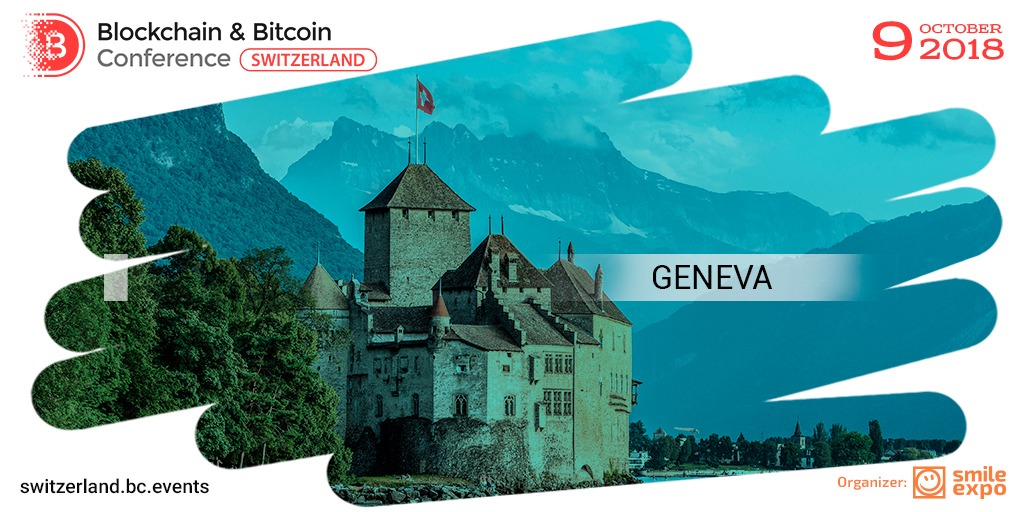 On October 9, 2018, Blockchain & Bitcoin Conference Switzerland will take place for the second time in Geneva, the European fintech hub. The event is dedicated to blockchain and cryptocurrencies uniting blockchain project developers, investors, analysts, financiers, specialists in marketing and legal support of business. The first Blockchain & Bitcoin Conference Switzerland was held in February and gathered more than 300 participants.
Background, topics, experts
Blockchain & Bitcoin Conference is a series of events held in different countries of the world by Smile-Expo. In 2018, more than 20 events are planned including the recent conferences in the Philippines, Australia, India, Thailand, and upcoming events in France, Switzerland, and Malta.
The event in Geneva combines a conference featuring foreign experts and a demo zone where companies will present their products. The program includes a panel discussion and a pitch session for participants of the demo zone.
The team of Smile-Expo, the international event company, includes in the program of Blockchain & Bitcoin Conference Switzerland reports of international experts as well as bright representatives of the Swiss blockchain community. In February, speakers of Blockchain & Bitcoin Conference Switzerland were representatives of CERN and investor listed in Forbes 30 under 30.
Pioneer in financial technologies
Switzerland is a country with the developed banking system and great interest in fintech innovations. Today the country has its own "crypto valley" – the city of Zug, where a functional blockchain ecosystem has been developed and many famous projects are based, such as Ethereum Foundation, Monetas, Lykke.  Zug is known for several business accelerators and HSLU-I university that teaches blockchain specialists. Besides, one can use Bitcoin to pay for goods and services here and exchange it for fiat money in one of three Bitcoin ATMs. At the end of July, the voting via the eID system based on the distributed ledger will take place in Zug.
In 2018, Procivis startup has successfully tested and implemented the eID solution and a number of e-Government services. Now users can file tax declarations, register residence, and use passport services with their smartphones.
Furthermore, there are blockchain platforms for over-the-counter securities trading launched by major financial organizations in Switzerland. As for the business application of blockchain, 75% of Swiss companies plan to integrate the technology in the next three years (according to the report of PwC).
Attend the second Blockchain & Bitcoin Conference Switzerland!
Smile-Expo's blockchain conference in Switzerland gives an opportunity to meet global blockchain and cryptocurrency experts. It is a comfortable networking space, where one can exchange experience with companies that have already developed and implemented real-life blockchain-based solutions.
The event will be interesting for:
specialists working in the field of blockchain and cryptocurrencies that want to receive new and relevant information firsthand;
those striving to build a career in the field of blockchain and cryptocurrencies;
entrepreneurs that plan to integrate decentralized technologies in their business.
Now you can get Early Birds tickets on the website of the event!
Us Congressman admits that bitcoin is an unstoppable force
The announcement of Libra as a cryptocurrency has hit the crypto community with a lot of reactions, especially from the US government. The plight of bitcoin has also seen so much attention especially from naysayers in Congress although this week we experienced a turn of events in the opposite direction as United States politicians accept the fact that bitcoin had always been beyond their control which feeds the narrative that the overall fight against cryptocurrencies is probably as a result of the fact that the government fears the power of decentralisation inherent in cryptocurrencies of massively adopted.
A disruptive innovation the government cannot stop
Even though what the blockchain technology offers is way beyond cryptocurrencies they have both been erroneously interchanged even by elite persons who have little or no knowledge about it as we see clearly reflecting in a tweet made by the President of the United States only a few days ago saying that.
I am not a fan of Bitcoin and other Cryptocurrencies, which are not money, and whose value is highly volatile and based on thin air. Unregulated Crypto Assets can facilitate unlawful behavior, including drug trade and other illegal activity….

— Donald J. Trump (@realDonaldTrump) July 12, 2019
In his speech on the 17th of July Congressman Patrick McHenry, who represents North Carolina's 10th District stated clearly to lawmakers that attempts to stop bitcoin were utterly useless especially owing to the fact that other governments who have tried to do the same in the past have failed. His view runs in sharp contrast to other congressmen making the headline over the subject matter.
McHenry also said that "some politicians want us to live in a permission society where you need to come to government, ask for its blessings before you can even begin to think about innovating. Those are the politicians that would rather kill it before it grows"
His view was welcomed amongst most cryptocurrency enthusiasts as it reflected a lot of objectiveness and little or no hatred for this innovative technology unlike the majority of his fellow congressmen such as Brad Sharman who also found himself in the spotlight due to his dubious claims about bitcoin's affiliation with Crime.
For McHenry whether or not there was legislation over this subject matter it was still going to make no difference as bitcoin was always going to prevail, and that if this was going to be possible, it probably would have been done since 2009 by an adversary.
However this goes, bitcoin has come to stay.