Cryptotvplus Partners with BitcoinKE to Grow the African Blockchain Ecosystem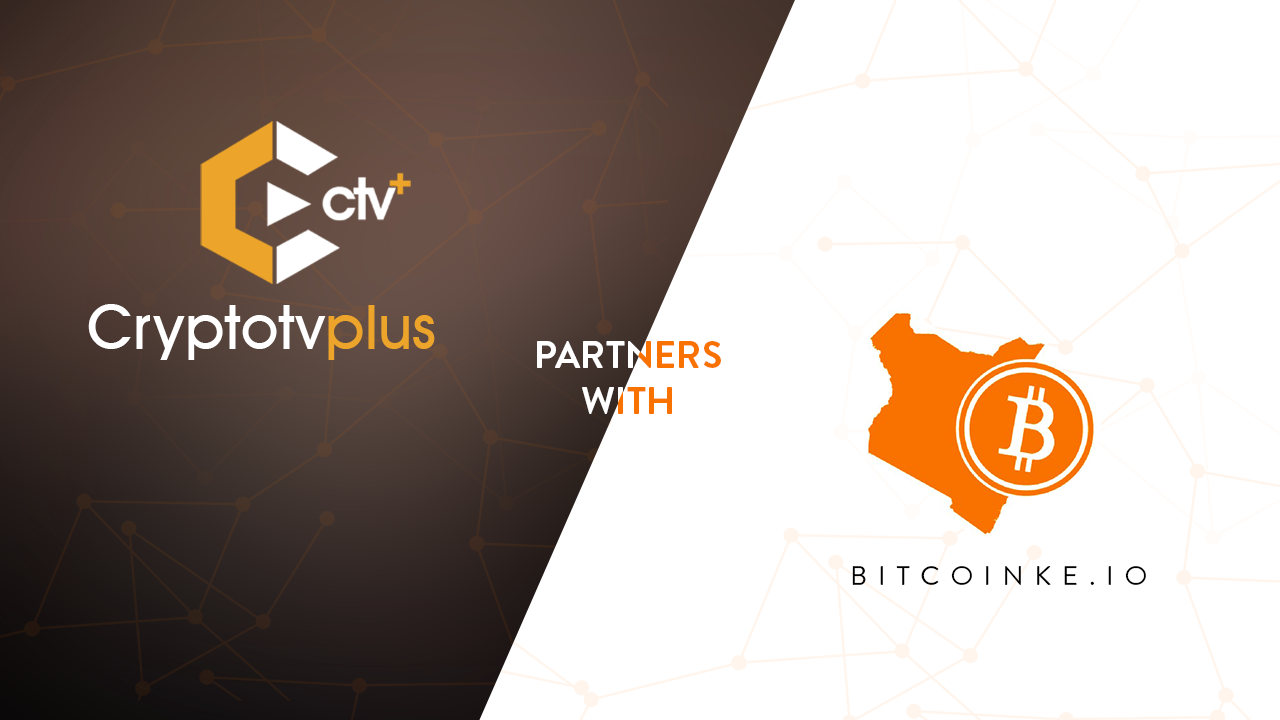 Cryptotvplus and BitcoinKE have entered a partnership to grow the African blockchain ecosystem.
Cryptotvplus and BitcoinKE have reached an agreement to work together with the goal of growing the African Blockchain Ecosystem.
This partnership will enable both brands to reach East and West African markets by introducing projects, developers, and teams working in the blockchain space on both fronts.
Bitcoinke is a Kenyan publisher of blockchain news founded in 2018. It reports on blockchain technology, cryptocurrency news, blockchain events, and analysis of the economy through blockchain.
In a joint statement, Cryptotvplus and BitcoinKE said:
"We propose a synergy between the above mentioned companies for the primary purpose of mutually expanding our reach and creating a global media force in the African Blockchain Ecosystem."
The joint partnership will see content sharing between the two players that includes press releases, newsletters, infographics, videos, podcasts, cross-marketing content, and product mergers with common ground.
As BitcoinKE, we're confident that this partnership will have a positive impact on our traffic and will enable featured projects and products reach a much wider African and global market.

– BitcoinKE
Partnership is not unusual in the blockchain space. In our recent article, we brought to you the update of our recent partnership between Cryptotvplus and Bitmama.
Just in case you don't remember, it is in Cryptotvplus interest to keep her community synced with the latest news and Information on cryptocurrency and Blockchain technology in Africa and beyond.
We are thinking to expand the services by working in close partnership. This partnership will help improve our  campaign for awareness. It will help us provide newer services in the space.

– Tony Emeka CEO Cryptotvplus
Efforts to reach wider Africa are underway to further grow the African ecosystem.
Congratulations to both parties on the recent achievements in the blockchain media space.
Chilliz, the Sports Platform Partners with Binance Chain
Chiliz, the digital currency for sports and entertainment platforms, has announced a strategic partnership with Binance Chain, to bring about the usher in in of football giants such as Juventus FC and Paris Saint-Germain FC (PSG) into the growing cryptocurrency industry.
Chilliz released thannouncementent in a press release issued on the 17th of May 2019 signaling in a new phase of its growing business.
Chiliz raised more than $66 million through private placement in 2018, with Binance as one of its major investor amongst others.
Chiliz is a digital currency that fuels blockchain-backed platforms and products geared towards casual, mainstream consumers, starting with Socios.com, a tokenized fan influence mobile app. It aims to bridge the gap between mainstream users in a 3.5 billion people powered sports industry and blockchain technology.
While blockchain as a pervasive technology, continues to gain grounds globally by finding use cases, Chiliz takes it a step further to bring about real use cases with it socios.com platform.
Socios.com, the consumer-facing tokenized fan influence product from Chiliz, powered by the platform's native currency $CHZ, will allow sports fans to participate in club-related polls and access exclusive rewards with the purchase of club-branded Fan Tokens.
Speaking on this development, Alex Dreyfus, the CEO of Chiliz and Socios.com said:
Integration of Binance Chain protocol will increase our access to the large liquidity pool of the Binance community, one of the largest and most vibrant communities in the cryptosphere. Through Socios.com, we will highlight blockchain to a more mainstream audience – an addressable audience of 3.5 billion fans around the world – as well as allowing global brands and household names the chance to access the crypto space.
Binance CEO, Changpeng Zhao, an equally excited partner to the Chiliz project had this to say:
Sports is the perfect vehicle through which to educate mass consumers about the potential and the utility of blockchain technology. I'm proud that Binance and Chiliz are leading that charge globally.
Alex Dreyfus further highlights the important of this partnership and the Binance Chain move undertaken as a strategic step for the Chiliz project. He continued by saying:
Binance Chain's focus on usability, security and incredible one-second block time speed will be crucial to the success of the platform we are building, and for the eventual audience of hundreds of millions of sports fans
May 27th, 2019, has been set as the date for the unveiling of this partnership. The Binance team will be joining Chiliz for a meetup in Seoul, South Korea joined by the legendary Juventus FC striker, David Trezeguet to discuss more on the importance of fan engagement and the use of blockchain in football.
Further details to be released in the coming weeks of the technical integration of the partial migration of ERC20 tokens to BEP2 with competitions and giveaways to entice and engage the community.