Cheetah Africa Moves on to Connect Fintech Startups to VCs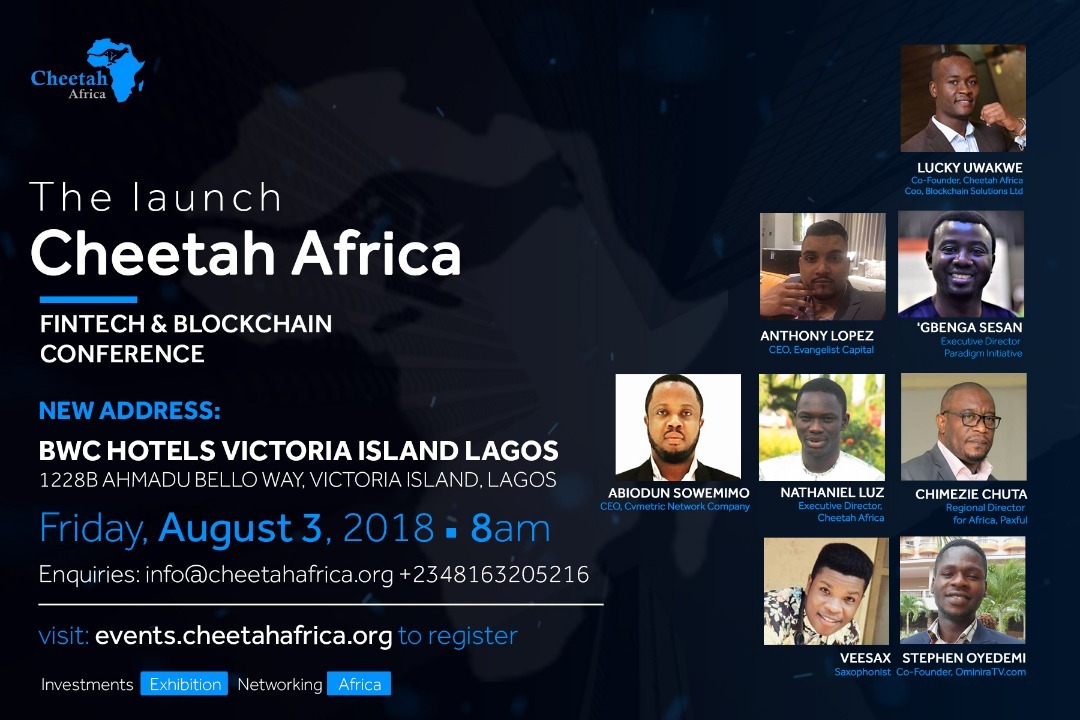 Few days after the Launch of Cheetah Africa, plans have been put in place to launch the organisation towards achieving its set milestone. The FinTech and Blockchain platform held its launch  recently at the BWC Five Star Hotel Victoria Island on  3rd August, 2018. The event was geared towards introducing the platform that would bring investors and startups together.
Lucky Uwakwe the Co- founder of Cheetah Africa in an interview with cryptotvplus explains the aim of the platform. He says, "The goal of cheetah Africa after the end of the event Is basically simple. It is mainly to help startups get the awareness or the exposure with the international community, helping them them get on board on this huge market that is out there."
Getting funds and attracting investors is a difficult feat for most startups. Lucky explains, "A lot of them have not been exposed to it, a lot of them are spending the energy they would have use to build beautiful solutions on the product of blockchains unfitted. They spend quite a lot of these energies on sourcing out funds. But Cheetah Africa will now give them that exposure because Cheetah Africa will focus on trying to extract those foreign VCs, attracting them to people who love to invest in African startups. Cheetah Africa will be doing more of that for them, while the young startups in Africa will focus more on building solutions which they love to build."
He further explained that there will be a form of test for these startups which he termed "acid base test". He explains the need for the test saying, "We feel so many people have beautiful ideas but some of these beautiful ideas might not be properly carryout or might be done in a way that doesn't meet up to standards. So, Cheetah Africa will also help to filter some of these trashy products out there." The firm also aims to expand their reach beyond Nigeria and cover all the 56 countries in Africa.
Nathaniel Luiz , co-founder of Cheetah also spoke to our correspondent saying, "Cheetah Africa is going to be a platform for them to find somewhere to incubate their ideas. so cheetah  Africa is going to stand as a support system,that is why we have the pool of Africa start-ups and innovations."
What do you think about Cheetah Africa? Share your opinion with us in the comment section below.
Image credit: pixabay,
Disclaimer:
The Information provided on the website is designed to provide helpful information regarding cryptocurrency subjects. The content is not meant to be used, nor should it be used as a basis, foundational knowledge or prerequisite for decision making regards trading. Always do your own research and due diligence before placing a trade. We are not liable for any outcome based on any content found on the site.
Blockchain African Ladies (BAL) calls for Scholarship Applications to the ConsenSys Academy & African Blockchain Alliance (ABA) Female Skills Acquisition Program.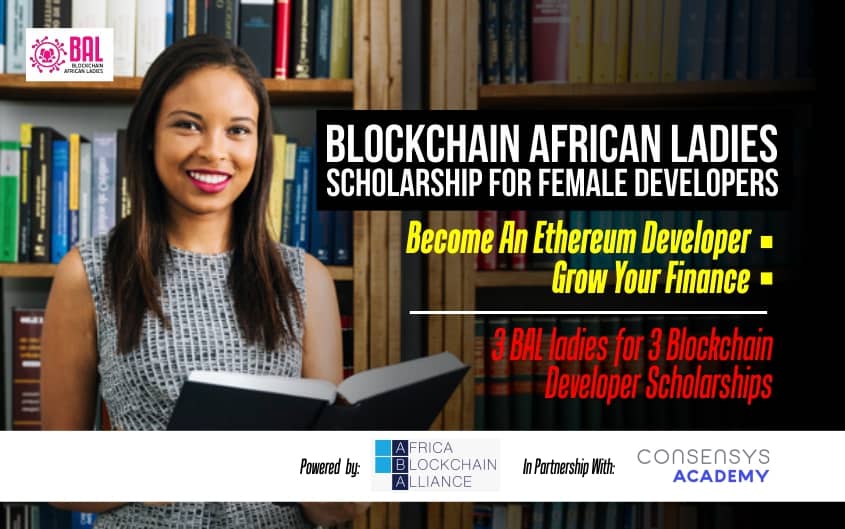 The African Blockchain Alliance (ABA) in partnership with ConsenSys Academy the Educational arm of the US Based Ethereum Blockchain firm ConsenSys has announced their collaborative effort in driving the adoption of blockchain technology by female gender via the Female Blockchain Skills Acquisition Program.
In fostering this, the Blockchain African Ladies has received scholarships to be given to its members. This initiative according to the partners is to build a pool of blockchain developers building creative solutions for the African continents.
According to a report published in 2018, the demand for Blockchain Developers has grown in a considerably 400% over the few years the Blockchain technology found a global interest and the lack of female developers working and building on the technology has been disturbing.
The Blockchain African Ladies is a non-profit blockchain educative forum which educates African ladies on the potential opportunities on the blockchain and how they can leverage the technology to change lives.
It should be noted a few weeks ago, in driving its mission; the Blockchain African Ladies had their conference in Lagos, Nigeria where significant issues in the blockchain industry were discussed upon. It also has an upcoming conference in Ghana.
The program is highlighted to benefit successful applicants by offering rates from $1,000 to $650 to be part of the program as well as bring representation to the continent.
Successful applicants will also enjoy a Mentorship & In-Person Sessions with international mentors from ConsenSys and the Ethereum Ecosystem as well as in several numbers of Cities in Africa.
Understanding how imperative practical demonstration of acquired talents is in building oneself, the African Blockchain Alliance will also offer job opportunities to the participant who successfully completes the program via its network of working relationship with global organizations, corporate and government. The program will also serve to successful participants certificates verifiable on the Ethereum Blockchain issued from the ConsenSys Academy using their certificate issuing platform the #Ethense.
Desiring to apply for the scholarship, applicants are expected to be Female Developers and must follow the below-stated steps:
Signup/Join BAL here
Join the BAL Telegram Community;
Apply here
Deadline for submission is May 1, 2019
Selected applicants will be contacted.