Bitcoin Is Back Above $10,000 After Binance Successful Upgrade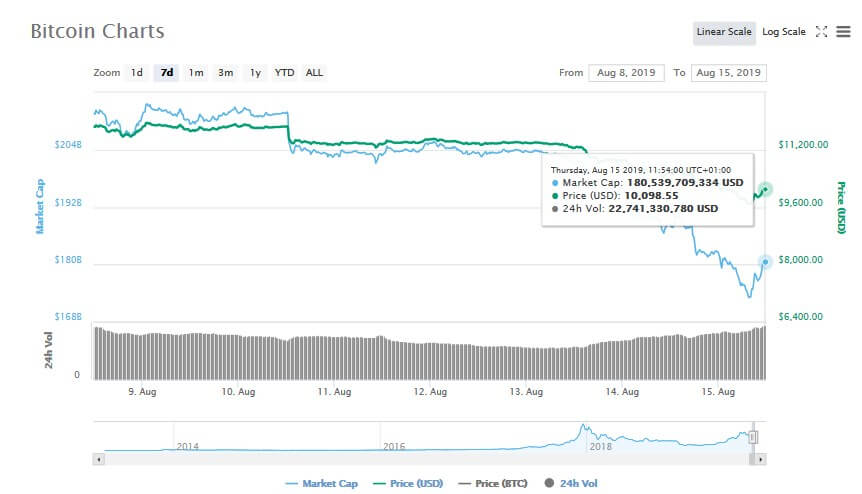 Bitcoin back over $10,000 after  the Binance successful upgrade since the cryptocurrency market saw recent profits swept away as it dips. Though, other cryptocurrencies are also experiencing significant loss across board with bitcoin also, Bitcoin is the only cryptocurrency standing out amongst the top ten cryptocurrency.
Binance on the 14th of August announced a system upgrade which would commenced on the 15th of August 2019. The upgrade is expected to last for a maximum of 8 hours with major improvement to its platform such as; Matching Engine API, new order type etc.
According to the firm, deposits and withdrawals are expected to be suspended
#Binance System Upgrade Complete

Trading activity will resume at 10:00 AM (UTC).

From now until the commencement of trading, users will be able to cancel orders, process deposits, withdrawals, and use all other account-related functions.https://t.co/5cGJ3yWwtu pic.twitter.com/ZdMKv5OuRs

— Binance (@binance) August 15, 2019
The Upgrade was successfully completed just over two hours ago and and co-incidentally, the bitcoin price rallied climbing just over 10,000 USD.
For those who hodl during the period cryptomarket saw the dip across all cryptocurrencies, CZ joined them in celebrating the ascent of bitcoin to the current price.
It looks like #Bitcoin came back with us.

Upgrades are tough, but a necessary part of #BUIDLing.

Thank you for your patience🙏 https://t.co/fickSUXaYW

— CZ Binance 🔶🔶🔶 (@cz_binance) August 15, 2019
Bitcoin is currently trading as at press time at $10095 reporting a loss of 4.12%.
Deposits and withdrawals are currently enabled on Binance however, it recommended to users to open their Margin positions and re-assess their collateral balances priort to the start of trading to migitate against price fluctuations that may occur.
Enhancing Protection, Bittrex Secures $300m Digital Asset Insurance 
Cryptocurrency exchange Bittrex, Inc announced it had secured a $300 million digital asset insurance.
The insurance obtained secures named crypto assets in its cold storage system.
The blockchain technology and cryptocurrency exchange firm said it worked closely with the world's leading insurance broker and risk adviser, Marsh, in placing the coverage with Arch Syndicate 2012, an organization which provides casualty and specialty insurance for corporations and supported by various syndicates at Lloyd's of London.
The approval for insurance coverage according to Bittrex comes after successfully demonstrating its extensive internal security and compliance protocols.
The coverage is up to $300 million in assets in cases of external theft and internal collusion.
The underwriters were not disappointed upon learning of the 'best-in-class' technology Bittrex has. And the fact that 'a growing number of cryptocurrency exchanges around the world are also built on the Bittrex' technology owing to the confidence in the platform, Bittrex claims.
Speaking on the insurance coverage, the CEO of Bittrex, Bill Shihara, was quoted saying "Bittrex focuses on doing the right thing by our customers with security at the top of our mind. This insurance coverage provides another layer of peace of mind,".
He continued further saying "From our institutional customers to hobbyists, we are committed to prioritizing security throughout all of our decisions and forward looking blockchain technologies"
Co-leader of the global leader in insurance and risk management firm, Marsh's Marsh's Digital Asset Risk Transfer (DART) team also commented saying "Insurance plays a critical role in the growth and development of any business, including those that work with blockchain technology and digital assets,"
"We worked closely with Bittrex to create a tailored insurance solution to fit their specific cryptocurrency needs.