Bitcoin Is Back Above $10,000 After Binance Successful Upgrade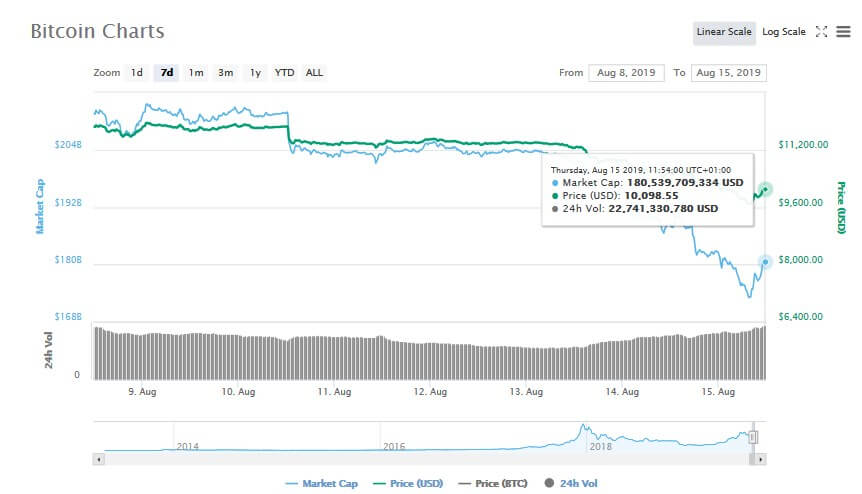 Bitcoin back over $10,000 after  the Binance successful upgrade since the cryptocurrency market saw recent profits swept away as it dips. Though, other cryptocurrencies are also experiencing significant loss across board with bitcoin also, Bitcoin is the only cryptocurrency standing out amongst the top ten cryptocurrency.
Binance on the 14th of August announced a system upgrade which would commenced on the 15th of August 2019. The upgrade is expected to last for a maximum of 8 hours with major improvement to its platform such as; Matching Engine API, new order type etc.
According to the firm, deposits and withdrawals are expected to be suspended

#Binance System Upgrade Complete

Trading activity will resume at 10:00 AM (UTC).

From now until the commencement of trading, users will be able to cancel orders, process deposits, withdrawals, and use all other account-related functions.https://t.co/5cGJ3yWwtu pic.twitter.com/ZdMKv5OuRs

— Binance (@binance) August 15, 2019

The Upgrade was successfully completed just over two hours ago and and co-incidentally, the bitcoin price rallied climbing just over 10,000 USD.
For those who hodl during the period cryptomarket saw the dip across all cryptocurrencies, CZ joined them in celebrating the ascent of bitcoin to the current price.
It looks like #Bitcoin came back with us.

Upgrades are tough, but a necessary part of #BUIDLing.

Thank you for your patience🙏 https://t.co/fickSUXaYW

— CZ Binance (@cz_binance) August 15, 2019

Bitcoin is currently trading as at press time at $10095 reporting a loss of 4.12%.
Deposits and withdrawals are currently enabled on Binance however, it recommended to users to open their Margin positions and re-assess their collateral balances priort to the start of trading to migitate against price fluctuations that may occur.