Binance US Prepares for Launch as it Opens User Registration on 18th September, 2019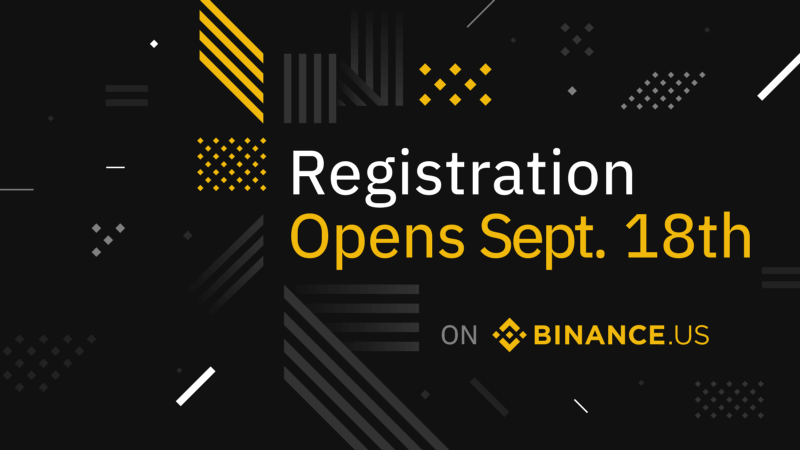 Binance US will allow users to register on the exchange on Wednesday, the 18th of September, 2019 as it prepares for its' launch.
The exchange also revealed that on same day, it will be accepting deposits of BTC, ETH, XRP, BCH, LTC and USDT. This will commence at about 8am ET.
Binance US revealed that, during the period of registration, users will be able to sign up for an account and select the tier of verification they desire for their withdrawal limits. Upon verification, users will then be able to deposit their digital assets unto the exchange platform.
In a blog post released by the US Exchange, Binance US said it will continually be adding selected digital assets available for verified users to deposit and eventually trade on the Exchange. This will be after trading commences for the first phase.
It also revealed the availability of the digital assets for trading will be based on the Binance Digital Asset Risk Assessment Framework.
In an earlier publication by Binance US, it was made known that on the initial launch, there will be desktop/mobile access granted to users, app versions will be available in the future. It also revealed  there will be KYC requirement which will demand the use of valid government issued IDs such as drivers license or passport, social security number (SSN).
Binance US according to the firm is a fast and secure digital asset marketplace, delivering the world's leading digital asset trading technology, speed, and experience to everyday users in America. Based in San Francisco, Binance.US is operated by BAM Trading Services and built on the cutting-edge matching engine and wallet services licensed from Binance.
Led by the innovative CZ, Binance has grown from a cryptocurrency exchange to a blockchain ecosystem offering various innovative products for users to utilize. It is currently one of the top exchanges in the world by volume.
Enhancing Protection, Bittrex Secures $300m Digital Asset Insurance 
Cryptocurrency exchange Bittrex, Inc announced it had secured a $300 million digital asset insurance.
The insurance obtained secures named crypto assets in its cold storage system.
The blockchain technology and cryptocurrency exchange firm said it worked closely with the world's leading insurance broker and risk adviser, Marsh, in placing the coverage with Arch Syndicate 2012, an organization which provides casualty and specialty insurance for corporations and supported by various syndicates at Lloyd's of London.
The approval for insurance coverage according to Bittrex comes after successfully demonstrating its extensive internal security and compliance protocols.
The coverage is up to $300 million in assets in cases of external theft and internal collusion.
The underwriters were not disappointed upon learning of the 'best-in-class' technology Bittrex has. And the fact that 'a growing number of cryptocurrency exchanges around the world are also built on the Bittrex' technology owing to the confidence in the platform, Bittrex claims.
Speaking on the insurance coverage, the CEO of Bittrex, Bill Shihara, was quoted saying "Bittrex focuses on doing the right thing by our customers with security at the top of our mind. This insurance coverage provides another layer of peace of mind,".
He continued further saying "From our institutional customers to hobbyists, we are committed to prioritizing security throughout all of our decisions and forward looking blockchain technologies"
Co-leader of the global leader in insurance and risk management firm, Marsh's Marsh's Digital Asset Risk Transfer (DART) team also commented saying "Insurance plays a critical role in the growth and development of any business, including those that work with blockchain technology and digital assets,"
"We worked closely with Bittrex to create a tailored insurance solution to fit their specific cryptocurrency needs.