African Students Among Top Users of Cryptocurrency
We live in a time of tech-savvy people and the youths are the number one users of technological devices. It is no surprise that Paxful, a global peer-to-peer cryptocurrency marketplace notes that majority of the users of virtual currency in Africa are more likely to be male and under the age of 30. The report states that Paxful which receives more than R500-million per month from its African consumers noted that more than half of its customers are under 30 years of age. The report revealed that 70% have a tertiary qualification or a post-secondary school qualification while the dominant users are male taking 65% with the females taking 35%.
Africa is still developing technologically but, it is surprising to see that the Paxful noted that more transactions involving the transfer of goods, services, and money were facilitated via their platform in Africa, compared to other developing countries where digital currencies are traded speculatively for profit. African consumers who use Paxful find that digital currency offers them lower fees when it comes to cross-border commerce. The added fact that transactions are conducted speedingly and they are safe also attracted entrepreneurs and who find cryptocurrency easy for their operational and exporting capabilities.
Paxful find the African market an expanding market as Ray Youssef, co-founder, and CEO of Paxful says, "We are on the verge of the peer-to-peer financial revolution and it is being led by Africa." He added, "Bitcoin, Ethereum, and other virtual currencies are just newer financial services instruments. Paxful's growth on the Continent reflects the tremendous appetite for innovation in Africa." Africa already has an advantage over the so-called 'developed markets' when it comes to innovation in financial services, with an expanding middle-class that has already embraced innovation in banking in comparison to other parts of the world. It Is no surprise to see that Africa is a hub for a lot of the multiple use cases of the blockchain technology.
What do you think about Africa's participation in the crypto space? Share your opinion with us in the comments section below.
Image source: clintlord
Disclaimer:
The Information provided on the website is designed to provide helpful information regarding cryptocurrency subjects. The content is not meant to be used, nor should it be used as a basis, foundational knowledge or prerequisite for decision making regards trading. Always do your own research and due diligence before placing a trade. We are not liable for any outcome based on any content found on the site.
Market Retraces its Steps after Opening the Week with Green across the Market.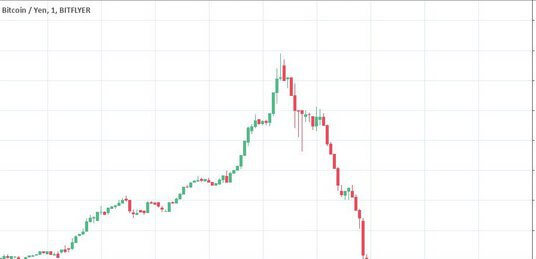 The first day of the week just three days ago opened the week to a wide spread gains across the cryptocurrency market with Tron reporting the highest gains of over 9%. Today opens with significant losses that have wiped out the gains made in opening day of the week. Bitcoin is currently trading at a loss of 11.01% as at press time standing at $11,503. Total market capitalization sits at a $313 billion. Opening day of the week, it was at $327 billion
The second largest cryptocurrency by market capitalization Ethereum is trading at $271 which is over $30 lower than its week opening price. It is currently reporting 11.94% loss. XRP of Ripple is trading at a negative of 15.79% as Litecoin is also a little below standing at loss of 14.59%. The price of XRP stands at $0.33 while Litecoin is just over $100.
Tron which recorded the highest gains in the opening day of the week is reporting an astonishing 16.56% loss with Bitcoin SV, the embattled Bitcoin fork showing 18.56% in red. Top loser on today is EOS which is trading at $4.66 with a market capitilization of $3.9 billion but suffering a loss of 20.13%. Bitcoin cash is at 18.48% red trading at $339.29.
Tether the stablecoin positioned at number 8 by marketcap is stable at $1 but reports a 0.06% red which should be normal as it is of course a stable coin.
The industry continues at grow and thrive with the reported achievements of Blockstack to conduct a SEC compliant token sales, the market normally responds favorably to such news. While its is normal for the market to step back a bit after an upward surge, could this be the result of the 7300s BTC dumped on Binance?
Someone on Binance is in a hurry to sell ~7.5k+ bitcoins ($100 million). It's a limit order, but it's aggressively adjusting it's price to be on top of the orderbook. Pushed down price from $12.6k to $12.1k. 5k btc left pic.twitter.com/f6jwAyDDc0

— Madoff wasn't on the blockchain (@bccponzi) July 9, 2019
We can only look at the charts and open our ears to hear positive news. And by the way, Bitcoin has increased in dominance to 65.4% as against its week opening dominance of 62.1%.