3 Most Popular Wallets for holding NFTs.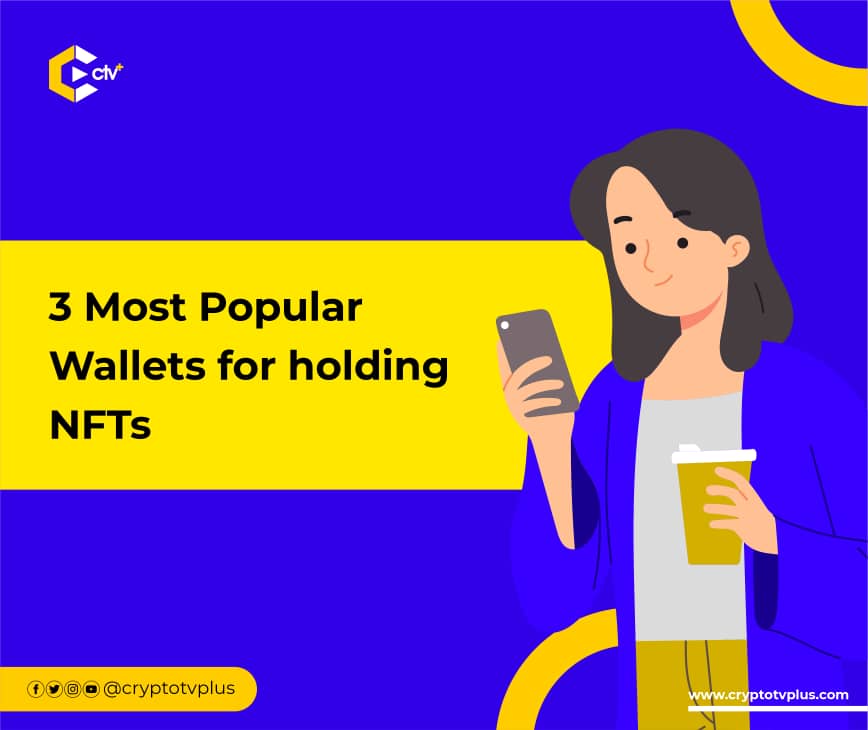 There's been a fast boost in the volume of NFT users in the past year, who use various protected wallets to store and trade NFTs.
NFT wallets are usually cryptocurrency wallets with additional utilities apart from storing and trading crypto assets. Typically, most crypto wallets can store NFTs apart from their initial use of holding crypto assets. With a wallet, one can buy, sell, or hold both cryptocurrencies and NFTs, 
Here's a dive into the 3 most popular walkers for holding your NFTs. 
MetaMask
MetaMask is a crypto wallet that helps its users store and trade digital assets in the blockchain space. MetaMask started as a desktop browser plugin on web browsers and has evolved to also include mobile wallets for both iOS and Android devices.
The decentralized wallet enables the storage of cryptocurrencies and allows access or interaction with decentralized applications also known as dApps. The mobile application has an extension that allows users to store their passwords and private log-in information,  this feature offers users power over their wallets and gives another level of protection over the personal information of those who use the app.  The Wallet can be used to store tokens generated on Ethereum's blockchain like ERC-20 and ERC-721 tokens. 
The mobile wallet is popular and widely known by users, and it is effortless to interact with, even for a crypto or blockchain newbie. The NFT wallet can be accessed by simply sliding the screen to the left or clicking on the "NFTs" interface on the right-hand side.
To stay updated on current market trends, the MetaMask mobile app comes with a browser that offers access to news, insights, and information on crypto/blockchain-related topics without exiting the app. Also, MetaMask users can access various apps, Defi, games, and others. on the Ethereum blockchain.
Coinbase Wallet
Unlike MetaMask, Coinbase  is a centralized digital wallet utilized for storing and trading digital assets, whether they are fungible or non-fungible tokens. The app is a user-friendly app, even though it is not decentralized.:
 Unlike other wallets that demand a wallet address before a user can transfer tokens to another user, Coinbase allows users to transfer tokens to another user using just their username. The wallet makes fiat currencies readily accessible, making it easier for beginner NFT users to start trading effortlessly and instantly. 
Also,  it keeps users updated on price alerts and further related transactions with its notification feature. It boasts of accessibility of wallets through dApps.
Though Coinbase is an exchange platform, it likewise has a distinct wallet; this means users can either store and trade their assets on the exchange platform or its wallet. To access the NFT wallet on the wallet, all users have to do is just swipe their mobile screen to the right-hand side where they have the "collectibles" inscription.    
Trust wallet 
A trust wallet is another type of decentralized wallet that stows digital assets and enables the trading of digital assets. Asset trading on Trust wallets covers: sending, receiving, buying, and swapping of assets. Unlike centralized wallets, the Trust wallet has access to dApps, it is easy and effortless to use but unlike MetaMask, does not store the user's personal information.
Trust wallet supports the trading of digital assets, however,  it does not hold or manage them; the wallet only makes digital assets available to users. It functions more like a bridge between users and their chosen assets. It also supports both Android and iOS mobile devices.
The Trust wallet is one of the most suitable to store NFTs because of its relatedness to several different blockchains. The wallet can store and trade NFTs minted on several blockchains, including, Ethereum, Solana, Binance Smart Chain, and Polygon. To access the NFT wallet, a user can simply slide to the left of the screen, or can click the "NFTs" option on the  right side of his screen, right next to the "Tokens" option.