Bitmain Announces the release of two new ASIC Antminers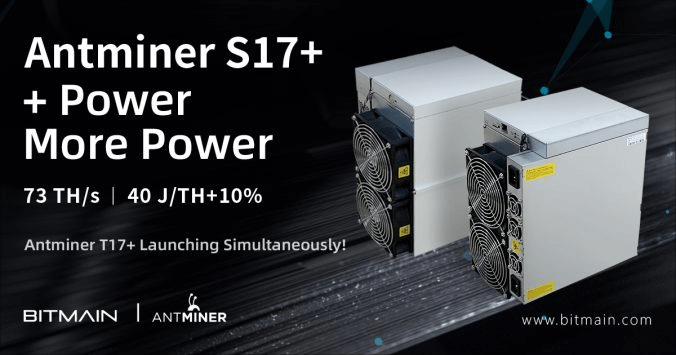 Bitmain announces the development and release of two new cryptocurrency mining products in the Antminer 17 series. The announcement was made by the Co-founder of Bitmain Jihan Wu at the World Digital Mining Summit (WDMS) held at Frankfurt, Germany today the 9th of October, 2019.
The new mining models which are the S17+ and T17+ both come with improved power efficiency and hashrate. According to Bitmain, the Antminer S17+ posses a hash rate capacity of 73 TH/s and works with a power efficiency of 40J/TH + 10%.
The other product, the Antminer T17+ offers a 64 TH/s hash rate capacity at a power efficiency of 50 J/TH + 10%.
Speaking on the release, Jihan WU at the Summit in Frankfurt said "our new Antminers are at the forefront of mining innovation. They each represent the future of its rig design and power efficiency."
He went further saying "We remain committed to our research and development capabilities and will continue to improve our devices."
Using what it called the dual tube heat dissipation technology, Bitmain revealed the miners has been designed so that the space between the air inlet to the air outlet has been reduced by half thus improving head dissipation effectively as well as minimizing the noise of the fan.
Also included to ensure stable and safe operation of the miners, high temperature and fan abnormal production mechanism has been built in, revealed Bitmain.
According to Bitmain, the two new miners, Antminer S17+ and T17+ will be available on the company's website according to a given timinig.
Sales will commence from the 11th of Ocotber, 2019 at 19:00 GMT+8 while delivery time will be between 1st to 10th December, 2019.
Bitmain was founded in 2013 by Jihan Wu and Micree Zhan with its headquarters in Beijing China. Since it was founded, Bitmain has grown to be the largest designer of application specific integrated circuit chips for cryptocurrency mining.