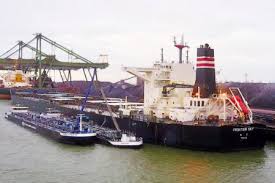 Major Mining Company BHP, Japanese Shipper NYK Deliver Biofuel Traced via Blockchain
Can this qualify as blockchain adoption at Multinational level?
Shipping news magazine Dry Bulk on Tuesday, February 5th reports that international metal and oil mining giant BHP has successfully tested blockchain in a conjoint experiment with Japanese shipping company NYK.
BLOC — a developer of blockchain applications for the maritime industry — built the decentralized ecosystem for the trace and Sustainable biofuel company GoodFuels provided its product for the experiment.
For the testing was the GoodFuels biofuel was delivered to the BHP-chartered and NYK-owned bulk carrier Frontier Sky, while carbon dioxide (CO2) savings were verified via a blockchain fuels assurance platform.
As reported by cointelegraph Dry Bulk explained that, the sustainable biofuel used in the experiment serves as an alternative to traditional fossil-based marine gasoil, allowing for the reduction of CO2 greenhouse gas emissions equivalent to over 125,000 miles driven by a car.
According to the magazine, the joint delivery is an important step for BHP and NYK in terms of global decarbonization policy. Blockchain, in its turn, could help the industry to verify supply chains, making sure that only sustainable fuel is used during the shipping process and that the origin, emission reductions and fuel quality metrics are transparent and easy to trace.
it is no news that blockchain has gained a significant level of adoption in the maritime industry, with major ports and shipping companies using the technology to support supply chains and trace shipments.

Can this qualify as blockchain adoption at Multinational level? letshave your opinion on this. is blockchain adoption viable in the marine industry?