Tangem Debuts Bitcoin Bank notes in Singapore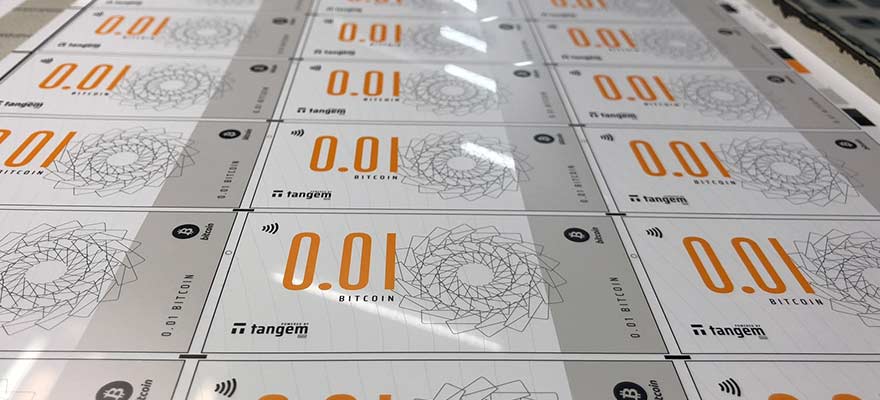 Tangem has announced that they are launching Bitcoin bank notes. The digital asset smart banknote manufacturer recently launched bitcoin banknotes at a Megafash Suntec City store in Singapore. The aim is to make owning and circulating cryptocurrencies as easy as using paper money. The company which will make the currency  available in denominations of 0.01 and 0.05 BTC says it "is delivering the first shipment of 10,000 production notes to prospective partners and distributors around the world for commercial pilots."
Tagem explains that the Tangem Smart Banknotes are "Comparable to a well-protected paper banknote" and "Cheap enough to hand over." The banknotes are also easy to use as the company says there is "No special infrastructure, no complicated applications – just touch the banknote with an NFC-capable smartphone to be 100% sure it has valid assets."
Transaction with the notes is anonymous and instant.  According to the company, you can "Physically hand over the whole wallet together with the blockchain private key. No transaction fees, no need to await confirmation blockchain."  The banknotes are also well protected as they are equipped with "high-grade EAL6+ protection for all cryptocurrencies. Irretrievable private keys prohibit replication of wallet and its assets."
They are however not really made of paper; they are hardware storage units with a S3D350A chip manufactured by Samsung. But they are similar to with banknotes because they represent one set value and can be physically given as payment at an outlet. In essence, these notes are self-contained wallets with their own private key. Tangem refers to them as "uncopiable cold wallet[s]."Tangem also revealed that the chip technology used for the notes is tamper-proof, addressing "all known attack vectors on hardware and software levels." They also revealed that the  "cost of hacking a single banknote [is] uneconomical".
The notes have an advantage over online transactions because payment is instant and does not incur a fee. They will, of course, share the disadvantages of all physical transactions as compared to online transactions, that is, security, distance, and convenience.


What do you think about the Tangem paper money? Share your opinion with us in the comments section below.
Image Credit: PRNews

Disclaimer:
The Information provided on the website is designed to provide helpful information regarding cryptocurrency subjects. The content is not meant to be used, nor should it be used as a basis, foundational knowledge or prerequisite for decision making regards trading. Always do your own research and due diligence before placing a trade. We are not liable for any outcome based on any content found on the site.