Abuja Blockchain & Digital Assets Conference 2019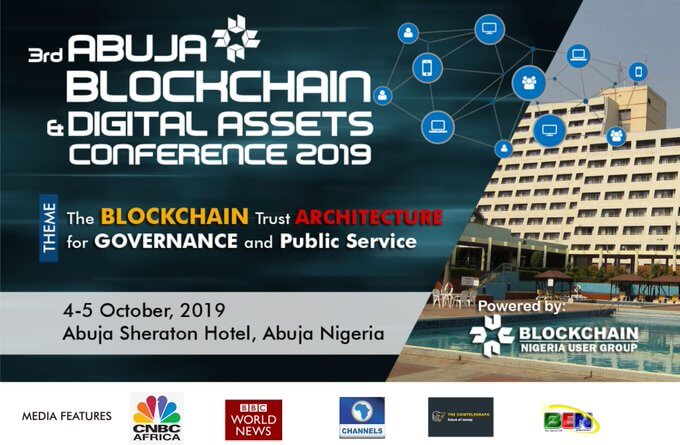 Blockchain being one of the most disruptive technologies which we see today provides us with solutions which have the potential to make government operations at different levels more efficient and improve the delivery of public services, while simultaneously increasing trust in the public sector.
In order to achieve this, there is a serious need for sensitisation of key individuals who have the capacity to implement these changes and make them work for the public, gaining access to the right people at the federal, state and local government levels engaged, excited and educated about the technology. Once the right people understand the promise of blockchain, existing problems that can be better solved through blockchain-based solutions instead of the existing technology infrastructure, then we can start retooling government processes.
To this effect all these and more would be addressed at the upcoming Abuja Blockchain & Digital Assets Conference 2019, this will be the eighth edition curated by Blockchain Nigeria User Group and it will bring together experts, industry stakeholders, thought leaders as well as the academia. They will come together and brainstorm on how blockchain and other emerging technologies of the fourth industrial revolution can be leveraged by the Nigeria government and her agencies for improved public service delivery.
Some of the expected Keynotes and Special Guest include:A Full List of Confirmed Special Guests, Keynotes, Speakers and Platform Presenters that would attend this event include:
1. Hon. Femi Gbajabiamila, Speaker HoR. Nigeria
2. Prof Kingsley Mughalu, UN Ambassador and Former Deputy Governor CBN
3. Honourable Solomon Adaelu, Member of the House of Representatives of Nigeria
4. Isa Pantami, Hon Minister of Communications
5. Kashifu Inuwa Abdullahi, DG NITDA
6. Joshua Hawley, Blockchain Advisory Mauritius
7. Abubakar Umar, Co-founder & CEO, Cynotrust Intelligent Systems
8. Bola Ajomale, MD NASD OTC Securities Exchange
9. Bolaji Onibudo, CEO Xendbit DEX
10. Emmanuel Darko, BDM Africa at VITE Lab, Silicon Valley
11. Davidson Oturu, Senior Partner Aelex
12. Adebayo Adebajo, MD Jelurida Africa
13. Deji Soetan, Managing Partner BAM Technology
14. Eloho Oyinvbi, CEO BFE Investment International
15. Dr. Leonard Eze, Bitcoin Maximalist
16. Germaine Ifudu, CEO First Kudi Exchange
17. Jamila Umar, Federal Ministry of Finance
18. Mohammed Ibrahim Jega, Founder Startup Arewa, co-founder Domineum.io
19. John Kamara, MIIA Cortex Africa
20. Abdulsalam Umar, Blockchain Solutions Architect
21. Khadijat Abdulkadir, CTO, Africa Prudential
22. Luke Kim, CMO Vite Lab, Silicon Valley
23. Emomotimi Agama, HOD Exchange Registration & Licensing SEC Nigeria
24. Victor Akoma-Philips COO Kubitx
25. Yahaya Maikori, Senior Partner, Law Allianz
26. Abekure Tega, CEO KurecoinHub
27. Chiagoziem Iwu, CEO, Naija Crypto
28. Franklin Peters. CEO Bitfxt
Age Beeka, Song Writer/ Musician for Live Entertainment & Performance.
Product Exhibition
1. NaijaCrypto
2. Bitfxt
3. KurecoinHub
4. Vite Labs
5. First Kudi Exchange
6. Payfty
7. BFC Investment International
8. Quanta
9. Jelurida Africa
10. Xendbit
11. NiMEDix
12. SuperExchanger
13. Sabiii Exchange
Amongst other Keynote speakers
Agenda: The Blockchain Trust-Architecture for Governance and Public Service.
How those currently in the Blockchain Trenches operate along with challenges and insights
Security, Risks and the future possibilities of blockchain technology
Date: 4-5 October 2019
Venue: Sheraton Hotels, Abuja Nigeria.
Visit here for more information about this event
Charles Hoskinson Defends Cardano From those who doubts its future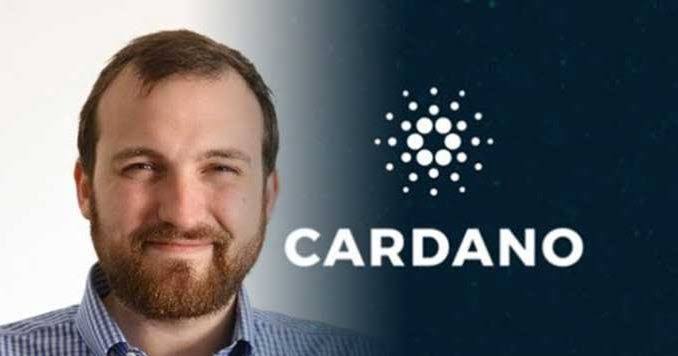 Charles Hoskinson, creator of blockchain project, Cardano defends the project from critics and people doubts and undermine the prospect of the project.
Cardano is an open source blockchain platform with its native token, the ADA. Cardano is based on peer reviewed research and was created entirely from scratch as opposed to other platforms that are based on the fork of other blockchains.
In a YouTube AMA session, the creator defended the project saying 200 people are currently working on the platform with 100 specifically focused on ADA, the native cryptocurrency of the Cardano blockchain.
Charles talking about people who doubt the future of the project said "I guess some people would like to pay attention to fake news. They would like to pay attention to the latest sycophant or provocateur of the week, and they don't seem to understand that these are among the most complicated of protocols to implement."
The Cardano creator was describing the process of development the blockchain and cryptocurrency, said There is no code we can copy, there is no source base to fork from, and we are doing very hard things.
…We are not missing deadlines, the project is going well […] the credentials and qualifications of our engineers are clear, and it's clear to see the quality of the software, as evidenced by the fact that 13-year old children in Wyoming were able to get stake nodes running on Raspberry Pis"
The co-founder of Ethereum continued saying "..And when you do very hard things based upon science and it's new occasionally you have issues."
Defending himself after a viewer questioned him regarding his employment life, Charles quickly replied he had not been fired many times. Instead he took a buyout with Bitshare because he couldn't work with Dan Larimer.
Commenting on him leaving Ethereum, the co-founder said, there was a decision to go the profit route or remain non-for profit. Others decided the latter and so, he had to leave.
And not him only, others also left and founded their own companies that are currently competing with the second largest blockchain platform by market capitalization, Ethereum.