Samsung's Bitcoin Mining Chip On High Demand

Korea has been the country on the headlines pioneering the blockchain technology and cryptocurrency adoption as businesses within the country are making waves with record-breaking revenue. The South Korean division of Samsung Electronics is the company in focus as it saw its profit surge in the first quarter of the year compared to previous years. For those in the cryptocurrency space, this would not come as a surprise as they know the potential of technology.
The companys spike in revenue is as a result of its semiconductor division which manufactures bitcoin mining chips. Hopes are high as well as expectations that the trend would continue.
In an announcement, the world leader in advanced semiconductor technology, outh Korean Samsung Electronics Co. Ltd. posted its first quarter earnings. Samsung Electronics is the flagship company of the Samsung Group with assembly plants and sales network in 80 countries. The companys consolidated earnings recorded 60.56 trillion won ($56 billion). Its operating profits were 15.64 trillion won (~$14.5 billion), a 58% increase from 9.9 trillion won (~$9.2 billion) achieved during the same period last year. Meanwhile, its year-on-year sales grew approximately 20%.
According to Seoul Newspaper
Demand for the semiconductor division increased due to sales of system LSIs [ASICs] for flagship smartphones and demand for virtual currency mining chips. The samsung electronics semicoundutor division accounted for almost three-quarters of total operating profits, which makes it a record high, an official from samsung explained.
In January, Samsung confirmed it has commenced the manufacturing of ASIC chips used for mining cryptocurrency. Although no evidence exist to support this, but as a spokesperson told techcrunch previously that, "Samsung's foundry business is currently engaged in the manufacturing of cryptocurrency mining chips."
The manufacturing of ASIC designs has provide the company offering design services which connect "mid-to-small sized companies". In January, the Samsung Advanced Foundry Ecosystem program was launched to ensure deep collaboration between the Samsung foundry, ecosystem partners, and customers.
Halong says their rig is "the world's most efficient bitcoin miner, operating at 16TH with Asicboost technology inside for greater power efficiency." Halong who is a minig rig manufacturer has revealed that miners success is attributed to samsungs chips.
Its almost a monopolist market with just fa ew competitors within the space, with the largest being TSMC which supplies mining chips to hardware makers Bitmain and Canaan. TSMC also recorded a record high in sales dues to the high demand for the hardware.
What do you think about possibilities of the technology beyond exchange and trade? Let's hear from you. Leave your comment in the comment section below.
Image source:  XDA Developer
Disclaimer:
The Information provided on the website is designed to provide helpful information regarding cryptocurrency subjects. The content is not meant to be used, nor should it be used as a basis, foundational knowledge or prerequisite for decision making regards trading. Always do your own research and due diligence before placing a trade. We are not liable for any outcome based on any content found on the site.
Justin Sun to launch Tron-based Decentralized stablecoin. Why should we care?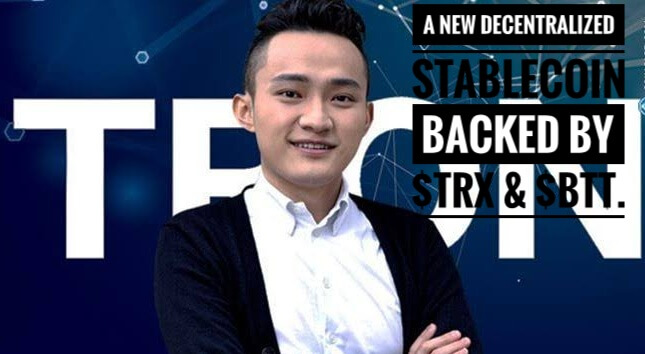 Founder of the Tron Blockchain, Justin Sun has hinted at plans to launch a stablecoin based on the Tron blockchain.
This was made via his Twitter account hours ago.
According to the tweet, the TRON community will launch a new decentralized stablecoin backed by the TRX and BTT token.
#TRON community will launch a new decentralized stablecoin backed by $TRX & $BTT. What's the best name for this stablecoin?

— Justin Sun (@justinsuntron) January 16, 2020
There was little information given by the tweet but Justin Sun posted a question to the entire community, and it is for the best name for the new stablecoin.
Stablecoins have grown in numbers since the eventual launch of US dollar backed Tether (USDT). Ever since then, various fiat currency pegged stablecoins have been made available on the market.
The stability of this cryptocurrency class has also pricked the interest of governments and private corporations, the decision of Facebook to launch Libra provides a testament to the global interest in stablecoins which does away with the apparent honeypot feature of non-stable cryptocurrencies such as bitcoin, ethereum and other non-stablecoins. Volatility.
Nations CBDC has also become a fascinating way to utilize the idea behind stablecoins. Several countries are experimenting and others such as China are already getting ready.
Justin Sun's decision to launch a decentralized stablecoin may be a noble cause, but the optics of this decision may show a contrary view.
Tron and the founders Justin from its earliest time has been involved in certain controversies such as plagiarizing the White Paper of other projects and copying codes from Ethereum, has also been linked to pump and dump schemes most especially with the use of its wide audience to manipulate value of coins by tweeting mostly inconsequential pieces.
The new stablecoin will be decentralized according to Justin Sun. While the decentralization is not absolute, complete decentralisation is a myth and it has been a much discussed topic in the space. It therefore begs a very important question, since it's claimed to be decentralized, who will be the horses pulling the chariot.
With many stablecoins in the market, one would wonder why launch a new one, there are mostly two options on ground, it's either the stablecoin markets offer very juicy returns that the Tron blockchain will benefit from the volume as the 'horses' also does, or Justin Sun has ran out of ideas.
For the community's sake, let it be the first.