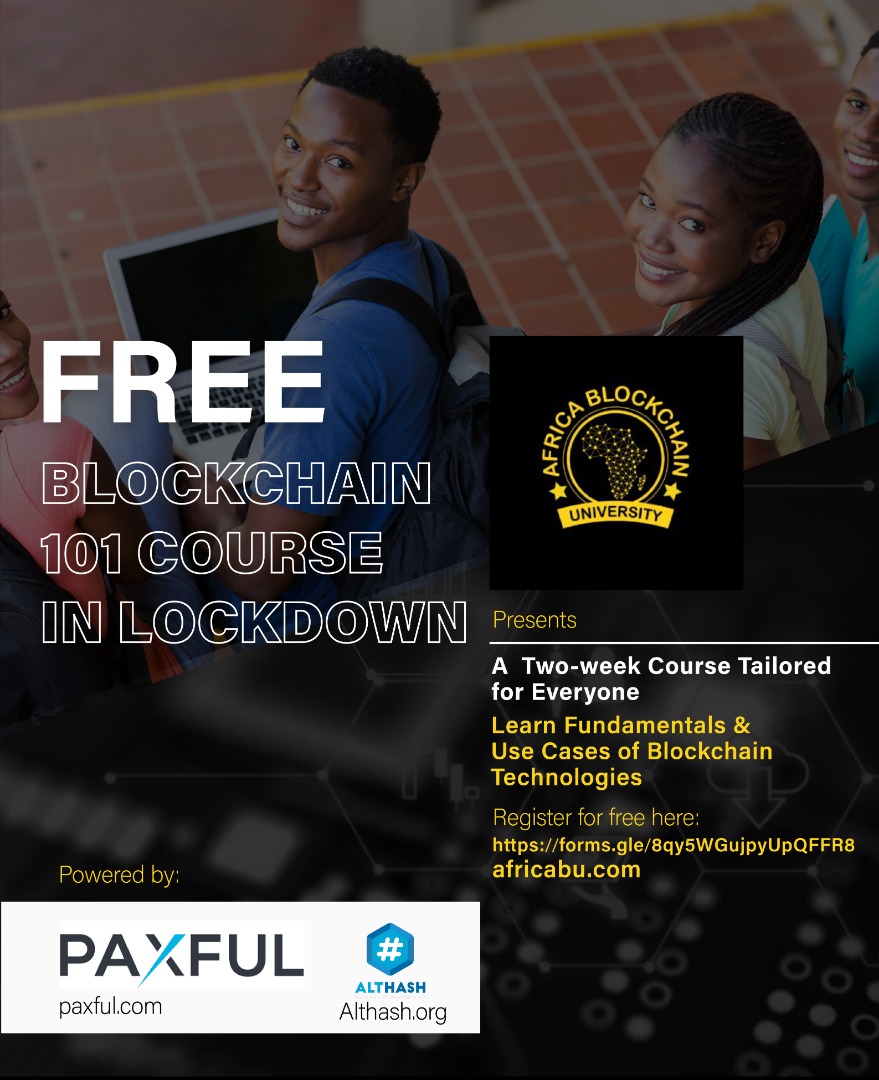 Paxful, Althash & ABU Collaborates To Provide Free Blockchain Course For 2500 Young Africans 
Port Louis, Mauritius, April 16 2020 – Africa Blockchain University, Althash and Paxful have launched an initiative to provide a FREE Blockchain Course for 2500 Africans, particularly the youth. Dubbed 'Free Blockchain Excellence 101 Course in Lockdown', it is a two-week tailored course that will run from April to October 2020.

There will be a batch of at least 200 students every two weeks that will be enrolled for the online course, which begins on April 20. With rolling admission, anyone who cares to learn about emerging technologies like the Blockchain can apply to learn free of charge.

"Education is a key priority for Paxful and we're excited to bring this initiative to them," said Ray Youssef, CEO and co-founder of Paxful, "We've observed that Africans are ingenious and resourceful – they are entrepreneurial, innovative and creative problem-solvers. Ultimately, they are redefining our understanding of the uses of bitcoin and blockchain technology."
Additionally, every participant who completes the course would receive a certificate issued from the Althash Blockchain – Credence Hub. It is expected that learners at the end of the course will understand the fundamentals of Blockchain technology, its financial & non-financial use cases, and how to use our resources to explore building projects.

This partnership is a commitment towards knowledge and skills acquisition of young people in Africa in these chaotic times. It is part of the continuous effort to empower Africa with Blockchain Technologies.

"The rationale behind 'Free Blockchain Excellence 101 Course in Lockdown' is to create an avenue for people to expand their understanding of Blockchain in these dismal COVID19 lockdowns. Our motivation is that people, notably our youth, will take advantage of the initiative to extend their knowledge and identify new job opportunities in the evolving 4th Industrial Revolution," Afrikanus Kofi Akosah, President, Africa Blockchain University, announced.
Vincent Hoffman, Executive Vice President for Community Relations at Althash stated: "Althash Education is Educating & Empowering the willing on how to leverage Blockchain technology for a brighter future. It is only through mass education given to everyone willing, do we stand a chance to equalise the playing field."
About Africa Blockchain University (ABU)
Africa Blockchain University is a Non-Profit Institution dedicated to promoting Blockchain technology throughout the continent of Africa with policy advocacy, research, training, and project incubation. Our mission is to unleash and inspire entrepreneurship abilities in African Youth by equipping them with the opportunities that the Blockchain avails.

About Althash
Althash is a hybrid blockchain that combines Bitcoin protocols, and the Ethereum EVM. Althash's cryptocurrency is HTMLCOIN, which is used as gas for all smart contract transactions. There are dozens of dApps deployed on the Althash Blockchain.

About Paxful
Paxful is a people-powered marketplace for money transfers with anyone, anywhere, at any time. Their mission is to empower the forgotten four billion unbanked and underbanked around the world to have control of their money using peer-to-peer transactions.
The company, founded in 2015, has over 3 million customers globally who you can instantly buy and sell bitcoin with—using over 300 different payment methods.
As part of their mission Paxful also launched #BuiltWithBitcoin, a social good initiative with the goal of building 100 schools funded entirely by bitcoin all across emerging markets.
Register here
Africa Blockchain Developers Call (Series) Partners with CryptoTVPlus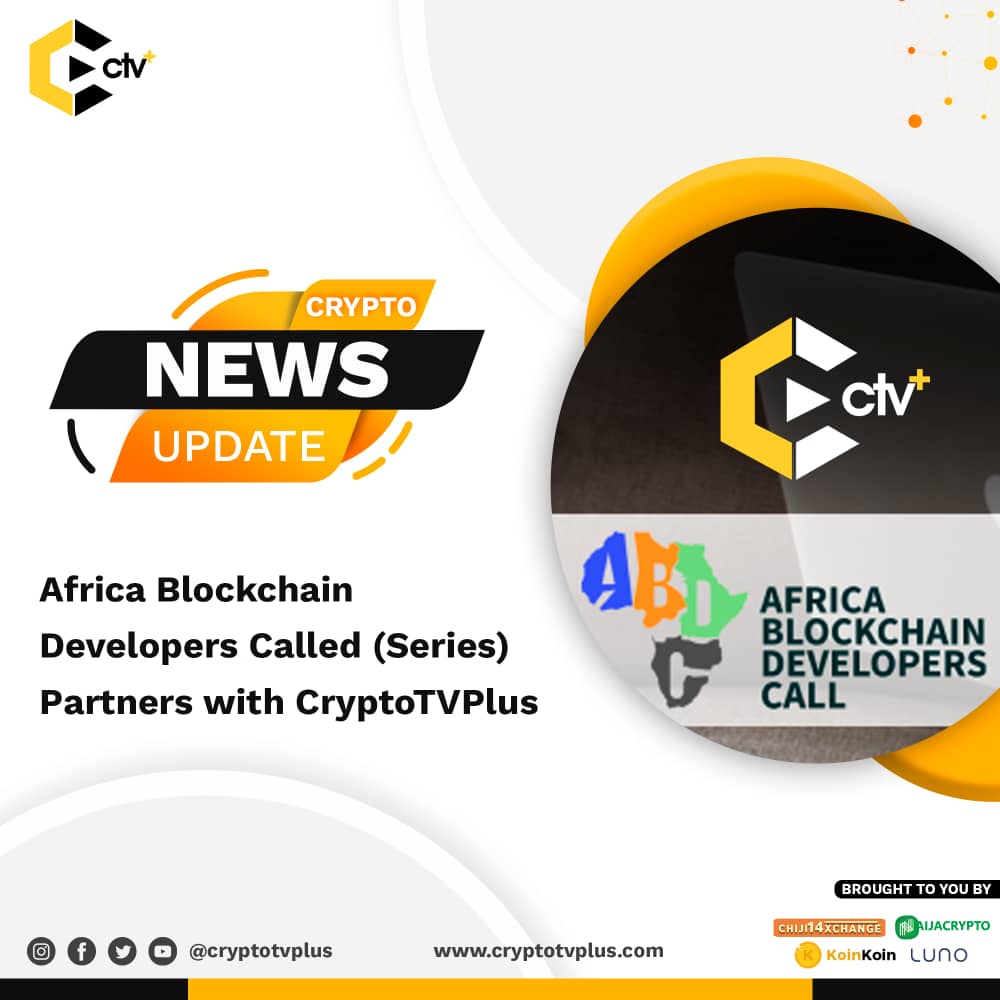 As the new dawn sets on Africa with the coming together of several leading associations and organizations in the decentralized space, digital transformation becomes inevitable.
The Africa Blockchain Developer's Call Series, in conjunction with the Africa Blockchain Institute as well as numerous blockchain associations and tech hubs across Africa, is delighted to announce her partnership with Crypto TV Plus.
Of all the industrial revolutions which the globe has experienced, the imminent fourth industrial revolution might just be the only one which Africa has the ample opportunity to participate in, decide what is to be consumed by its tech markets, and locally design the required solution(s).
However, there is a high probability that should the low existence of local content persist in the African tech space, this opportunity might be left hanging.
The ABDC Series, alongside a host of other African blockchain societies and tech hubs, seeks to train, groom, and nurture local African developers, for 3 months, in order to effectively prepare them for the booming tech labour market in the continent.
The program is set to feature insightful panel sessions, speeches from highly revered tech professionals, roundtable discussions with stakeholders, and pitches from African developers. With this initiative, accelerated digital transformation is hoped to be achieved. 
The partners on this project also include the United Africa Blockchain Association, the Government Blockchain Association-Africa, Cameroon Blockchain Association, Pesabase in Kenya, Jelurida Swiss SA, Cabotec Solutions, and numerous world-class resource persons.
Following the launch of the first series of the ABDC, applications shall be declared open on the 15th of August, for junior, frontend, UI/UX, and backend developers to submit entries for a chance to be selected for the remote 3-month Pan-African bootcamp.
The program presents an invaluable opportunity for African developers to build solid connections, engage with relevant stakeholders in the African tech space, and acquire the requisite skills for dominating the tech market. It is a program that promises to be insightful. For more information on partnership and sponsorship opportunities, contact us at info@abdcseries.com and visit www.abdcseries for more general updates.
About ABDC 
"The vision is simply to create an enabling environment to onboard blockchain developers, equip them with the necessary support and encouragement and provide them with various opportunities of either self-sustenance or employment in the space after the 3 month program."
About CryptoTVPlus 
CryptoTVPlus is the most trusted source on Crypto and Blockchain Technology Media. The No. 1 Crypto Media firm in Africa providing up-to date news, interviews, research reports, Marley analysis, innovative programs etc amongst which is it's Campus BCAT program designed to bring crypto awareness to millions of African students.