Millions of Telegram Users to Trade Cryptocurrency With Button Wallet

Button Wallets brings to Telegram users the ability to trade and hold digital currencies on the Telegram platform with its TON testnet service
The firm revealed its free Telegram Open Network (TON) testnet service is to drive the adoption of cryptocurrency by allowing users to practically experience the use of cryptocurrencies without having to suffer any financial loss whatsoever. The firm is giving out 6.6 testnet gram tokens users who activate their wallets.
Trading cryptocurrency has become as popular in mainstream media as Forex Trading. This has over the years produced outstanding results and returns for experience traders as well as loss for others.
As the adoption of cryptocurrency spreads all over the world, people are looking at trading cryptocurrencies, while KYC/AML restrictions affect some, the know-how is another challenge.
Speaking on this initiative, CEO of Button Wallet said "Crypto's biggest obstacle is mass adoption and what we've created will help people comfortable with trading cryptocurrency without using real money".
He further said that without users having practical experience with transacting with cryptocurrencies, there will always be issues with mass adoption.
This position is further amplified by the COO of Button Wallet Rachel McCrary who said that "there's common fear around crypto which is preventing some people from becoming new users".
With complicated UI/UX being one of the challenges of adopting and transacting using cryptocurrencies, Telegram's privacy principle, over 250 million users and easy to use features of Button Wallet, mass adoption could be on the way.
Button wallet is a multi virtual currency messenger based wallet that allows holding and trading of cryptocurrency.
According to the firm, the wallet built on Telegram messenger's principles of decentralization and is focused on optimizing usability and security for uses looking to split the finances of shared experiences with friends. Telegram users can just send funds to anyone using their Telegram's username.
The wallet allows Telegram users to easily hold or trade cryptocurrencies such as BTC, ETH, LTC BCH, ETC, Waves, XLM and ERC-20 tokens. Users in the United States are also able to purchase cryptocurrency with the US Dollars.
Akon Finalizes Agreement to build Fully Functional Crypto City, Akon City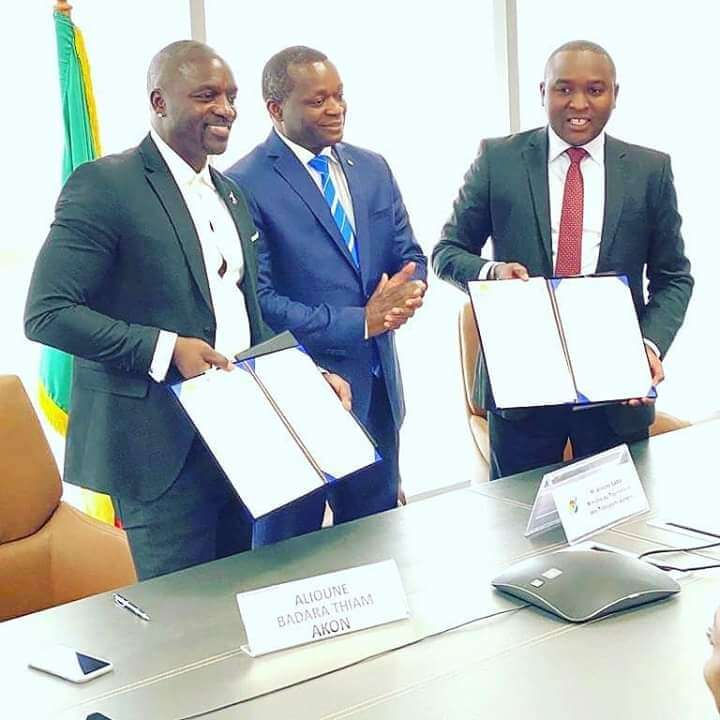 Senegalese/American national and global musician & businessman Akon has finalized the agreement to build Akon City. A city fully powered by the cryptocurrency, the Akoin.
The announcement which was made via the singer's his social media account contained few words but has been a building story for several months.
Just finalized the agreement for AKON CITY in Senegal. Looking forward to hosting you there in the future pic.twitter.com/dsoYpmjnpf

— AKON (@Akon) January 13, 2020
Akoin according to the cryptocurrency website is "a new cryptocurrency from visionary changemaker Akon and is the foundation of the AKoin Ecosystem – a unique global project that offers an abundance of digital and in-real-life platforms and experiences that create opportunity and inclusion".
The website went on saying "Akoin will provide a much-needed platform for individuals to gain access to educational materials, tools and resources to make their entrepreneurial visions a reality. This, in turn, will foster a more sustainable environment that encourages a focus on entrepreneurship over charity."
Akon City named after the himself according to the Rapper will be built on a 2,000 acres of land provided by the President of Senegal and it will be a fully functional crypto-based city with Akoin as the transactional currency.
The "Lonely" singer has stated himself that the City will a short drive from the country's capital, Dakar. It's also going to have an airport.
The singer believes that the initiative will bring power back to the people and also security to the currency system. It will also allow people to in various ways to advance themselves and not rely on government's intervention.
On the technicalities involved in the project, Akon who noted he would want to run for the Presidency, stated that he only comes up with the concepts and knows nothing about the technical aspects but he lets the geeks figure it out.
The project according to the rappers and business man said, it will be a 10-year building block and though the project has started, stage two will commence from 2025.