Millions of Telegram Users to Trade Cryptocurrency With Button Wallet

Button Wallets brings to Telegram users the ability to trade and hold digital currencies on the Telegram platform with its TON testnet service
The firm revealed its free Telegram Open Network (TON) testnet service is to drive the adoption of cryptocurrency by allowing users to practically experience the use of cryptocurrencies without having to suffer any financial loss whatsoever. The firm is giving out 6.6 testnet gram tokens users who activate their wallets.
Trading cryptocurrency has become as popular in mainstream media as Forex Trading. This has over the years produced outstanding results and returns for experience traders as well as loss for others.
As the adoption of cryptocurrency spreads all over the world, people are looking at trading cryptocurrencies, while KYC/AML restrictions affect some, the know-how is another challenge.
Speaking on this initiative, CEO of Button Wallet said "Crypto's biggest obstacle is mass adoption and what we've created will help people comfortable with trading cryptocurrency without using real money".
He further said that without users having practical experience with transacting with cryptocurrencies, there will always be issues with mass adoption.
This position is further amplified by the COO of Button Wallet Rachel McCrary who said that "there's common fear around crypto which is preventing some people from becoming new users".
With complicated UI/UX being one of the challenges of adopting and transacting using cryptocurrencies, Telegram's privacy principle, over 250 million users and easy to use features of Button Wallet, mass adoption could be on the way.
Button wallet is a multi virtual currency messenger based wallet that allows holding and trading of cryptocurrency.
According to the firm, the wallet built on Telegram messenger's principles of decentralization and is focused on optimizing usability and security for uses looking to split the finances of shared experiences with friends. Telegram users can just send funds to anyone using their Telegram's username.
The wallet allows Telegram users to easily hold or trade cryptocurrencies such as BTC, ETH, LTC BCH, ETC, Waves, XLM and ERC-20 tokens. Users in the United States are also able to purchase cryptocurrency with the US Dollars.
Bitcoin Cash Support Added to HTC Flagship Smartphone, the Exodus 1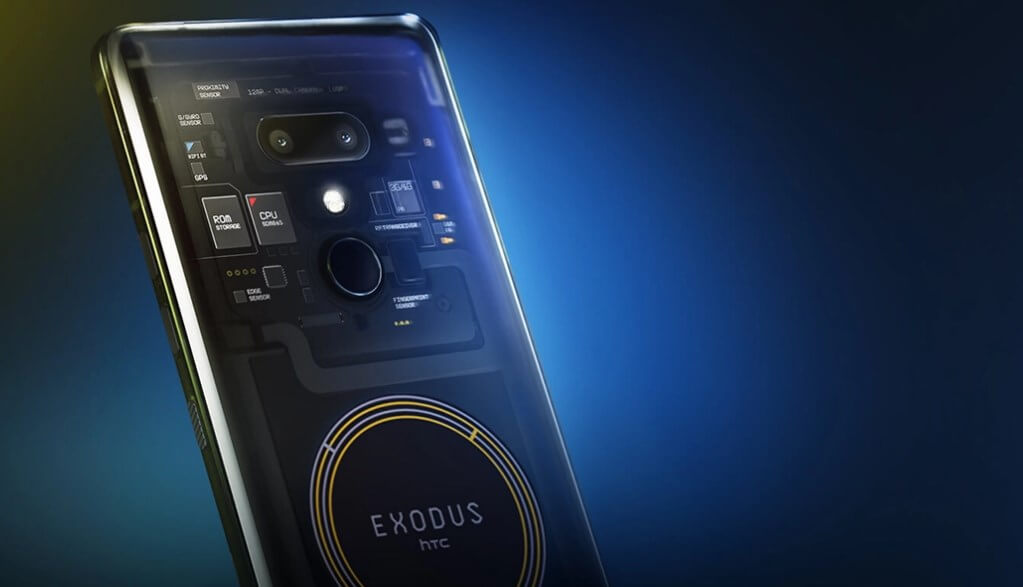 Bitcoin Cash support has been added to the Exodus 1, the flagship smartphone of HTC as part of a new partnership between the Taiwanese smartphone consumer electronics manufacturer and Bitcoin.com
The Exodus 1 which is an Android powered mobile phone is the first native web 3.0 mobile devices with architecture that secures crypto assets. The device has an easy to use digital wallet, Zion Vault whose software interfaces with the device's hardware security.
The wallet allows users to store and make transactions using the bitcoin cash cryptocurrency without having to be exposed to remote system penetration.
According to Bitcoin.com, the partnership will see HTC pre-loading the firm's popular wallet app on the device. In turn, Bitcoin.com will offer for sale the Exodus 1 Flagship device and other lower device from the manufacturer on the Bitcoin.com online store. The lower priced device Exodus 1s will also feature same native bitcoin cash support which the flagship users are to enjoy.
Speaking on the partnership, Bitcoin.com CEO Stefan Rust said "There are so many synergies between Bitcoin.com and HTC. We are very excited to be on this incredible journey together."
Roger Ver, the Executive Chairman contributed saying  "Bitcoin.com's partnership with HTC will enable Bitcoin Cash to be used as peer to peer electronic cash for the millions of HTC smartphone users around the world."
Based on the news reporting arm of bitcoin.com, HTC sees great promise in cryptocurrency and that is the reason why it has added support for bitcoin cash.
The Taiwanese firm's Decentralized Chief Officer Phil Chen speaking on the importance of the partnership between both organizations said "Smartphones are everywhere and have proliferated across the planet. It's very important for the adoption of crypto that it is easy to store and use, no matter which cryptocurrency is preferred by people. So the fact that BCH, one of the biggest cryptocurrencies, is now easy to use on our smartphone is very important for us. Together, HTC and Bitcoin.com are helping to bring crypto to the masses."
He went further saying HTC believes in user ownership of, control of their data and cryptocurrency presents the best opportunity to start the journey into owning personal data. Understanding the fear of users owning and controlling access to their data, Phil Chen believes this will significant impact the business models and revenues of these 'powerful firms'.
HTC believes the smartphone will be the tool which will allow users manage, access, store their digital assets.
Bitcoin.com revealed that future plans of the partnership includes offering discounts when paying for goods in BCH as well as sales of the Exodus phones on store.bitcoin.com