Millions of Coinbase Users May Soon Be Able to Participate in IEO on Coinbase

U.S based cryptocurrency exchange Coinbase may soon offer to ability to participate in Initial Exchange Offering on its' platform to millions of its users.
This was made known by the Exchange's Head of Institutional sales in Asia, Kayvon Pirestani. Kayvon Pirestani at the CoinDesk's Invest: Asia conference revealed that the firm may one day get into the IEO product offering. This according to him could be possible in "next few months".
He is quoted saying "In a nutshell, Coinbase is carefully exploring not only the IEO space but also STOs [security token offerings]. But I can't make any formal announcements right now."
The Initial Exchange Offering IEO came after the buzz around initial coin offering ICO died out owing to the wide possibility of fraud and the diminishing interest in investing in crypto startups as the market went down following bans and restrictions placed by global corporations and governments.
IEO as an alternative to ICO, transfer trust from individual crypto projects to the Hosting Exchange who also handles the KYC/AML checks on behalf of the firm seeking to raise funds.
Instead of the investors sending their crypto assets to a smart contract or website specially prepared by the firm as in the case of ICO, investors in IEO offerings send their assets to a cryptocurrency exchange who gives them the purchased value or stake in the crypto firm. Exchange listing is one of the added advantages of IEOs.
Not wanting to make a formal announcement, Kayvon Pirestani also mentioned that STOs are getting "talked about alot but traded much less". Continuing, he revealed that Coinbase will wait for more demand in the STO fund raising alternative.
With other cryptocurrency exchanges already offering IEOs as a product to their users, Coinbase may soon be onboard the IEO train and allow millions of its' users to invest in startups in the space.
Binance Announces Additional JEX Token Airdrop for Binance.com Users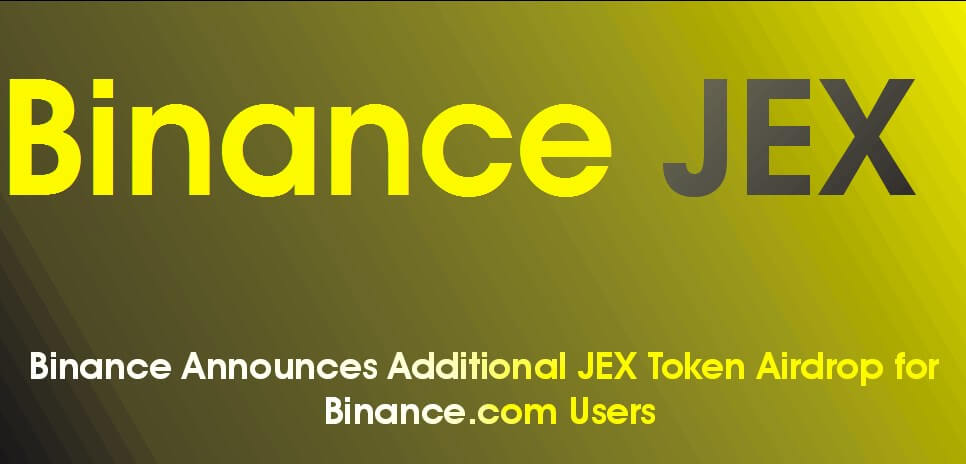 Cryptocurrency exchange and blockchain ecosystem Binance has announced additional JEX token airdrop for users of its Binance.com platform.
Users are expected to use their Binance.com login credentials to claim the tokens. The claim is available from the 11th of September, 2019 at 6:00AM (UTC) to 18th of same month at 6:00AM (UTC).
Users are to login to the Binance JEX and upon the first time of login, they will be rewarded with a random airdrop of between 10-100 JEX tokens.
The rules for the airdrop were presented in a list by the exchange in a blog post published today 16th of September, 2019.
According to Binance, users are expected to login to Binance JEX with their Binance.com login information and the account must have trading records and a minimum balance of at least 0.01BTC before 3:59AM (UTC) on the 10th of September.
Users may only qualify for the airdrop the first time they use their Binance.com account to login to Binance JEX.
It also revealed that the quantity of JEX tokens awarded from the airdrop after logging in to Binance JEX for the first time will be seen immediately.
Binance assured users who have login to Binance JEX before the promotion was announced will still qualify for the JEX token airdrop the first time they access their Binance JEX account with their Binance.com credentials during the promo period.
Binance JEX formerly JEX is a spot and derivative crypto trading platform run by JEX Technology Co, Ltd. Binance announced the acquisition of the trading platform and added it to its growing platform businesses. JEX also offers other than derivatives, futures contracts.