Millions of Coinbase Users May Soon Be Able to Participate in IEO on Coinbase

U.S based cryptocurrency exchange Coinbase may soon offer to ability to participate in Initial Exchange Offering on its' platform to millions of its users.
This was made known by the Exchange's Head of Institutional sales in Asia, Kayvon Pirestani. Kayvon Pirestani at the CoinDesk's Invest: Asia conference revealed that the firm may one day get into the IEO product offering. This according to him could be possible in "next few months".
He is quoted saying "In a nutshell, Coinbase is carefully exploring not only the IEO space but also STOs [security token offerings]. But I can't make any formal announcements right now."
The Initial Exchange Offering IEO came after the buzz around initial coin offering ICO died out owing to the wide possibility of fraud and the diminishing interest in investing in crypto startups as the market went down following bans and restrictions placed by global corporations and governments.
IEO as an alternative to ICO, transfer trust from individual crypto projects to the Hosting Exchange who also handles the KYC/AML checks on behalf of the firm seeking to raise funds.
Instead of the investors sending their crypto assets to a smart contract or website specially prepared by the firm as in the case of ICO, investors in IEO offerings send their assets to a cryptocurrency exchange who gives them the purchased value or stake in the crypto firm. Exchange listing is one of the added advantages of IEOs.
Not wanting to make a formal announcement, Kayvon Pirestani also mentioned that STOs are getting "talked about alot but traded much less". Continuing, he revealed that Coinbase will wait for more demand in the STO fund raising alternative.
With other cryptocurrency exchanges already offering IEOs as a product to their users, Coinbase may soon be onboard the IEO train and allow millions of its' users to invest in startups in the space.
BitFXT Exchange Has Been Listed on Coinmarketcap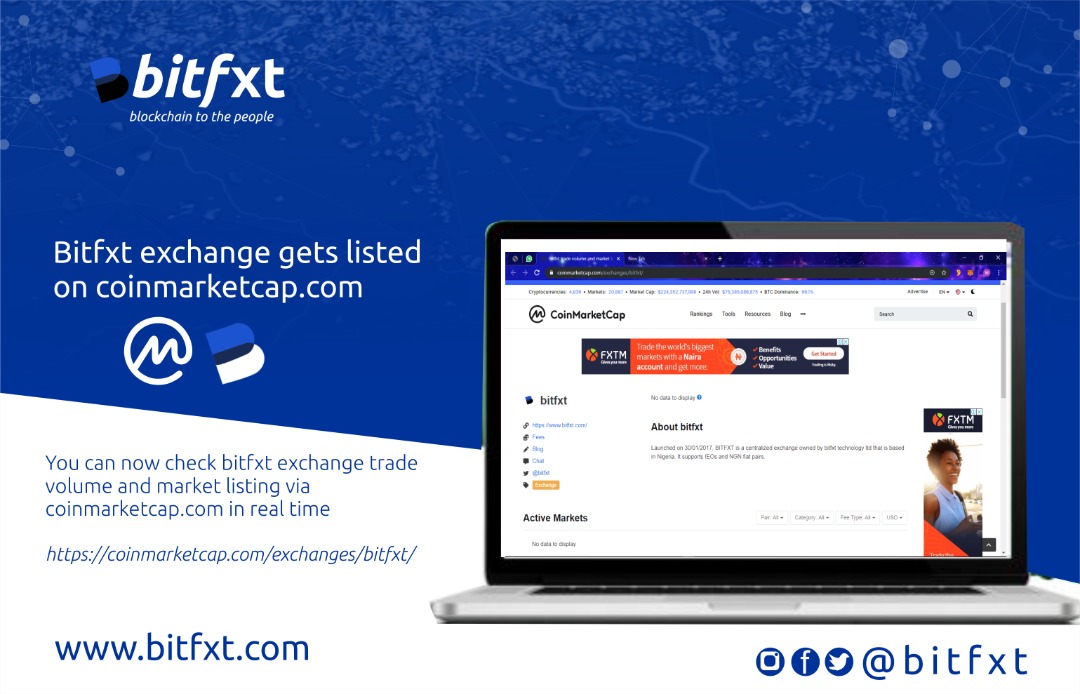 Nigerian own cryptocurrency exchange BitFXT.com has been listed on popular cryptocurrency market data aggregator, Coinmarketcap.
Announced on the exchange's blog, the firm said customers can now view all the statistics from the exchange on the aggregator, including trade volumes and listings.
According to Bitfxt, "With this you can join the league of thousands of individuals worldwide who utilize Bitfxt Exchange on a regular basis."
The exchange platform allows customers to easily trade cryptocurrencies against several trading pairs. Customers can also trade most cryptocurrencies on the Bitfxt Exchange with an Atomic Swap feature allowing quick swaps between crypto-crypto and crypto-fiat in less than no time.
The move according to the firm is towards bringing its customers the best services in an innovative blockchain and cryptocurrency ecosystem with a global perspective.
Giving assurance of the future, Bitfxt said it will continue to bring up global standard innovations as you continue to partner with us to make Bitfxt the World best exchange.
Just a few weeks back, the exchange's token, the BXT was listed on coinmarketcap. The firm released a statement saying it's constanting working to live up to its promise of providing its customers the best trading experience.
According to the statement, BitFXT said "as a vetted and veritable company, we seek to ensure that your interest in our project yield bountiful gains."
In August, BitFXT also unveiled its cryptocurrency ATM card at the Steemit in Nigeria Conference which held in Akwa-Ibom.
Despite its excitement at the achievement, it also warned customers to do due diligence on their own when making investment decisions.