MGO Token Gains More Than 40% Since November
MobileGO token is growing fast and showing real strength despite the Jewish crypto market. The game based token is now part of the Top-100 cryptocurrencies. MobileGo is a smart token that can enable decentralised tournaments and peer-to-peer matchplay for competitive gamers all over the world.
The development team and market team of MobileGo are working tirelessly to enable the growth of the token. The development team have added more features to Game Credit, a proprietary payment gateway that will allows gamers to use the tokens to buy in-game content. They have also introduced new features to the project and incorporated it with other wallets and gaming resources.
From the charts below, we can see that (MGO) has gained more than 40% since November. The growth of this token can be tied to the rising popularity of innovative methods of earning gaming currency, and key strategic partnerships within the industry. The MGO token is becoming a likely source for medium and long term investments. And the token even has its airdrop ongoing.
MobileGo tokens aims to reinvent the gaming industry and become a mobile platform for incentivizing gamers for loyalty and participation through rewards. The MGO tokens will also allow for smart contract technology as decentralized tournaments can run on smart contracts.
MobileGo may still be in its early stages of growth, but with the advancement the gaming industry makes continuously, the MGO token is likely to be found in everyone's crypto portfolio in the nearest future.  If you want to get some free MGO, join their airdrop now: http://bit.ly/2UIpTGk
What do you think about MGO Token? Share your opinion with us in the comment section below.
Image credit: Pixabay
Disclaimer:
The Information provided on the website is designed to provide helpful information regarding cryptocurrency subjects. The content is not meant to be used, nor should it be used as a basis, foundational knowledge or prerequisite for decision making regards trading. Always do your own research and due diligence before placing a trade. We are not liable for any outcome based on any content found on the site.
Introducing Cheetah Africa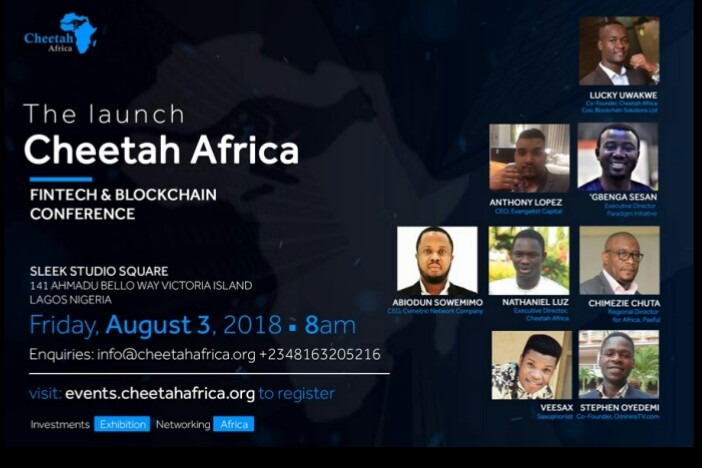 Lucky Uwakwe, 'Gbenga Sesan, Anthony Lopez, others set for Cheetah Africa Launch
Cheetah Africa is a non-profit that promotes the adoption and use of advanced technologies like the blockchain to see that Africa rises from underdevelopment. It aims at being the pool of African startups and innovations, providing support structures for African startups and ideas that will be needed for global relevance.
The launch is set to happen on August 3, 2018, in Lagos, Nigeria, with prominent speakers and venture capitalists such as Lucky Uwakwe, Co-founder of Cheetah Africa and COO, Blockchain Solutions, 'Gbenga Sesan, Executive Director, Paradigm Initiative, Ayo Daniels, The Lighthouse, Anthony Lopez CEO, Evangelist Capital, Chimezie Chuta, Regional Director, Africa, Paxful, Sowemimo Abiodun Alex, CEO CvMetric Network Company, Stephen Oyedemi Co-founder, OminiraTv and Nathaniel Luz Executive Director of Cheetah Africa.
The main discussion at the meeting will entail talks about unleashing the potential of Africa, and also getting and educating people about the potentials of blockchain technology and the role of Fintech companies. At the event, there will also be funding for a number of business ideas in Africa.
Speaking with the Executive Director – Nathaniel Luz; he said that "Everyone says that Africa will be; but we at Cheetah Africa say that Africa is now, Africa is in the present- this is what we are looking forward to. He says Cheetah Africa is set to end the brain drain Africa has suffered for decades by providing support structures that would enable African projects scale and that in five years' time, they would have hubs in every African country.
Conversing over the phone with Mr. Lucky Uwakwe – Co-Founder of Cheetah Africa; he said that Cheetah Africa will be aimed at making the African entrepreneur scale up by providing a platform that will make capitals and investors interested in their projects, startups, ideas, and initiative.
Register for free here: cheetahafrica.eventbrite.com
Geneva will host the second Blockchain & Bitcoin Conference Switzerland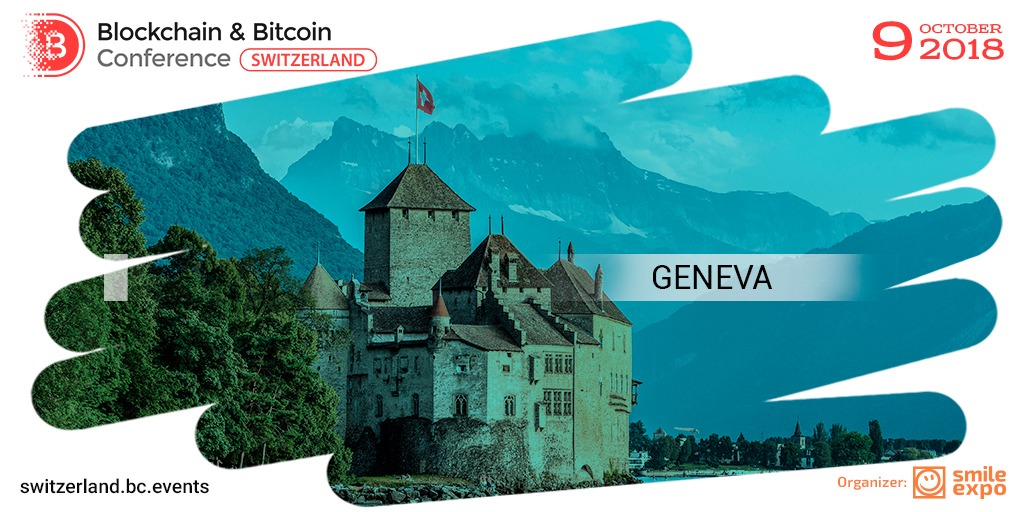 On October 9, 2018, Blockchain & Bitcoin Conference Switzerland will take place for the second time in Geneva, the European fintech hub. The event is dedicated to blockchain and cryptocurrencies uniting blockchain project developers, investors, analysts, financiers, specialists in marketing and legal support of business. The first Blockchain & Bitcoin Conference Switzerland was held in February and gathered more than 300 participants.
Background, topics, experts
Blockchain & Bitcoin Conference is a series of events held in different countries of the world by Smile-Expo. In 2018, more than 20 events are planned including the recent conferences in the Philippines, Australia, India, Thailand, and upcoming events in France, Switzerland, and Malta.
The event in Geneva combines a conference featuring foreign experts and a demo zone where companies will present their products. The program includes a panel discussion and a pitch session for participants of the demo zone.
The team of Smile-Expo, the international event company, includes in the program of Blockchain & Bitcoin Conference Switzerland reports of international experts as well as bright representatives of the Swiss blockchain community. In February, speakers of Blockchain & Bitcoin Conference Switzerland were representatives of CERN and investor listed in Forbes 30 under 30.
Pioneer in financial technologies
Switzerland is a country with the developed banking system and great interest in fintech innovations. Today the country has its own "crypto valley" – the city of Zug, where a functional blockchain ecosystem has been developed and many famous projects are based, such as Ethereum Foundation, Monetas, Lykke.  Zug is known for several business accelerators and HSLU-I university that teaches blockchain specialists. Besides, one can use Bitcoin to pay for goods and services here and exchange it for fiat money in one of three Bitcoin ATMs. At the end of July, the voting via the eID system based on the distributed ledger will take place in Zug.
In 2018, Procivis startup has successfully tested and implemented the eID solution and a number of e-Government services. Now users can file tax declarations, register residence, and use passport services with their smartphones.
Furthermore, there are blockchain platforms for over-the-counter securities trading launched by major financial organizations in Switzerland. As for the business application of blockchain, 75% of Swiss companies plan to integrate the technology in the next three years (according to the report of PwC).
Attend the second Blockchain & Bitcoin Conference Switzerland!
Smile-Expo's blockchain conference in Switzerland gives an opportunity to meet global blockchain and cryptocurrency experts. It is a comfortable networking space, where one can exchange experience with companies that have already developed and implemented real-life blockchain-based solutions.
The event will be interesting for:
specialists working in the field of blockchain and cryptocurrencies that want to receive new and relevant information firsthand;
those striving to build a career in the field of blockchain and cryptocurrencies;
entrepreneurs that plan to integrate decentralized technologies in their business.
Now you can get Early Birds tickets on the website of the event!
Nitroneum-an Ecosystem of Value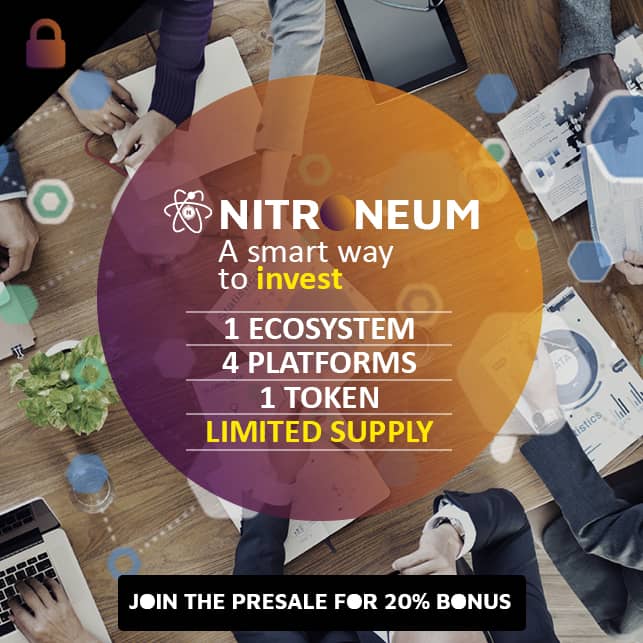 Nitroneum Technology is releasing its XTN tokens to investors accross the globe via Initial Coin Offering (ICO) in 5 rounds sales schedule which includes Pre – Sales of 3,000,000 XTN @$0.50 + 20% Bonus, while the remaining 4 rounds @$0.65 + 15%, $0.75 + 10%, $0.85+ 5%, and $0.95 + 4% in the last round, as published on the official website and the project whitepaper.
According to the official website; nitroneum.io, the token is referred to as "The Next Generation Value Driven Tokens Built On The Ethereum Blockchain ," and the funds from the token sales will be used to launch four unique platforms in the ecosystem which includes;
A decentralized video and picture content social media platform (N-Tube & Nitropixs) with users activity rewards with XTN tokens.
A Media Hub (NitroHub) for Crypto, Blockchain, Tech, Finance, and markets, a.decentralized ICO and wallet service.
Live AI BOT for premium trading signals.
A decentralized eMarket place for buying and selling, with XTN as a payment option.
With a total supply of 100,000,000 XTN, 45,000,000 is released for token sales, while the remaining 55% is for token purchase bonuses, referrals, platforms development and security, social media activity rewards and development team as shown on a chart in the whitepaper.
Nitroneum Technology offers 5% referral bonus from total token purchase during the ICO, and will also contribute 1% of the sales and subsequently, 1% of annual proceeds to Blockchain technology development and education across the globe for a more wider adoption of cryptocurrency into the mainstream payment system, to support fintech development in developing economies through the Nitroneum foundation.