Is Nigeria Preparing for A Blockchain Based Election?
Kaduna state sets a pace for other states in Nigeria to follow when it conducted its local government councils elections electronically. The election which was conducted on Saturday, May 12, 2018, made Kaduna state the second in Africa to use electronic voting, after Namibia. The question now is if Nigeria is prepping for the adoption of the blockchain technology?
From Ballot Box to E-voting
For decades, elections have been conducted manually in Nigeria with voters having to walk long distances most often to get to their polling units. When voters arrive at their polling units, they have to go through the process of accreditation, before voting for their preferred candidates with the use of ballot papers. After the election, the Independent National Electoral Commission (INEC) has to collate the votes from different centers count them (which might take days) before announcing the winner. This process takes a long time and most often, the ballot box gets stolen, INEC officials get attacked and voters are kept in harm's way or bribed. But, voters didn't find ballot papers at the Kaduna election, instead, they found an electronic voting machine displaying the logos of the political parties participating in the election.
The Governor of Kaduna state Nasir El-Rufai explained that the reason the Government opted for electronic voting was to promote transparency and electoral integrity. This is one aspect the blockchain can fix in the system of Nigeria's election as the governor acknowledges that democracy benefits when election results reflect the actual choices made by voters. The chairman of the Kaduna State Independent Electoral Commission (SIECOM), Dr. Saratu Binta Dikko-Audu acknowledged that the electronic voting machines which were procured will guarantee the voting integrity.
The Future is Here
The provision for electronic voting is backed by the Kaduna State Independent Election Commission Law No.2 of 2018. The blockchain community in Nigeria anticipates a law that will back the blockchain technology in different sectors in Nigeria. This will aid transparency in electoral processes in Nigeria, end duplication of votes, save costs, reduce election violence, save time and end bribery and corruption since the election will be stored on the distributed ledger technology. It is exciting to see the West Africa nation taking a forward step towards technological developments in its electoral process. The blockchain technology will be great for the nations upcoming presidential election as its citizens are losing trust in its electoral processes. But the question to be asked is if Nigeria is getting ready to adopt the blockchain?
What do you think about Nigeria adopting the blockchain technology? Share your opinion with us in the comments section below.
Image source: premiumtimesng,omojuwa,von.gov.ng
Disclaimer:
The Information provided on the website is designed to provide helpful information regarding cryptocurrency subjects. The content is not meant to be used, nor should it be used as a basis, foundational knowledge or prerequisite for decision making regards trading. Always do your own research and due diligence before placing a trade. We are not liable for any outcome based on any content found on the site.
Bitcoin Pizza Day, We've Come a Long Way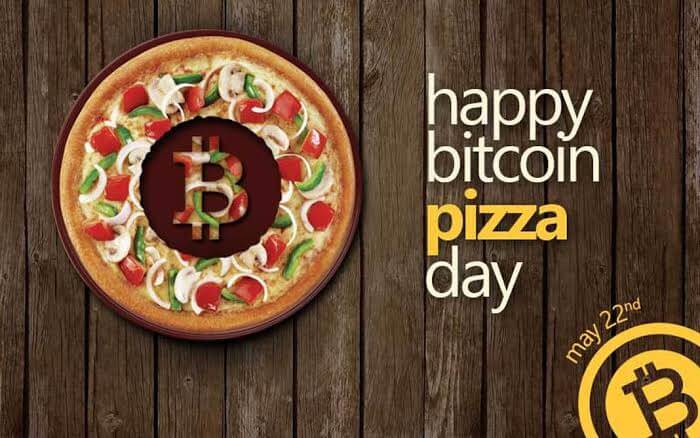 Pizza is well known all over the world the juicy cheesy meal has won many a heart. Bitcoin, on the other hand, is also breaking boundaries. The story of Bitcoin Pizza Day begins on May 22, 2010. It isn't just a story of how one man bought a pizza for 10000 Bitcoin, it is a story of Bitcoin adoption.
Nine years ago, Laszlo Hanyecz traded 10,000 BTC for Pizza and has since been known as the Bitcoin Pizza guy. At that time one BTC was less than a dollar, but today, it is worth over a $7,000. Laszlo Hanyecz had announced on the bitcointalk forum that he was willing to pay 10,000 Bitcoins for the delivery of two Papa John's pizzas. He wrote on the platform,
"I'll pay 10,000 bitcoins for a couple of pizzas.. like maybe 2 large ones so I have some left over for the next day."
At that time, all Hanyecz, a software engineer from Florida wanted was to get Pizza in exchange of BTC. Pretty soon, a British man took up Hanyecz's offer. He offered to get the two pizzas for him at the price of $25 a piece. It was quite a bargain because at that time 10,000 Bitcoins were worth around $41. Nine months after exchanging his BTC for Pizza, Bitcoin became equal with the U.S. dollar, which means the two pizzas were now worth $10,000. Today, the price of one BTC is worth $7918.69 as at the time of writing.
While it is easy to make speculations as to why Hanyecz was willing to part with his digital currencies for Pizza, we cannot deny that he has made a contribution to adoption. It is important to note that the Bitcoin Pizza story is the first known real-world bitcoin transaction. Hanyecz claims that buying the pizza helped legitimize BTC. And although he doesn't think about how wealthy he could have been if he had held onto his coins he doesn't regret it. He claims that he is proud to have been a backer of Bitcoin and a proponent of its use in the real world.  
Today, Bitcoin use has exceed pizza purchase. Bitcoin and other altcoins can be used for varied purposes. A lot of businesses have adopted digital currencies as a means of transacting since the Bitcoin boom of 2017. You can now purchase a house with bitcoin and even receive your salary in Bitcoin. Today, May 22 has been named Bitcoin Pizza Day. In celebration of the day, crypto companies such as Huobi are celebrating Bitcoin pizza day with special offerings for their users.
Can you spend 10,000 BTC on Pizza? Share your thoughts with us in the comment section below.