Halt the Libra Project else risk a new Swiss-based Financial System that is too big to fail, Congress tells Facebook
Congress has written to Facebook in a letter addressed to top officials of the social media giant including the CEO Mr. Mark Zuckerberg directing it to halt its proposed new digital currency Libra and its Wallet the Calibra. This move was dutifully made following the security, trading, privacy and monetary concerns which congress considers the Libra Project could have on the US economy and the global financial system which by extension will impact every lives on the planet.
Considering the huge user base which the social media giant has, it calls for grave concerns as it has been in the news for its lacklustre approach to user privacy and security which the Cambridge Analytical saga is clearly evident to.
Over the past year, Facebook has been working secretly on its cryptocurrency project dubbed the Globalcoin to the world at that time but it was until the Mid of June, 2019, Facebook formerly announced its new global financial cryptocurrency Libra which will run on its own blockchain. Haven recruited some corporate giants cutting across several sectors of the US economy such as Uber, Spotify, MasterCard, Paypal, Ebay, etc, Facebook appeared to be on the rise to actualize its global payment system which will see billions of people getting financial services in places around the world yet unbanked.

The announcement of the Libra project and the documentations created great reverberation across the global media space with many voicing their concerns over the new digital currency while others praising the initiative of the Facebook Libra. As these were going on, the price of cryptocurrencies notably Bitcoin saw an increase upto $13,000.

The concerns of the US congress over the Facebook Libra project points to the limited and/or obscure regulatory oversight which the government has over the digital currency space and this may just be the pin that pops the balloon thus creating legislative pieces which are focused on the blockchain and digital currency industry. This the US Congress made explicit in their letter
"if products and services like these are left improperly regulated and without sufficient oversight, they could pose systemic risks that endanger U.S and global financial stability"

The issue with the Libra Project also has to do with the need to protect investors and every day users of the Facebook platforms. Insurance forms a significant part of the financial system and as such, without adequate financial productive measures against account hacks and theft, if another Cambridge Analytical issue arises in the future, billions of dollars would be lost and this would spell an inescapable doom for millions of people in the US and world over.
If Facebook complies as it should, Congress will go on examining the various aspects of cryptocurrency. Once again, excitement will brew again for those against everything cryptocurrency and those in support of it as Congress congregate and we can only expect some interesting price actions.
EOS Versus TRON, The Dapp War Continues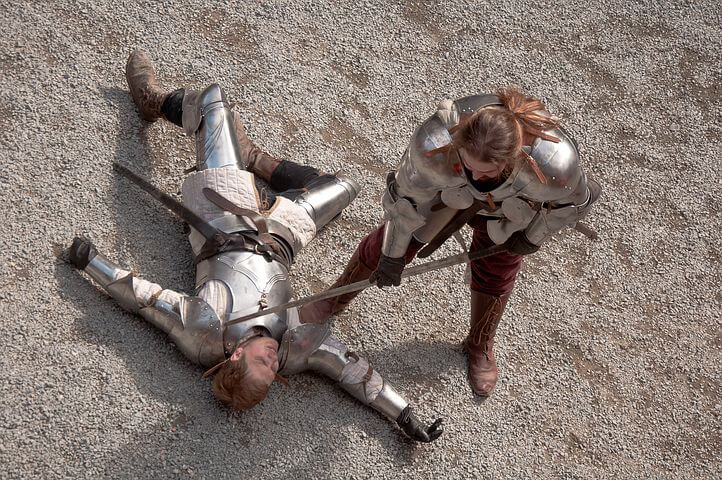 The world of Decentralised applications (DApps) began with Ethereum. However, it has grown to include more blockchains Networks utilizing smart contracts to build DApps on the blockchain. With over 1,800 listed DApps according to Dappradar.com TRON network and EOS seems to be on a warpath for dominance.
Before we crown the King of DApps, it is important to note that a DApp must have an open source code available to all. A DApp must also be decentralized, incentivized and have an algorithm that generates token or an inbuilt consensus mechanism.
While the battle of supremacy on DApps revolves around TRON and EOS, it is important to note that these blockchains are not so different from each other. Both Tron and EOS started on the Ethereum blockchain as ERC-20 tokens. However after creating their own Mainnet they moved all of their tokens to their own blockchain network.
It is also important to note that both TRON and EOS are built on the delegate Proof of stake mechanism (DPos). The DPos is a mechanism where the selection of block producers will be done by voting. EOS has 21 block producers of which 20 will be selected by top 20 received votes and 1 will be randomly chosen. On the other hand, TRON has a total of 27 block producers (super representatives) who have to go through voting systems. It is impressive that both blockchains allow its token holders to Vote for their Block producers or Super representatives.
TRON Foundation was created in September 2017 by its CEO Justin Sun and it's mainnet was launched in June 2018. TRON based network claims to have the capacity of clearing 2000 Transaction per second. However, the TRON network block explorer TronScan reveals that it is currently close to 750 TPS.
On the other hand, EOS is own by Block.One, an open source software publisher. Its white paper was published in 2017 and the open source software was launched on June 1, 2018 by Dan Larimer, who is also the founder and creator of Bitshares and Steem. While EOS has been called the Ethereum Killer, however, it currently processes around 4000 Transactions per second.
According to TPS, EOS is winning the race. Also, in Q2, 2019, EOS has almost 62% DApps active in Q2. Although AnChain, blockchain intelligence firm claims that in Q1, 75% of the traffic from the top 10 gambling dApps on EOS were driven by bad bots. That means about $6 million worth of transaction volume was carried out by bots. TRON's DApps, on the other hand, had 82% active uses in Q2, 338 out of 412 of all TRON's DApps were active in Q2.
As at press time, EOS is the top blockchain network with 2,231,299Op activity while TRON is coming 5th with 842,442Op. However, TRON DApp TronBet is taking the lead on DappRadar with more than 3000 users and $6.1 million in its 24hour volume. EOS DApp, Dice, comes after TronBet more than 97,000 users and a 24hour volume of $266,000.
Although there have been whispers on the state of DApps and their relevance, but it is important to note that DApps are pulling their weight in the blockchain sphere. While it will be difficult to name who is King of DApps, there are other Blockchain networks building DApps that are worth keeping an eye on such as Steem, IOST, and TomoChain.