Fructus Integrating Bancor Protocol to Provide Continuous Token Liquidity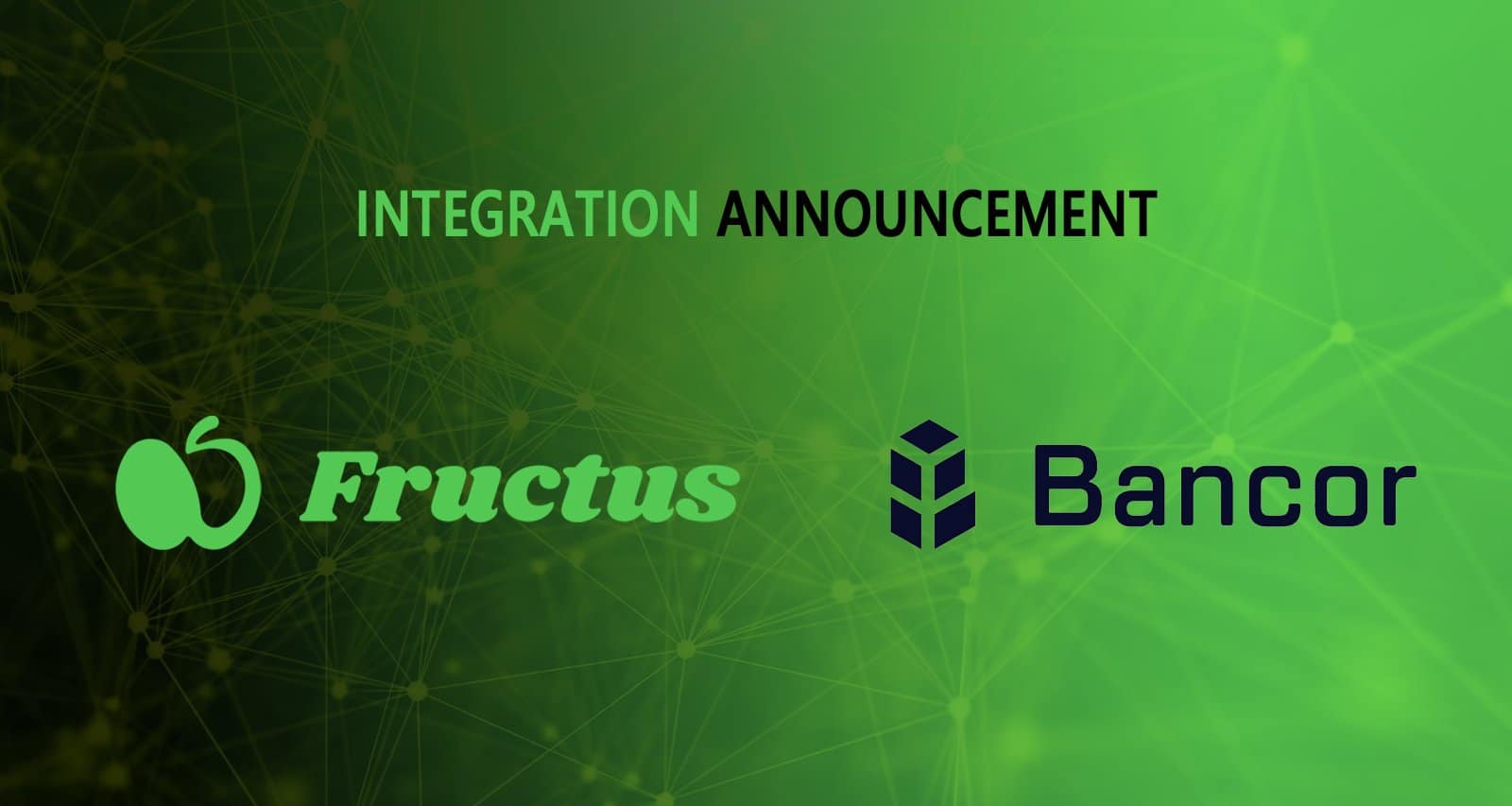 Fructus has announced its integration of the Bancor Protocol to provide continuous liquidity for the Fructus platform.
By integrating the Bancor Protocol, Fructus token holders will gain access to continuous liquidity regardless of trade volume or exchange listings, through the Bancor Network, where any integrated token can be automatically converted to any other directly from the Bancor Wallet or any Web3 wallet, such as MetaMask
​
The Fructus Token will become instantly convertible with ETH, EOS, BNT (the Bancor Network Token), GNO (Gnosis), BNB (Binance) and more than 130+ ERC20 and EOS-based tokens in the Bancor Network.
​
Fructus is aiming to change the business of fresh produce trade and delivery. Starting in the diverse agricultural landscape of Europe, we see an opportunity to scale and change the world
​
About Fructus
We believe we can solve global problems regarding fruit and vegetables. Big problems concerning products being GMO's (Genetically Modified Organism) or 100% organic, expiration date fraud and food waste.
​
The way we solve these problems is by making the supply chain for fruit and vegetables transparent.
All transactions are processed and registered in the blockchain, giving all parties involved the ability to keep track of products and payments. Customers can see where products are coming from and what was used to help grow the crop. Suppliers can find customers connect without a grocery store in between, keeping products clean and fresh and reducing the food waste.
​
Together we can make a difference, so join the Fructus Community and support Fructus.
Visit Fructus to know more about the fruit-safety blockchain project.
​
About Bancor
Bancor is the world's largest decentralized liquidity network. Bancor functions similar to a decentralized exchange, with a key difference: orders are processed against automated smart contracts on the blockchain, instead of matching two parties in a trade. Any project can easily integrate their token by creating a Relay on the Bancor Network to automate fair and efficient token conversions for users, directly from their wallets. Tokens on Bancor are instantly convertible for one another, with 8000+ trading pairs across ETH, EOS, DAI, BNB & more.
Bancor technologies impact organizations and people across the globe, from blockchain teams to token holders to real-world communities in Africa, Asia and beyond. Visit the Bancor Web to convert tokens instantly, list your token on the Bancor Network or join the Bancor Telegram group for more information.
CEO of MTN Group Speaks Out on MTNCOIN, Calls it Fake.
The CEO of MTN Group, Rob Shuter has spoken out on the document circulating the internet showing the Telecom giant, MTN Group to launch a utility token – MTNCOIN.
The CEO calls the document and unsolicited proposal and the Telecom firm will not consider it.
Fake news guys was an unsolicited proposal we are not taking forward.

— Rob Shuter (@ShuterRob) November 13, 2019
The document which was dated 29th of October, 2019 and titled "MTN COIN – Building Africa's Universal Financial Services & Rewards Ecosystem" proposes a crypto token that will be used as a universal digital settlement currency for all financial.
In a statement published by MTN Group, it said it wishes to distance itself from the document as well as the services and offerings mentioned in the document as they are not provided by the firm.
According to the statement, MTN said the document was an unsolicited proposal submitted by an entity called Eureka Africa and it wasn't adopted.
However, the Telecom giant affirmed its continual engagement and collaboration with various vendors, and if necessary it said, use official MTN channels to communicate such partnerships.
The document proposes the launch of a Stellar blockchain based cryptocurrency, MTNCOIN that will serve as a universal digital settlement currency for all financial users cases for all parties.
According to the document, It also intends solidifying and expanding MTN's position as Africa's leading communication services provider by staying at the forefront of digital transformation; capitalize on the Global Financial Technology revolution and lead the disruption of the traditional financial and insurance sector in the continent to protect current and create new revenue streams.
The Telecom giant has requested publishers to refrain from sharing the document or its contents on any public platforms.