Fructus Integrating Bancor Protocol to Provide Continuous Token Liquidity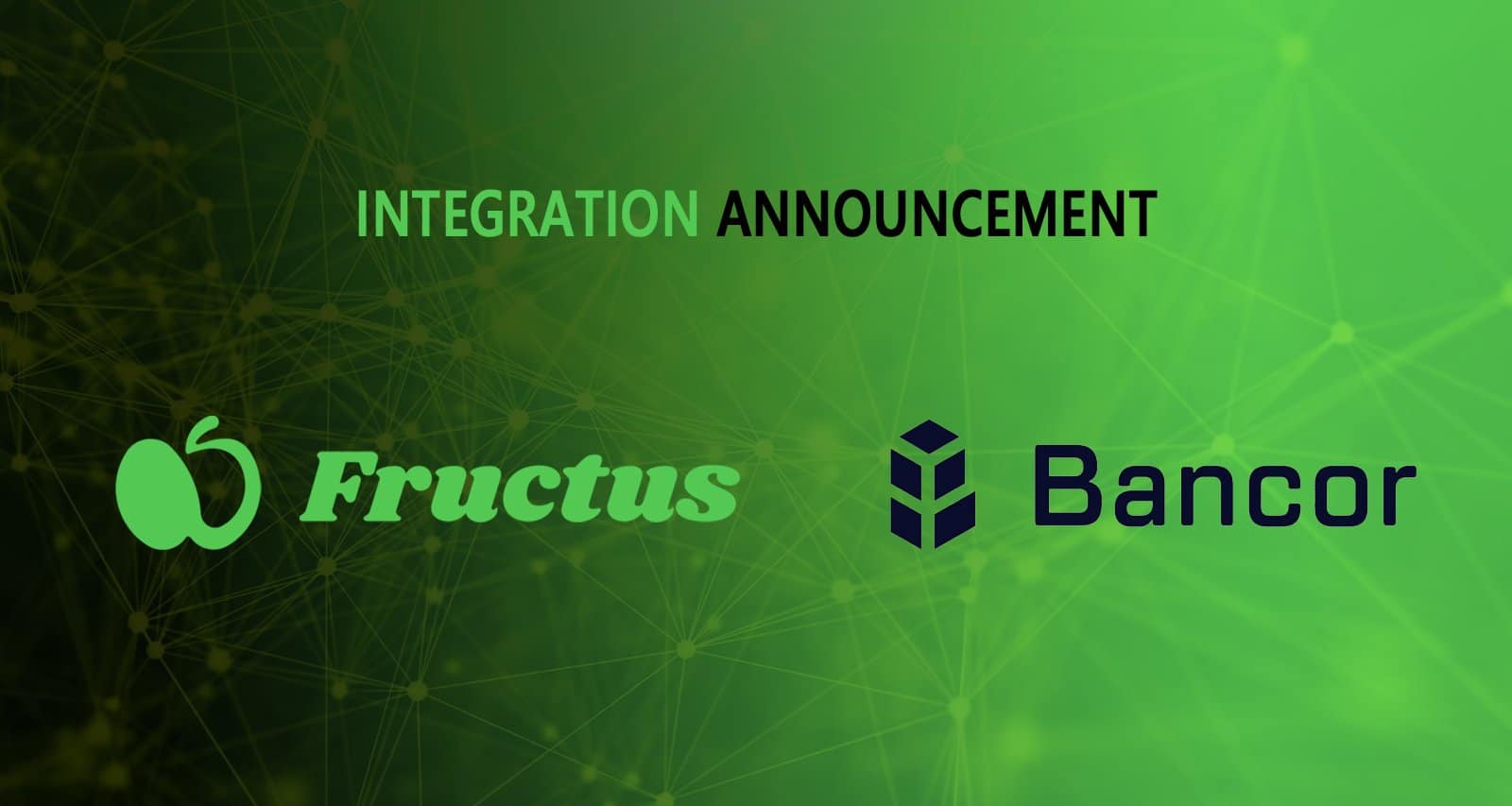 Fructus has announced its integration of the Bancor Protocol to provide continuous liquidity for the Fructus platform.
By integrating the Bancor Protocol, Fructus token holders will gain access to continuous liquidity regardless of trade volume or exchange listings, through the Bancor Network, where any integrated token can be automatically converted to any other directly from the Bancor Wallet or any Web3 wallet, such as MetaMask
​
The Fructus Token will become instantly convertible with ETH, EOS, BNT (the Bancor Network Token), GNO (Gnosis), BNB (Binance) and more than 130+ ERC20 and EOS-based tokens in the Bancor Network.
​
Fructus is aiming to change the business of fresh produce trade and delivery. Starting in the diverse agricultural landscape of Europe, we see an opportunity to scale and change the world
​
About Fructus
We believe we can solve global problems regarding fruit and vegetables. Big problems concerning products being GMO's (Genetically Modified Organism) or 100% organic, expiration date fraud and food waste.
​
The way we solve these problems is by making the supply chain for fruit and vegetables transparent.
All transactions are processed and registered in the blockchain, giving all parties involved the ability to keep track of products and payments. Customers can see where products are coming from and what was used to help grow the crop. Suppliers can find customers connect without a grocery store in between, keeping products clean and fresh and reducing the food waste.
​
Together we can make a difference, so join the Fructus Community and support Fructus.
Visit Fructus to know more about the fruit-safety blockchain project.
​
About Bancor
Bancor is the world's largest decentralized liquidity network. Bancor functions similar to a decentralized exchange, with a key difference: orders are processed against automated smart contracts on the blockchain, instead of matching two parties in a trade. Any project can easily integrate their token by creating a Relay on the Bancor Network to automate fair and efficient token conversions for users, directly from their wallets. Tokens on Bancor are instantly convertible for one another, with 8000+ trading pairs across ETH, EOS, DAI, BNB & more.
Bancor technologies impact organizations and people across the globe, from blockchain teams to token holders to real-world communities in Africa, Asia and beyond. Visit the Bancor Web to convert tokens instantly, list your token on the Bancor Network or join the Bancor Telegram group for more information.
Tether to Issue Chinese Yuan Pegged Stablecoin CNHT Soon

Tether has disclosed its plan to one day issue a stablecoin CNHT which will be pegged to the Chinese Yuan fiat currency.
According to Zhao Dong, a shareholder of Bitfinex, who made this revelation on an interview he had with a Chinese media. He further revealed that  Renrenbit his digital asset management will invest in the new stablecoin.
He added that "Personally, I think the offshore yuan stablecoin could boost the circulation of offshore renminbi and internationalize it. Regulators may be happy to see it proceed and succeed."
Recently China has reveal its national digital currency will soon be ready. The reveal could be as a result of the ongoing trade tension between the PBoC and United States with the Facebook Libra as the major catalyst.
Speaking on this, the Chairman of UnionPay Shao Fujun said that the national digital currency "will have lots of positive impacts, incluidng tracking the money flow in economic activities and supporting making monetary policy".
Tether was launched over 4 years ago and has surprisingly withstood several scandals. By its affiliation with Bitfinex, the largest stablecoin with about billions of dollars market capitalization has met some serious criticism however, it has continue to rage on and has been able to launch on some blockchain networks in time past, for example the Tron Blockchain.
Disclosing the relationship between Bitfinex and Tether, Zhao Dong said that Tether and Bitfinex are two companies with a side-by-side relationship and they have same management team.
In July, 2019, Tether announced it had launched support for its stablecoin on the Blockstream's Liquid Network.
Revealing the time of launch of the yuan backed stablecoin, Zhao Dong said that the stablecoin will be launched in the near future and the  stablecoin reserves is expected to be held in a Belgium bank.