CryptoTVPlus Announces Campus Blockchain & Cryptocurrency Awareness Tour (Campus BCAT) 2019 – Press Release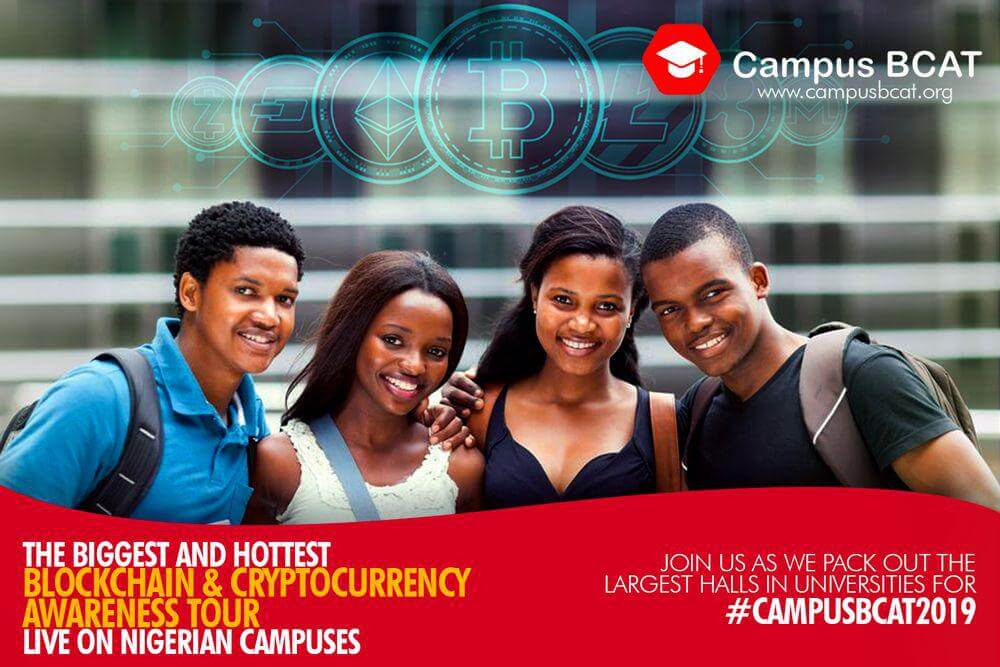 CryptoTVPlus, a top blockchain and cryptocurrency media house from Nigeria is set to commence its educative based Campus Blockchain & Cryptocurrency awareness Tour across major Nigerian universities starting from the 7th of September 2019 in University of Ibadan.
Campus BCAT is a university-wide education program aiming to teach and expose tertiary education students on the facts and misconception of blockchain and cryptocurrency. Over the years as the decentralized ledger technology continues to garner attention from different parts of the world and Nigeria becoming a hotbed for daily bitcoin trading and several other innovative solutions being developed, it has become clear that Africa can only achieve astronomical heights and not the usual catch up it has always played with any technology revolution through proper understanding of what blockchain and its varied applications presents through education.
The train is expected to start off from Nigeria's premier university, the University of Ibadan (UI) on the 7th of September, after which it leaves for Obafemi Awolowo University (OAU). The train is expected to touch at least five universities in Nigeria scattered across the geopolitical zones of the country.
Tony Emeka, the Co-founder, and CEO of CryptoTVPlus says;
"There are always meetups, conferences and others about blockchain which is good, but the enduring effects emanating from these events haven't really been felt. This is exactly our motivation behind the Campus BCAT initiative as we are well aware of the strategic roles youths and millennials play in the adoption of any new technology, social media is an example"

"With BCAT Clubs establishment at every one of the schools we touch, the underlying structure to help with the growth and awareness of the blockchain technology in Nigeria is put in place." – Tony Emeka
With the publicity of the events already gathering steam, some of the interesting features to watch out for in Campus BCAT 2019 are;
Features of Campus BCAT 2019
Opportunities for students to meet and connect with startups using Blockchain technology

Showcasing partners products session

Panel Session

Exciting prizes in cryptocurrency to students

Students learn about the digital currency evolution

Talent Hunt Session

Campus BCAT Club Establishment
Victor Ugochukwu, COO of CryptoTVPlus who is also in charge of the planning and smooth publicity of Campus BCAT 2019 speaking on the proposed event said;
"Africa is changing just like the rest of the world and I am particularly interested in seeing us play major roles at the center stage of disruptive technologies such as the blockchain. It is important that we adapt and reorganize our system to better fit into the more and effective knowledge-driven economies of the world. While we are educating our youths across campuses and giving them the opportunity to express their unique ideas around blockchain, we are also interested in making sure we remedy a deficiency in our system which is the lack of the availability of credible data. How many students in Nigeria are interested in blockchain? How many attended a blockchain/cryptocurrency event within the last quarter or even the previous years? How many have started building or even did their research project around blockchain technology? All these pertinent questions and more would be easily answered with the structure we would be establishing in these respective universities across Nigeria."
With initiatives like Campus BCAT, perhaps university and tertiary students as a whole would be better positioned on how to make lasting impacts on their societies with the myriad opportunities the blockchain technology affords its enthusiasts.
UI Campus BCAT – 7th September 2019
OAU Campus BCAT – 14th September 2019
Other Schools – Kindly visit the Campus BCAT official website for details.
To sponsor or become a partner of Campus BCAT in any university please visit www.campusbcat.org.
BBOD Launches World's First Zero-fee, Non-custodial Crypto Derivatives Trading Platform

HONG KONG, 15th November 2019 – BBOD, world's first zero-fee, non-custodial cryptocurrency derivatives trading platform with an unprecedented level of security and transparency, is now live and open for business.
The lack of transparency, trust, and adequate fund security at centralised exchanges has grown urgent demand for better custodial practices, separating user funds from the funds of the holdings of the exchange.
During a recent press conference, Jacob Ruczynski, CEO at BBOD, explained the security feature:
"At BBOD, custody of cryptocurrencies is completely separate from the exchange. As a result, our platform does not hold private keys to the client's balances. Instead, each client holds their funds in a decentralised smart contract account. No private keys are created. Therefore, the keys can not be stolen by hackers."
"All user balances are updated daily and visible on the Ethereum blockchain. The public may monitor in near real-time the number of users registered, their balances and the total amount of funds at the exchange. This design allows BBOD to pass proof-of-solvency and proof-of-reserves audits using solely publicly available data." he added.
BBOD partners with TrustToken to offer the world's first TUSD-settled perpetual futures contracts with up to 50x leverage, allowing market participants to go long or short on various cryptocurrencies, empowering them to express sentiment and manage risk more effectively using a stablecoin collateral. The instrument has no expiration dates, unlike fixed maturity futures.
Ryan Rodenbaugh, Business Development Lead at TrustToken, said: "We're excited to continue developing TUSD to better meet the demands of modern markets. Starting as a better way to move money to becoming a staple currency across spot markets, TUSD is proud to now serve the futures and derivatives markets. Empowering crypto traders to enter these enormous markets is part of our ongoing commitment to growing the utility, credibility, and accessibility of cryptocurrencies, and we're proud to be doing it with BBOD."
BBOD is to become the most liquid and secure marketplace to trade altcoins with high leverage aiming to list perpetual futures contracts on +50 cryptocurrencies by the end of 2020.
In the first stage the BBOD platform will offer perpetual contracts on the following 17 underlying cryptocurrencies against TUSD with up to 50x leverage: Bitcoin, Ethereum, Ripple, EOS, Tron, NEO, Binance, Litecoin, Stellar, Cardano, IOTA, Monero, NEM, ICON, Elastos, Decred, Digibyte.
BBOD Chief Economist, Piotr Arendarski Ph.D., said:
"The cryptocurrency derivatives space still lacks professional, reliable marketplaces to trade altcoins with high leverage, and this is what we provide on our trading platform. We apply the same standards in terms of risk management and compliance as you would see in the established finance space."
"The firm has a number of additional futures contracts on altcoins and on crypto indices in the pipeline and plans to expand its range of services," he added.
In the next stage, the zero-fee BBD-settled market will be launched with 4 contracts: BTC, ETH, EOS, LTC vs. BBD on December 9th, 2019. There will be no transaction fees (zero) on the BBD-settled futures markets (eg. BTC/BBD perpetual contract). Traders need to use the BBD token as a collateral, so balances and PnL is denominated in BBD.
Additionally, BBOD will be conducting a non-dilutive public offering of 8,000,000 BBD tokens which is starting on the 19th of November, 2019. Interested parties may purchase BBD tokens with up to a 60% discount in relation to the intended price of the token at the BBD/TUSD spot market; to be launched on December 10, 2019.
To learn more about BBOD's cryptocurrency derivatives trading platform, visit their official website at http://www.bbod.io
About BBOD
BBOD is a fully transparent, non-custodial cryptocurrency derivatives trading platform for retail and institutional clients, offering a secure and transparent marketplace to trade Bitcoin and multiple Altcoins futures contracts with a stablecoin collateral. The non-custodial nature of the platform means that BBOD does not hold either the clients' digital assets or their private keys. Instead, a client has their own contract account on the Ethereum blockchain. For more information, please visit https://bbod.io/
Follow BBOD on Twitter
Join BBOD's Chat on Telegram
Media Contact Details:
Hannah E. Lee
marketing@bbod.io
This press release is for informational purposes only. The information does not constitute investment advice or an offer to invest