CampusBCAT2019 Moves to University of Port Harcourt after a Successful Tour at the University of Ibadan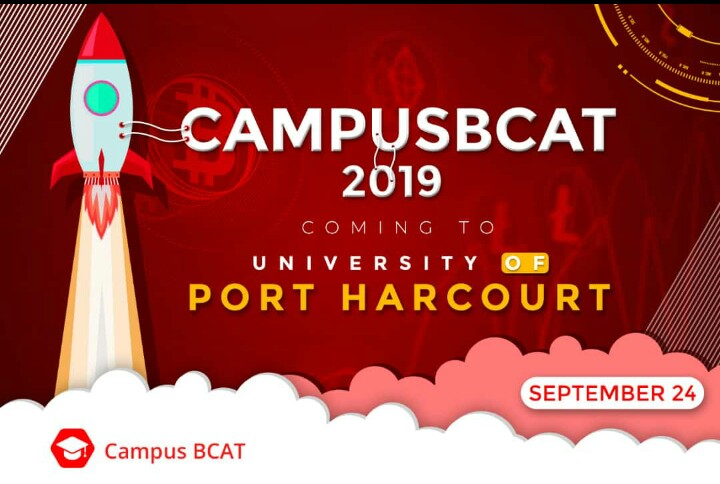 The Campus blockchain and cryptocurrency tour CampusBCAT 2019 train is moving to the University of Port Harcourt after achieving great success at its first stop at the University of Ibadan UI on the 7th of September. The event is to hold on the 24th of September, 2019.
The CampusBCAT which is a university-wide education program aiming to teach and expose tertiary education students on the facts and misconception of blockchain and cryptocurrency had its maiden edition at the premier university of Ibadan with an over flow of attendance as anticipated.
The event was graced by seasoned speakers in the blockchain community such as Franklin Peters, Founder & CEO of Bitfxt Technologies, Tola Fadugbe the Founder of Crypto Masterclass, Chinedu Obidiegwu, Marketing and Community Lead for Luno, Ophi Rume otherwise known as Cryptopreacher, Emmanuel Bababola, Opakunle Omotayo, Toritseju Kaka , Chiagozie Iwu of Naijacrypto and CEO of Sumo Bank Gud Talent Igwe.
The speakers exposed the students to cryptocurrency and the underlying technology, the blockchain. Educating the student even more, students were able to participate a Question & Answer session and also in a panel where their various questions were answered.
With the air already filled with excitements, students were also able to win amazing prizes such as free data top up, T-shirts, Laptop bag and a Smart phone amongst others.
Crowning the event was the inauguration of the BCAT Club which saw great interest from the attending students. The BCAT Club was set up to be the legacy of CampusBCAT in the institution.
With the Club, students will be better position to learn about cryptocurrencies and blockchain and position them to be the leader of the future they are destined to be in the blockchain and cryptocurrency industry and beyond.
Cryptocurrency and blockchain continues to be an interesting subject all over the world, with institutions already providing courses on the technology, the Nigerian students must not be left behind to be competitive globally.
As the engines are revving, it's time to move on to the University of Port Harcourt (UNIPORT).
The waves which CampusBCAT is making cannot be left to impact just a few; the nation must feel the impact. CampusBCAT2019 at UI was just the beginning; CampusBCAT2019 UNIPORT will not be the end.
This is just the beginning as great speakers and industry titans are already set to expose the students of the great University of Port Harcourt to cryptocurrency and blockchain.
As the overflowing crowd poured in to listen to blockchain education at University of Ibadan, CampusBCAT 2019 at UNIPORT promises to be one of the largest ever in the history of blockchain and cryptocurrency education in Nigeria and Africa at large.
We can't wait for it. The waves are coming, the volcanoes are erupting, and there are lightning and thunderstorm announcing CampusBCAT 2019 at UNIPORT. Rage on.
CampusBCAT2019 at Uniport is scheduled to hold on the Tuesday, the 24th of September, 2019.
Blockchain for Lawyers 101 Set to Hold in Abuja with a Nationwide and Continental Focus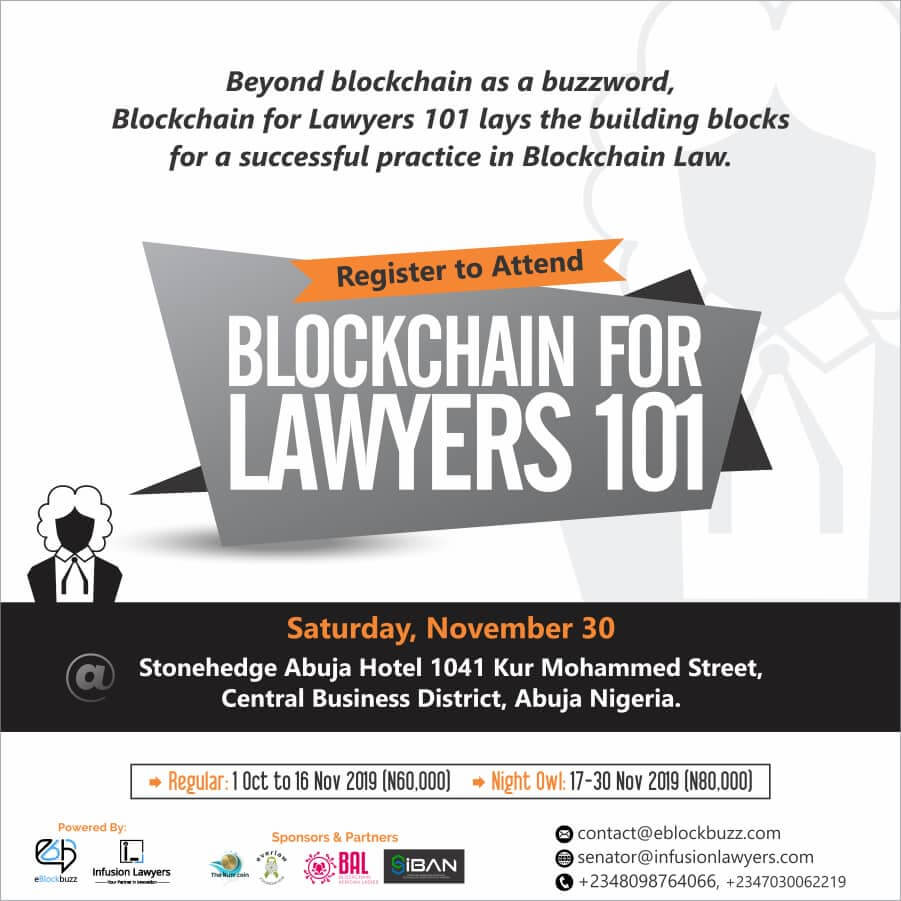 After a successful outing of the maiden edition of Blockchain for Lawyers 101 in July 2019, it is set to hold in Abuja with a focus on being held across several cities in Nigeria and Africa at large empowering lawyers in the new age of tech and digital disruption.
With huge traction already gained on the upcoming event set to hold on the 30th of November, 2019, CryptoTVPlus caught up with the organizers, speaking exclusively with Senator Iyere Ihenyen, the Lead Partner at Infusion Lawyers & Partners and facilitator of African Blockchain Education Tour in partnership with eblockbuzz, a blockchain focussed media establishment from Nigeria, discussing with him on their upcoming event.
"AI will not take your job if you don't insist on taking AI's job" – Senator Ihenyen
In this exclusive interview with CryptoTVPlus, Senator Ihenyen expounds on the purpose, plans and future outlook for Blockchain for Lawyers 101
What exactly is Blockchain for Lawyers 101?
"Blockchain for Lawyers 101 is a one-day course that introduces lawyers to the blockchain technology from what blockchain is, its applications and legal implications, how it affects lawyers, to how lawyers can reposition themselves to provide legal advisory services to blockchain-powered agencies, businesses, and organizations. Blockchain for Lawyers 101 is the first of its kind in Africa. It is introduced under the African Blockchain Education Tour initiated by eBlockbuzz in collaboration with Infusion Lawyers. An introductory course, Blockchain for Lawyers 101 is a building block to a successful career in blockchain law."
What informed the decision to organize a Blockchain focused program for the legal sector?
"Blockchain is a disruptive technology that brings both new opportunities and new Legal and regulatory risks across various industries, including the legal industry. As agencies, businesses, governments, and organizations grapple with these new legal and regulatory risks, it is critical to have lawyers who understand how the blockchain technology works and its
various applications so they can be in a proper position to help clients avoid or at least minimize such Legal and regulatory risks. This is where Blockchain for Lawyers comes in. It equips lawyers with the knowledge and skills they need to actively participate in the new and emerging decentralized economy, creating new opportunities for their clients and also for themselves."
Considering the growing awareness of Blockchain and Cryptocurrency in Nigeria, how do you see the legal sector and Blockchain interfacing in the next few years?
"The intersection of Blockchain and the legal sector will increasingly widen and deepen in the next few years. This is because legal services is essentially a business of trust and blockchain as a trustless technology will disrupt the legal industry, bringing more accountability and transparency to what law has tried to achieve for centuries. Smart contracts will change the way that parties enter into contracts, effectively changing the role of lawyers in this respect. Also, blockchain can change the way intellectual property is protected, enabling a more efficient and effective way of managing IP rights compared to the chaos we have presently in the digital age. Apart from IP, disputes are bound to reduce significantly when blockchain is applied to our land registry system and public record system generally. And since blockchain is a decentralized ledger, it will have a significant impact on the shape and size of cybersecurity issues in the future."
The emergence of new technologies comes with its own risk. Jobs could be lost as sectors or sub-sectors become less relevant. Same fears may be entertained by legal practitioners, what's the appropriate response when presented with such?
"It's true that emerging technologies such as artificial intelligence, big data, the Internet of Things, cloud computing, including blockchain come with considerable risks. But the appropriate response is not for lawyers to panic but lawyers need to reposition themselves to leverage the opportunities that these technologies also bring. By understanding what these technologies are, their policy and legal implications, and how they affect lawyers, lawyers can significantly minimize the risks and maximize opportunities. AI will not take your job if you don't insist on taking AI's job. Smart contracts will not take your job if you don't insist that your contracts are smarter. The way to is to identify your strengths, acknowledge your weaknesses, reequip yourself, and then leverage these emerging technologies to amplify your strengths."
The program title "Blockchain for Lawyers 101" presents itself as a beginner course for legal practitioners, would there be a Blockchain for Lawyers 201 soon?
"Yes, Blockchain for Lawyers 201 will be introduced in 2020, after taking Blockchain for Lawyers 101 to lawyers in various cities. Blockchain for Lawyers 101 is a comprehensive course that introduces lawyers to the fundamentals of the blockchain, its types, its applications, legal implications, regulation across various jurisdictions, and how lawyers can build successful careers in blockchain law. Blockchain for Lawyers 201 will focus more on select case studies, legal and regulatory compliance in relation to blockchain and virtual assets, including cryptocurrencies. It will be more intensive and it comes with exercises."
Blockchain has helped create a global financial system without needs for a central authority, will Blockchain for Lawyers 101 reach out to other nations?
"The answer is YES, and this led by demand. After a successful maiden edition in Lagos in July 2019, Blockchain for Lawyers has received a great reception from lawyers in and outside Nigeria. So far, we have received interest from Rwanda and Kenya. We are also exploring Ghana. Moving to Abuja FCT on 30th of November 2019, the second edition of Blockchain for Lawyers 101 enjoys support from our sponsors such as Kurecoin Club, Blockchain African Ladies, Everlaw Foundation, and our partner, Stakeholders in Blockchain Technology Association of Nigeria (SiBAN)."
Conclusion
With more of this happening across Africa just like was seen in Kenya where graduates emerged in its first ever Blockchain class , Africa is truly on the path of realising her potentials in the grand scheme of things vis-a-viz other continents especially in areas of technology such as the Blockchain.
Registration is currently ongoing. Click HERE to register.