Multiple literatures have been written to simplify the complex world of crypto and ensure people gain good, clear and true knowledge of the crypto industry. Over the years multiple media contents have also been created and daily globally, people are working to spread the word on crypto.

In the vast ocean of crypto knowledge, comes a piece of literature titled "Understanding EOS". A compendium of insightful knowledge spread and embedded in the pages awaiting knowledge-thirsty folks to devour, authored by Mr. Toju Kaka. 
In this article, we will look at this introductory work of art into the world of crypto through the world of EOS. We shall examine the work and the motivation behind it.

Understanding EOS is an introductory work into the world of EOS. The book explores and explains crypto in a simplistic manner. One of earliest eye grabbers was dedication. The book was to the mother of the author Helen Kaka. Personally, this hit me with a tsunami of emotions. Mothers are Gold.

A compendium of EOS knowledge spread across Nine chapters of 116 pages. The book is meant to introduce people most especially with its language simplicity, those who do not have much knowledge in the industry to the complex world of crypto. Understanding EOS by Toju Kaka brought the feel of reading a favourite book that has been read before without feeling bored or overwhelmed.

" 'Understanding EOS' is a compendium of EOS knowledge spread across Nine chapters of 116 pages."
The knowledge packed in the pages exposes people to gain an entrance knowledge of crypto – EOS and a thirst to move on, to climb up the ladder of crypto knowledge.

"Understanding EOS" is a cleverly chosen name as it does justice to the contents contained within. It's a book created to do away with the complexity associated with crypto and proof to non-crypto persons that crypto can be fun, can be lucrative and can also be scary if one doesn't know what he's doing.
The book started it's chapter by explaining what EOS means and then went to explaining the "superpowers" of the EOS blockchain, DApps, and how Block Producers work comparing it with the Bitcoin Miners.
The book ended by teaching readers how they can economically exploit the advantages of the crypto (EOS) world & build wealth for themselves and an introduction into a humanitarian project by the author called EmpowermeEOS.
As much as the book is a finely delivered work that will inspire the multitude of readers to get into the cryptocurrency industry. Some points needed clarity. One of which was that the book talked about capital gains in crypto but didn't really give an in depth look into it.

Another catchy word that was used in the book was "unusable". This word was used in describing Ethereum. It's quite strange because though projects have migrated from the Ethereum network to others, which includes EOS, it's rather strange to address the first decentralized application platform as "unusable". Ethereum was "unusable" because of a lot of factors according to the book but then, these factors were not stated.

That, notwithstanding, "Understanding EOS' gave Bitcoin it's true place in the industry and expressed itself in the simplest of words.

With the several questions on my mind and that of other readers of one of the most simplified books on EOS, I had a brief chat with the author Mr. Toju Kaka who shared some insight on the book and answered all the very few questions I asked. Below is our conversation.
Marvelous Akpere: Hi, Mr. Toju Kaka. You have written such an amazing book that simplifies the knowledge of EOS. Might I ask what drove you? What motivated you to create this piece of literature?
Toju Kaka: I believe that what drives the EOS network is a strong force for positive social impact. Dan Larimer's (the creator of the EOSIO software) vision is to find free market solutions to secure life liberty and property. I've been following Dan for a long time and I've seen the impact of his work. This is what attracted me to EOS.
I have a desire to share what I've discovered in EOS to everyone that cares to read and create revenue for EmpowermeEOS. This is why I wrote the book.

MA: One of the first things that caught my eyes was the dedication. The book was dedicated to several persons including your mum. Your mother caught my attention. She must have been very very instrumental in your getting the knowledge and creating the book.
TK: She sacrificed a lot after my father died to make sure that all her children get education. We didn't have much growing up. But we had a mother who was just more than enough.
MA: You mentioned in the book that you pieced together contents of the book from various sources, how difficult was it for you? Like how long did it take you to compend the knowledge contained in the pages?
TK: This is the first book I'm writing. And at the same time, I was writing, I was doing many other things. At one point, I lost my laptop and there was no backup, I had to start all over.
MA: So much of a dedication. Terrible experience to have to start from the beginning.
TK: Very painful experience. I've learned so much. It took about a year to put it all together. One particular challenge I had was that everything was changing so fast. So I had to make sure that I capture the basic principles. Even now, EOS has changed and I hope to release another edition that includes these changes and portray the future impact of EOS and EOSIO on the world.
Now I know better. It won't take me that long and I won't repeat a lot of mistakes when writing my next book.
"It took about a year to put it all together. One particular challenge I had was that everything was changing so fast."
MA: I appreciate that you gave due recognition to the first cryptocurrency- bitcoin, and giving ethereum it's respect by noting it was the first dapp platform, however, you then you took swipe at it calling it "unusable" because of a lot of factors. Was that a practically intentionally, because that was where it ended. There wasn't mention of why it was unusable save the 2017 CryptoKitties gas war
TK: There is only so much you can add to a book. To say Ethereum WAS unusable is the truth. At the time of writing, there was no way Ethereum could scale her user base. It was meant for a small group of enthusiasts.
That's what I meant. Maybe things will improve in the future. I hope they do. Right now, even EOS has a lot of growing up to do.
MA: OK. You mentioned the superpowers which EOS has. As a member of the EOS community, what do you think the EOS community is on that could redefine EOS as a leading platform for decentralised Apps?
TK: I believe that one defining moment for EOS would be the launch of Voice social network to the global market. That's gonna happen in February.
Voice is currently in beta in the US. I believe that Voice would show the world the true potential of EOSIO and it would cement EOS' position as the leading platform for dApps.
MA: Interesting! We still have to wait and see the features which Voice will present to the entire world.
Thank you Mr. Toju Kaka. You have been most wonderful. I believe your fans (including myself) are anticipating the next edition.

Conclusion:
"Understanding EOS" by Toju Kaka is a finely delivered piece of literature that easily captures attention and feeds one's thirst and hunger for knowledge in the most simplified manner. Understanding EOS presents itself as a literary work that stands out as a reference book for anyone to teach beginners and learn about EOS and also a library to quickly draw from in giving complex lectures in the least complex words.

Click HERE to get a Copy of Understanding EOS.
Greece's former Finance Minister says Bitcoin is not suitable to replace money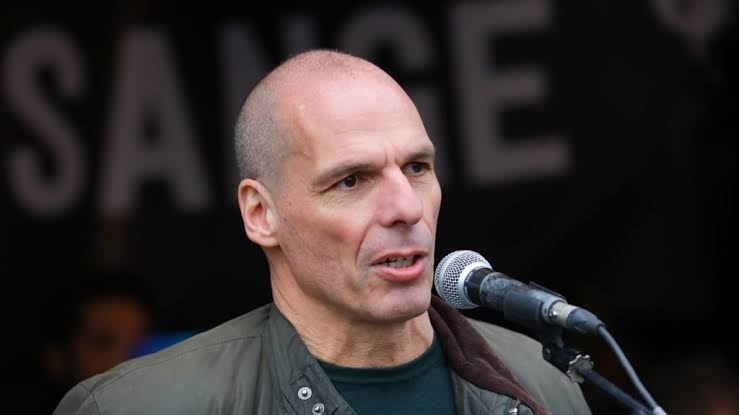 Yanis Varoufakis, Greece's former finance minister has published his views on why Bitcoin is unfit to replace fiat money. He did in a reply to Ben Arc on Monday, 27th July, 2020. He started by giving his enthusiastic views on the blockchain technology on which bitcoin operates. But he stressed how he hasn't been fascinated by any of Bitcoin's ability. –

"I remain enthusiastic on blockchain's capabilities and as unimpressed by Bitcoin's ability to help us either civilize or (as any socialist dreams of) transcend capitalism."

Varoufakis proceeded in his letter to Ben by saying that Bitcoin lacks necessary mechanisms to stop capitalist crises from resulting to "depressions that benefit only the ultra-light". He included that bitcoin is community based; democratic protocols will do almost insignificantly to "democratize" economic life.

Bitcoin lacks necessary shock absorbers

He argued that bitcoin lacked some necessary shock absorbers to react to certain economic situations. While citing the example of the 2008 crisis and the recent Covid-19 crisis, he underscored the importance of central banks as they had the ability to produce trillions of dollars, euros, pounds, yen among others. On the other hand, bitcoin users will not agree to the massive increase in the supply – since it will devalue their holdings. Bitcoin supply is limited to just 21 million.
Yanis went on to say nothing will make the bitcoin community agree to increasing the supply as they will probably succumb to the "Prisoner's dilemma". He explained that bitcoin ownership is unevenly distributed and the "bitcoin rich" will have the leverage of restricting money supply (if bitcoin replaces Fiat money) supply since it would boost their holdings at the expense of the public.

Bitcoin will not democratize economic life

Yanis based his second argument on the fact that bitcoin will not democratize economic life. He argued that the only that will change if peradventure bitcoin replaces fiat money is that Central bank will cease to exist and money supply power will be subject to bitcoin users. He included that Jeff Bezos will still retain his capitalist power amongst others at the firm level as bitcoin will fail to "democratize capitalism".
He went on to make it clear that depression is imminent and the crisis in the first argument is bound to happen when Central banks cease to exist. –
"in short, not only will the democratization of money via bitcoin fail to democratize capitalism but it will also give an almighty boost to the forces of regression"

Yanis summarized the letter by comparing the monetary system to a dog's tail that can't "wag the capitalist dog" by itself. He included that replacing fiat with bitcoin with take us back to the modern version of the 19th century America in which private bankers funded private individuals that were referred to as Robber Barons during the era. Democratizing money by that means of monetary commons will only make capitalism uglier, nastier and more dangerous for humanity, he said.
He concluded by saying – "a monetary common (that may very well rely on something like the blockchain underpinning bitcoin) will, I have no doubt, be an essential aspect of a democratized economy; of socialism".
But can blockchain be isolated from bitcoin?