Bitcoin Donations Pouring In for Russia's Main Opposition Alexei Navalny
Russia's main opposition Alexei Navalny is once again on the spotlight having received up to 591 bitcoins valued at about $3 million at current market prices through his official donation address for his organization.
Alexei Navalny who faces so many backlashes from the Putin government in Russia and also political victimization and arrests even up to being banned from participating as a candidate in the last presidential elections in Russia against Vladimir Putin was recently reported by a pro-Putin television network to have most corruption investigative activities tied to huge donations pouring in alleging it to be involved in paid political hits.
Navalny runs an investigative center, the Anti-Corruption Foundation (FBK), a whistleblower organization that regularly publishes alleged corrupt activities of government officials, not sparing high ranking officials such as the prime minister Dimitri Medvedev and  even the attorney general, Yuri Chaika
An anonymous Telegram channel on Monday known as "FBK Staffer's Confession," alleged the correlation between several huge donations to the Navalny organization's wallet a few days before FBK published one of such investigation, alleging FBK is involved in paid political hits. This accusation was aired in major mainstream Russian media most of which are pro-Putin.
FBK through its chief of staff vehemently denied this allegation when contacted by Znak, a Russian news publication agency. Leonid Volkov FBK's chief of staff  denied any connection between the transactions and its investigations, in his rebuttal he said the anonymous blogger "dragged the non-existent facts together in by the head and shoulders."
Volkov continued:
"You can say that each time Encke's Comet approaches the Earth it coincides with a big war: 1914 (First World War), 1941 (World War II) and 2014 (War on Eastern Ukraine). But its rotation period is three years, and it approached the Earth many times when there were no big wars."
Navalny's bitcoin wallet address conspicuously appearing on its official website have seen as much as 2000 transactions including donations and withdrawals since 2016 after receiving its very first donation. This is noticed as every transaction on the bitcoin address is open and transparent for everyone to see due to its decentralized ledger technology.
Navalny is not only the dissenting voice or movement in the Russian political space that has been involved in bitcoin donations, there are many others including Zona.Media and The Insider, as well as internet freedom movement Roskomsvoboda accept donations in bitcoin or ether but FBK appears to be the most prominent.
Bitcoin Payments on Amazon Now Possible via Moon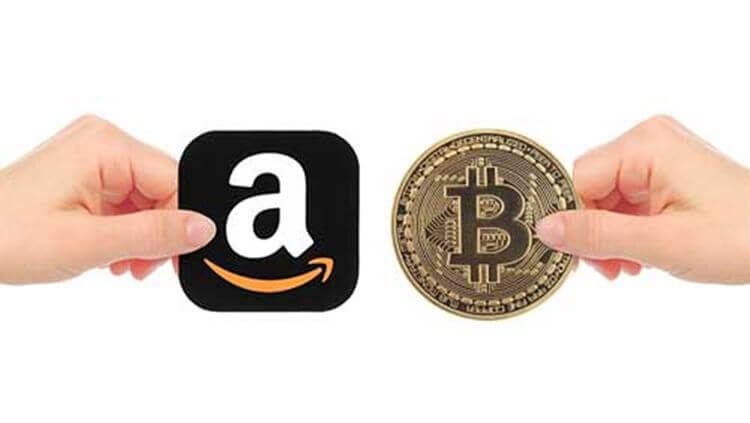 Do you know that bitcoin can now be used as payment on Amazon? This is made possible by the innovation of Moon using the Lightning Network.
As announced by Moon earlier this week, the crypto payment processor initiative will enable users with a lightening wallet to utilize Moon's latest browser extension to pay for products on e-commerce sites such as Amazon by connecting the browser extension to the Coinbase exchange account.
According to Ken Kruger – Moon CEO
The extension will pop up a QR code and it will have the lightning invoice, which you could also copy and paste if you can't use the QR code for some reason. And you'll be able to pay with your favourite lightning wallet.
It is not clear if Amazon fully backed the initiative. However, it has been tested to be fully operational using the specified Coinbase exchange. A further inquiry into the simple working process of the conversion of the bitcoin cryptocurrency to fiat (which is the generally accepted payment) for Amazon merchants has proven to be more private than expected- as no financial institution has accepted to be in charge of this.
However, Kruger stated that by 2020, the Lightning-enabled feature is expected to work on an e-commerce site. Whether that platform accepts Bitcoin directly or not, does not matter. Currently, users spend their crypto from their wallet on Amazon, via the plugin.
This good news is sure to launch on Wednesday 24th April 2019, and it will be on a Chrome web browser.
Speaking about Integration, Kruger said that VISA and Mastercard partnered to make integration work, and so they are going to earn a percentage equivalent to plastic cards on every transaction on the network.
In his words;
There's no direct merchant integration. However, we're integrating with the Visa and Mastercard network and we get a cut of the interchange fees that merchants pay every time they receive a credit card transaction.
While many argue that its a step in the right direction for Bitcoin and blockchain Adoption, others are still on the sidelines to see how it pans out in the long run.
#cryptocurrency is winter-proof #GoT #PayWithMoon #PayWithCrypto pic.twitter.com/yupZ3Uj9Md

— paywithmoon (@paywithmoon) April 15, 2019
About Moon Company
Moon is a crypto payment processing company set up in New York last year. Its staff includes only three people with just $100,000 invested by the Entrepreneurs Roundtable Accelerator. she is planning to run a Series A in 2019 together with learning users' behavior for building its activity'
Moon browser is currently available on Chrome Browser, Brave browser, and Opera.
It is not out of place to say that the company is set to initiate support for other major retail stores like eBay, Dominos, Aliexpress Target And Etsy.
Adoption is on a steady rise in Asia in the transportation sector, in Europe in areas of remittances and insurance while in Africa, we still ask questions like "can you receive your payments in Cryptocurrency?" However, Could these moves from Moon and others be responsible for the recent bitcoin price rise?
Disclaimer:
The Information provided on the website is designed to provide helpful information regarding cryptocurrency subjects. The content is not meant to be used, nor should it be used as a basis, foundational knowledge or prerequisite for decision making regards trading. Always do your own research and due diligence before placing a trade. We are not liable for any outcome based on any content found on the site.