Binance Launches Lending Service Fully Subscribed by Over $15m In Less Than 10 Minutes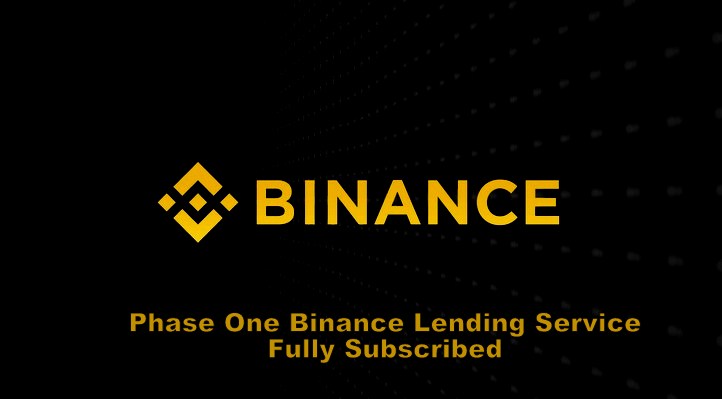 The Binance Lending Service received full subscription in less than 10 minutes after it was launched today the 28th August, 2019. In its first phase which kicked off today, the Binance Coin BNB, ETC and USDT Lending Products received full subscription.
Binance had earlier announced the launch of its lending service – the Binance Lending Service which is a service that lets Binance users earn from their idle crypto balances on the exchange. This allows users with no trading knowledge and skills to earn passive revenue from their crypto holdings.
Speaking on the use of the Funds from the product, According to CZ, CEO of Binance, the funds from the lending service will be utilized by traders on the Binance Margin Trading platform with the interest accruing to Lenders coming from fees paid by traders on the Margin Trading platform.
Revealing details of the success of the first phase, three Lending Products were made available. These are the BNB, ETC and the USDT lending products. With 502 participants totally 200,000 BNB, the Binance Coin received full subscription under 16 seconds. This is expected to generate a 15% interest rate for lenders. At current price, total funds into the BNB Lending Product amounted to over $5 million
ETC Lending Product with 7% annualized interest rate attracted 124 participants in 9 minutes 48 seconds. Total number of subscribed funds was 20,000. At current price, total funds into the ETC Lending Product amounted to over $136,000.
Stablecoin USDT Lending Product received 10,000,000 USDT in 3 minutes, 25 seconds from 306 participants. This will give lenders a 10% annualized interest. At the price of $, total funds into the USDT Lending Product was $10,000,000.
This put the total funds into the first phase of the Binance Lending Service at  about $15,136,600
According to Binance, more lending products will be released soon. The first phase is expected to carry 14-Day maturity date.
Enhancing Protection, Bittrex Secures $300m Digital Asset Insurance 
Cryptocurrency exchange Bittrex, Inc announced it had secured a $300 million digital asset insurance.
The insurance obtained secures named crypto assets in its cold storage system.
The blockchain technology and cryptocurrency exchange firm said it worked closely with the world's leading insurance broker and risk adviser, Marsh, in placing the coverage with Arch Syndicate 2012, an organization which provides casualty and specialty insurance for corporations and supported by various syndicates at Lloyd's of London.
The approval for insurance coverage according to Bittrex comes after successfully demonstrating its extensive internal security and compliance protocols.
The coverage is up to $300 million in assets in cases of external theft and internal collusion.
The underwriters were not disappointed upon learning of the 'best-in-class' technology Bittrex has. And the fact that 'a growing number of cryptocurrency exchanges around the world are also built on the Bittrex' technology owing to the confidence in the platform, Bittrex claims.
Speaking on the insurance coverage, the CEO of Bittrex, Bill Shihara, was quoted saying "Bittrex focuses on doing the right thing by our customers with security at the top of our mind. This insurance coverage provides another layer of peace of mind,".
He continued further saying "From our institutional customers to hobbyists, we are committed to prioritizing security throughout all of our decisions and forward looking blockchain technologies"
Co-leader of the global leader in insurance and risk management firm, Marsh's Marsh's Digital Asset Risk Transfer (DART) team also commented saying "Insurance plays a critical role in the growth and development of any business, including those that work with blockchain technology and digital assets,"
"We worked closely with Bittrex to create a tailored insurance solution to fit their specific cryptocurrency needs.