Binance Announces Additional JEX Token Airdrop for Binance.com Users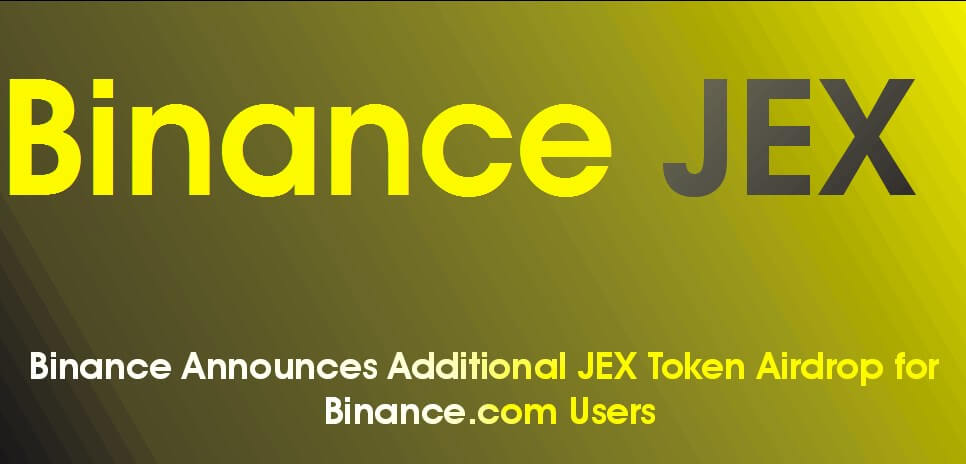 Cryptocurrency exchange and blockchain ecosystem Binance has announced additional JEX token airdrop for users of its Binance.com platform.
Users are expected to use their Binance.com login credentials to claim the tokens. The claim is available from the 11th of September, 2019 at 6:00AM (UTC) to 18th of same month at 6:00AM (UTC).
Users are to login to the Binance JEX and upon the first time of login, they will be rewarded with a random airdrop of between 10-100 JEX tokens.
The rules for the airdrop were presented in a list by the exchange in a blog post published today 16th of September, 2019.
According to Binance, users are expected to login to Binance JEX with their Binance.com login information and the account must have trading records and a minimum balance of at least 0.01BTC before 3:59AM (UTC) on the 10th of September.
Users may only qualify for the airdrop the first time they use their Binance.com account to login to Binance JEX.
It also revealed that the quantity of JEX tokens awarded from the airdrop after logging in to Binance JEX for the first time will be seen immediately.
Binance assured users who have login to Binance JEX before the promotion was announced will still qualify for the JEX token airdrop the first time they access their Binance JEX account with their Binance.com credentials during the promo period.
Binance JEX formerly JEX is a spot and derivative crypto trading platform run by JEX Technology Co, Ltd. Binance announced the acquisition of the trading platform and added it to its growing platform businesses. JEX also offers other than derivatives, futures contracts.
$36.7 Million Worth of BNB Destroyed as Binance Completes its 9th Quarterly Burn
Binance has announced the completion of its ninths quarterly burn of the BNB token. The period which is between July to September, 2019 say the burning of 2,061,888 BNB tokens worth at market value $36,700,000.
https://twitter.com/binance/status/1184708839687389185?s=19
CZ, CEO of Binance in a statement made in the exchange's blog said he will share some thoughts using the opportunity provided by the quarterly burn.
According to CZ, the last quarter burn represents a significant growth over the 2nd quarter burn. Contributing factors to the increase include new services such as the Margin Trading platform amongst other services which CZ noted are beginning to produce results.
For Q4, CZ acknowledged that services such as the Futures Trading will contribute to the Q4 burning.
Binance also mentioned that though the exchange has large user base, it could still be making the small profit compared to other exchanges in the industry.
He gave reasons for this position, one which be said it's because of Binance long term goals to fund and invest in projects that has prospects. He also cited lowest fees in the industry as a reason.
CZ pointed out that Binance does not perform a "buy back" as some people think it's better. He went further clarifying this position saying
" …..think about it: a platform's main income should already be in their native platform token, and the only way to get the "cash" to do a "buy-back" is to sell their tokens first. So, to do a "buy-back," they must sell first, then buy back. –– We believe this does not, in fact, achieve anything; it only indicates that those platforms are not holding their own tokens. They probably sell their tokens the minute they receive them."
He concluded with a question "Would you want to hold their tokens when the platforms don't hold it themselves?"
According to Binance, following the burn, there are still 185,474,825 BNB remaining