An Infographic Perspective to Cryptocurrency Analysis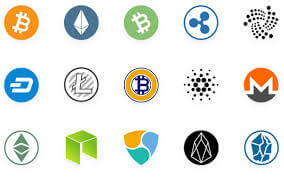 Bitcoin (BTC):
Bitcoin was launched in 2009 and at present has a market value of $163 billion. The advantages of Bitcoin are, it is the original cryptocurrency, and is the largest and most popular on the blockchain network. It is the most battle tested one against the attackers.
The loophole of it is, with the growing demand it has stressed the Bitcoin's network, and making the transactions expensive. The system can process only about seven transactions per second, which is nonetheless guzzles the electricity owing to the consensus protocol, proof of work, and is designed to make mining labor more intensive.
Ethereum (ETH)
Ethereum was launched in 2015 and at present has a market value of $70 billion.
The advantages of Ethereum is, It is a built-in programming language which allows the developers to write computer programs called as smart contracts, which run on the blockchain. The most initial coin offerings (ICOs) so far were based on the Ethereum smart contracts.
The loop hole of Ethereum is that it uses proof of work, which is relatively slow and energy hungry. Many of the early smart contracts were vulnerable to hacking, and the field of this smart contract security is immature.
Ripple (XRP)
Ripple was launched in 2012 and at present has a market value of $32 billion. The advantage of Ripple is its crypto token which is called as XRP, which is a "bridge currency" for the financial institutions so as to settle the cross-border payments faster and in a more cheap way than they do at present. It uses a novel consensus protocol that which allows for a much faster transactions than the Bitcoin and Ethereum.
The loop hole of it is, Since Ripple is a privately owned company, it has a lot of control over the system and the users say XRP is not decentralized enough which is in contrast with the Bitcoin, where anybody can mine.
Bitcoin cash (BCH)
Bitcoin cash was launched in 2017 and at present has a market value of $19 billion. The advantages of Bitcoin cash is the creators of this currency has made the product a "hard fork" of the Bitcoin, which means it is a tweaked Bitcoin's software so as to handle the larger transaction volumes.
The loophole is Critics say that Bitcoin Cash is too centralized with a handful of miners who create most of these coins.
Litecoin (LTC)
Litecoin LTC was launched in 2011 and at present has a market value of $10 billion. The advantage of Litecoin is that it is an "alt-coin" and nearly a clone of Bitcoin, but with a very few alterations. It processes the transactions four times faster, and the mining process is designed to remain open to their hobbyist which is not the case with the Bitcoin, in which the professional miners use the expensive hardware.
The loophole of it is though it is faster than the Bitcoin, the Litecoin is still too slow and energy hungry to be as an ideal payment method and it also has the added handicap of being a far less well-known one.
Cardano (ADA)
Cardano was launched in 2017 and at present has a market value of $5.9 billion.
The advantages of Cardano's are, the creators of it say that the system is only a platform for the trading and transferring the token which puts an emphasis on the privacy and regulatory compliance. They also say that Cardano will eventually host smart contracts. In this way it will be more like Ethereum, but it uses a proof-of-stake consensus protocol and thus gobbles up little energy.
The loop hole of it is despite big claims from its developers; there is still very little information on Cardano.
Neo (NEO):
Neo was launched in 2014 and at present has a market value of $5.8 billion. The advantage of Neo is that it is a China's biggest cryptocurrency, and is a smart-contract platform with goals similar to the Ethereum's. It uses a consensus protocol called as delegated Byzantine fault tolerance, which the NEO's creators say it allows around 10,000 transactions per second when compared to Ethereum's.
The loop hole of NEO is that it is highly centralized, and is not clear that this will ever change or not. The founder has said that the plan is to make it a more decentralized one someday.
Stellar Lumens (XLM):
Stellar Lumens was launched in 2014 and at present has a market value of $5.6 billion. The
advantage of Stellar is that it is a ledger of the hard fork of Ripple's, which  likewise aims for its lumens to be a bridge currency for the cross-border payments which only runs by a nonprofit, instead for a profit company. It also plans to compete with the Ethereum as a platform for the initial coin offerings.
The loop hole is Stellar faces a lot of competition, from Ripple as well as the traditional banking system's dominant platform, called SWIFT, which is testing a distributed ledger technology with the blockchain-ish elements.
Eos (EOS):
Eos was launched in 2017 and at present has a market value of $4.3 billion. The advantage of EOS is its tokens exist and at present it is being  traded on Ethereum, though its smart-contract platform itself is billed as yet another Ethereum killer, it is yet to be launched. Like Cardano, it uses the proof-of-stake protocol instead of the proof of work which theoretically makes the transactions much faster and more efficient.
The loop hole is despite being on the track to raise more than $1 billion through an ICO; the project is nearly an impossible to judge before the network gets launched.
Monero (XMR):
Monero was launched in 2014 and at present has a market value of $4.3 billion. The advantage of Monero  is it uses ring signatures which is a type of digital signature that lets any member of the group to perform a transaction without revealing which one of them it was
actually. It is a way to let the users transact privately, and the mining process is designed to be an "egalitarian."
The loop hole of Monero's  is its features have made it a preferred coin amongst the cybercriminals, and it has helped to fuel the rise of "cryptojacking," where the hackers use malware to make other people's computers to mine the cryptocurrency for them.
Dash (DASH):
Dash was launched in 2014 and is formerly called as Xcash or Darkcoin. At present it has a market value of $4.3 billion. The advantages of Dash is that, it is the most decentralised coin in terms of rich list of addresses and governance.
Dash has notable features such as Instatsend, Privatesend, Chainlocks, DAO amongst others which speed up the payment processing.
The loop hole like few other coins, Dash also has the centralization problem. Because of this mishap, too many coins were distributed the moment it was first released, by concentrating on the wealth and giving a small group of disproportionate power in the decisions over the currency's future.
Iota (MIOTA):
Iota at present has a market value of $3.8 billion.
The advantage of IOTA's system is it does not use the blockchain, instead it employees a shared ledger which is based on the mathematical structure called as directed acyclic graph. It aims to be the currency which is used by the internet-of-things devices to buy, sell, and trade the data, whether its transaction partners are other devices or the customers like the technology companies.
The loop hole is the Critics say IOTA is too centralized and the numerous cryptography researchers have questioned on the system's overall security features.
Now, kindly click for more infographic developed by Karthik at Mrbtc.org on 33 Cryptocurrencies described in four words or less, and let us know your thoughts.
Disclaimer:
The Information provided on the website is designed to provide helpful information regarding cryptocurrency subjects. The content is not meant to be used, nor should it be used as a basis, foundational knowledge or prerequisite for decision making regards trading. Always do your own research and due diligence before placing a trade. We are not liable for any outcome based on any content found on the site 
Jamie Dimon Claims Libra Will Soon Be Everyone's Talk
Jamie Dimon, the chairman and CEO of JPMorgan Chase, a global financial services firm, has been reported to claim that Facebook's Libra project is going to be the talk of many people. Thus, he believes that it does not pose a threat in the near future. Jamie Dimon made this known during a conference call with analysts.
During the speaking, Dimon asserts that talks about Facebook's cryptocurrency project, Libra, has been going on for seven years yet nothing significant has happened. He then avers that about three years from now, we are going to be talking about the project.
"To put it in perspective, we've been talking about blockchain for 7 years and very little has happened. We're going to be talking about Libra three years from now. I wouldn't spend too much time on it." He claims.
Dimon added that there is no need for competition rather a leveled playing ground is better. And that since no one aids terrorism or criminal activities, there will be an insistence from the government on conformance to the the rigorous anti-money laundering rules.
"We don't mind competition," Jamie Dimon said. "The request is always going to be the same: We want a level playing field. And governments are going to insist that people who hold money or move money all live according to rules where they have the right controls in place; no-one wants to aid and abet terrorism or criminal activities."
Jamie Dimon's statements, especially as it regards to regulation in order to curb terrorism or criminal activities, can be taken to come on the heels of Donald Trump's tweets and Steven Mnuchin's press conference in support of Trump. These two figures have spoken badly about the ability of cryptocurrencies to facilitate illicit activities.
I am not a fan of Bitcoin and other Cryptocurrencies, which are not money, and whose value is highly volatile and based on thin air. Unregulated Crypto Assets can facilitate unlawful behavior, including drug trade and other illegal activity….

— Donald J. Trump (@realDonaldTrump) July 12, 2019
Steven Mnuchin is the United States Treasury Secretary. He recently echoed Donald Trump's tweet posts on the negative use of cryptocurrencies.
"Cryptocurrencies such as Bitcoin have been exploited to support billions of dollars of illicit activity, like cybercrime, tax evasion, extortion, randomware, illicit drugs, human trafficking" … "I think to a large extent, these cryptocurrencies have been dominated by illicit activities and speculation."
Mnuchin then quotes Trump saying: "Bitcoin is highly volatile and based on thin air'"… "Treasury takes very seriously the role of the U.S. dollar as the world's reserve currency."
Let us recall at this juncture that Jamie Dimon as the CEO of JPMorgan firm is reportedly expecting to project its own digital token known as JPM Coin by the end of 2019.