AFRICA'S PREMIER CRYPTOCURRENCY EXCHANGE UNVEILS ASTOUNDING FEATURES.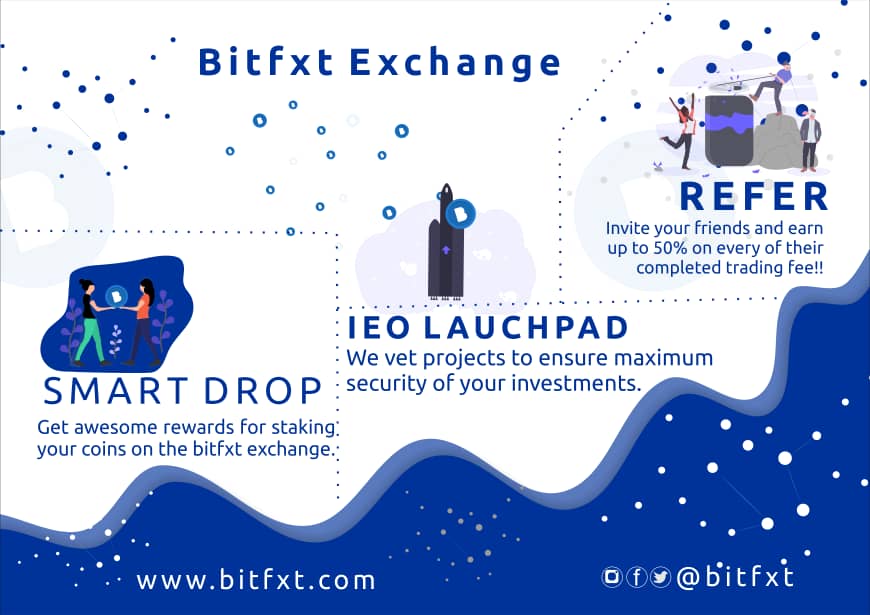 Bitfxt, Africa's leading cryptocurrency exchange has released new features.
The exchange which is now live, incorporates features which enable users make transactions at top speed, spend their cryptocurrency effortlessly, enjoy maximum security on their investments and get mouth watering rewards. Some of these features include:
The boundlesspay prepaid card which is directly linked to users' accounts,

A smart drop feature which allows users earn monthly rewards in the form of various cryptocurrencies, for staking their coins.

A voting function which helps users vote for their favorite coins to be listed on the exchange.

An IEO feature through which new projects are vetted to en able users have access to new cryptocurrencies

which will be listed and at lower prices.

A chat feature which fosters communication amongst users.

A referral program which helps users earn amazing rewards when they bring new people on board.
And lots more.
"Bitfxt is a masterpiece that was created out of the desire to make the blockchain system easily accessible by the African populace. We have put in a lot of work to ensure that we deploy state of the art features that will make it easy for people to have an enjoyable trading experience" said Franklin Peters, Ceo Bitfxt.
In order to give back to the community, Bitfxt has launched an Initial Exchange Offering for the Boundlesspay Coin (BXTC), on two platforms: shortex.net and bitfxt.com. The Initial Exchange Offering (IEO) will be run for 30 days and about three million coins will be available to the general public at a premium for that duration of time. At the end of the IEO, trading will begin for Bxtc on Shortex exchange, Bitfxt exchange and other exchanges to be announced soon.
"The significance of this coin is that it is a utility token that can be used globally. It can be used to pay for services such as utility bills, mobile top -up, data subscription, as well as flight and hotel bookings.These payments can be made at a discount at our platform, www.boundlesspay.co -which is one of the innovations created by Bitfxt. " Franklin Peters added.
As evidenced by an impressive track record of providing solutions which truly work and are used by thousands of people round the globe, Bitfxt is constantly striving for excellence. The boundlesspay pay prepaid card enables users to spend their cryptocurrency in a seamless manner and the entire ecosystem is centered around facilitating cryptocurrency adoption all over the world. Also, a dedicated team of experts is working relentlessly to ensure that users have a pleasant experience while using the platform and do not experience any hitches.
Bitfxt is currently running bounties on twitter and Instagram respectively. Interested participants can join in by getting their friends to follow @bitfxt, like posts and mention their names in the comments sections. The person with the highest number of invited followers wins.
About Bitfxt:
Bitxt is one of the best digital currency companies in the world. with a team of over 60 technology and finance experts, operating across several countries and continents. Our products and services make it safe and easy for people and businesses to store, buy, use and learn about digital currencies like Bitcoin and Ethereum. Our vision is to empower billions of people by bringing digital currencies like Bitcoin and Ethereum to everyone, everywhere.
Register today at www.bitfxt.com
BBOD Launches World's First Zero-fee, Non-custodial Crypto Derivatives Trading Platform

HONG KONG, 15th November 2019 – BBOD, world's first zero-fee, non-custodial cryptocurrency derivatives trading platform with an unprecedented level of security and transparency, is now live and open for business.
The lack of transparency, trust, and adequate fund security at centralised exchanges has grown urgent demand for better custodial practices, separating user funds from the funds of the holdings of the exchange.
During a recent press conference, Jacob Ruczynski, CEO at BBOD, explained the security feature:
"At BBOD, custody of cryptocurrencies is completely separate from the exchange. As a result, our platform does not hold private keys to the client's balances. Instead, each client holds their funds in a decentralised smart contract account. No private keys are created. Therefore, the keys can not be stolen by hackers."
"All user balances are updated daily and visible on the Ethereum blockchain. The public may monitor in near real-time the number of users registered, their balances and the total amount of funds at the exchange. This design allows BBOD to pass proof-of-solvency and proof-of-reserves audits using solely publicly available data." he added.
BBOD partners with TrustToken to offer the world's first TUSD-settled perpetual futures contracts with up to 50x leverage, allowing market participants to go long or short on various cryptocurrencies, empowering them to express sentiment and manage risk more effectively using a stablecoin collateral. The instrument has no expiration dates, unlike fixed maturity futures.
Ryan Rodenbaugh, Business Development Lead at TrustToken, said: "We're excited to continue developing TUSD to better meet the demands of modern markets. Starting as a better way to move money to becoming a staple currency across spot markets, TUSD is proud to now serve the futures and derivatives markets. Empowering crypto traders to enter these enormous markets is part of our ongoing commitment to growing the utility, credibility, and accessibility of cryptocurrencies, and we're proud to be doing it with BBOD."
BBOD is to become the most liquid and secure marketplace to trade altcoins with high leverage aiming to list perpetual futures contracts on +50 cryptocurrencies by the end of 2020.
In the first stage the BBOD platform will offer perpetual contracts on the following 17 underlying cryptocurrencies against TUSD with up to 50x leverage: Bitcoin, Ethereum, Ripple, EOS, Tron, NEO, Binance, Litecoin, Stellar, Cardano, IOTA, Monero, NEM, ICON, Elastos, Decred, Digibyte.
BBOD Chief Economist, Piotr Arendarski Ph.D., said:
"The cryptocurrency derivatives space still lacks professional, reliable marketplaces to trade altcoins with high leverage, and this is what we provide on our trading platform. We apply the same standards in terms of risk management and compliance as you would see in the established finance space."
"The firm has a number of additional futures contracts on altcoins and on crypto indices in the pipeline and plans to expand its range of services," he added.
In the next stage, the zero-fee BBD-settled market will be launched with 4 contracts: BTC, ETH, EOS, LTC vs. BBD on December 9th, 2019. There will be no transaction fees (zero) on the BBD-settled futures markets (eg. BTC/BBD perpetual contract). Traders need to use the BBD token as a collateral, so balances and PnL is denominated in BBD.
Additionally, BBOD will be conducting a non-dilutive public offering of 8,000,000 BBD tokens which is starting on the 19th of November, 2019. Interested parties may purchase BBD tokens with up to a 60% discount in relation to the intended price of the token at the BBD/TUSD spot market; to be launched on December 10, 2019.
To learn more about BBOD's cryptocurrency derivatives trading platform, visit their official website at http://www.bbod.io
About BBOD
BBOD is a fully transparent, non-custodial cryptocurrency derivatives trading platform for retail and institutional clients, offering a secure and transparent marketplace to trade Bitcoin and multiple Altcoins futures contracts with a stablecoin collateral. The non-custodial nature of the platform means that BBOD does not hold either the clients' digital assets or their private keys. Instead, a client has their own contract account on the Ethereum blockchain. For more information, please visit https://bbod.io/
Follow BBOD on Twitter
Join BBOD's Chat on Telegram
Media Contact Details:
Hannah E. Lee
marketing@bbod.io
This press release is for informational purposes only. The information does not constitute investment advice or an offer to invest