As the new dawn sets on Africa with the coming together of several leading associations and organizations in the decentralized space, digital transformation becomes inevitable.
The Africa Blockchain Developer's Call Series, in conjunction with the Africa Blockchain Institute as well as numerous blockchain associations and tech hubs across Africa, is delighted to announce her partnership with Crypto TV Plus.
Of all the industrial revolutions which the globe has experienced, the imminent fourth industrial revolution might just be the only one which Africa has the ample opportunity to participate in, decide what is to be consumed by its tech markets, and locally design the required solution(s).
However, there is a high probability that should the low existence of local content persist in the African tech space, this opportunity might be left hanging.
The ABDC Series, alongside a host of other African blockchain societies and tech hubs, seeks to train, groom, and nurture local African developers, for 3 months, in order to effectively prepare them for the booming tech labour market in the continent.
The program is set to feature insightful panel sessions, speeches from highly revered tech professionals, roundtable discussions with stakeholders, and pitches from African developers. With this initiative, accelerated digital transformation is hoped to be achieved. 
The partners on this project also include the United Africa Blockchain Association, the Government Blockchain Association-Africa, Cameroon Blockchain Association, Pesabase in Kenya, Jelurida Swiss SA, Cabotec Solutions, and numerous world-class resource persons.
Following the launch of the first series of the ABDC, applications shall be declared open on the 15th of August, for junior, frontend, UI/UX, and backend developers to submit entries for a chance to be selected for the remote 3-month Pan-African bootcamp.
The program presents an invaluable opportunity for African developers to build solid connections, engage with relevant stakeholders in the African tech space, and acquire the requisite skills for dominating the tech market. It is a program that promises to be insightful. For more information on partnership and sponsorship opportunities, contact us at info@abdcseries.com and visit www.abdcseries for more general updates.
About ABDC 
"The vision is simply to create an enabling environment to onboard blockchain developers, equip them with the necessary support and encouragement and provide them with various opportunities of either self-sustenance or employment in the space after the 3 month program."
About CryptoTVPlus 
CryptoTVPlus is the most trusted source on Crypto and Blockchain Technology Media. The No. 1 Crypto Media firm in Africa providing up-to date news, interviews, research reports, Marley analysis, innovative programs etc amongst which is it's Campus BCAT program designed to bring crypto awareness to millions of African students.
CryptoTVPlus Announces the Commencement of Blockchain & Cryptocurrency Awareness Tour – BCAT 2020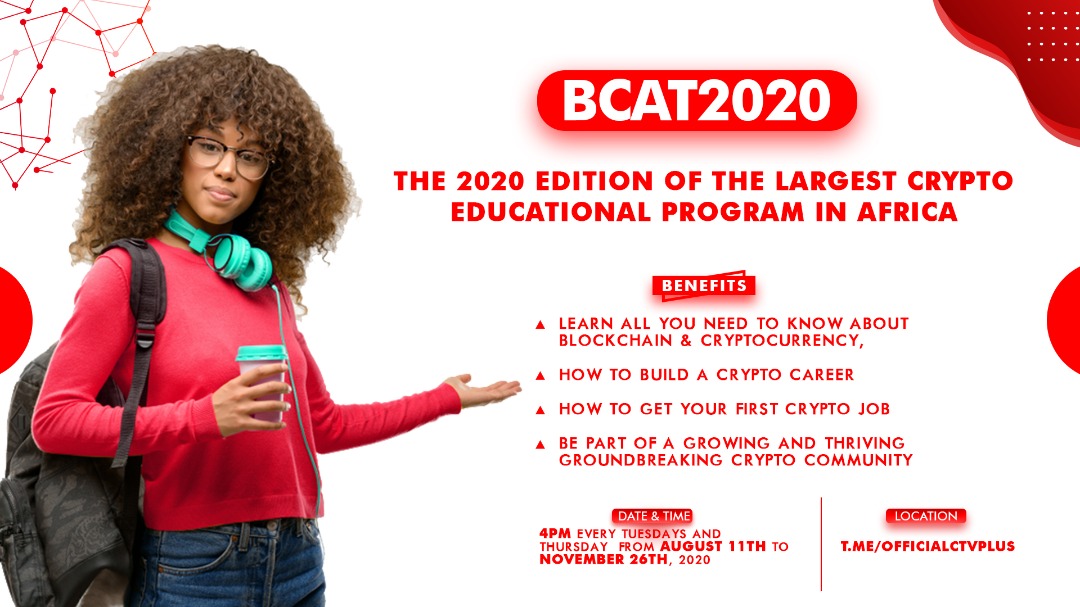 CryptoTVPlus announces the commencement of the 2020 Edition of Blockchain and Cryptocurrency Awareness Tour – BCAT 2020.
BCAT which is also known by those in tertiary institutions across Nigeria as Campus BCAT is a nation wide tertiary institution cryptocurrency and blockchain awareness program designed to teach people about blockchain and cryptocurrency, guide and mentor them and help them to build a career for themselves in the industry.
In 2019, prior to COVID-19, the BCAT event was held in several universities across Nigeria where over eight (8) thousand students were exposed for the first time to blockchain and cryptocurrency by a wide array of experienced professionals in various sub-sectors of the crypto industry.
The 2020 Edition of BCAT will commence on Tuesday, the 11th of August to November, 2020.
Participants will enjoy one on one interactions with seasoned professionals where they will learn amongst other things; introduction to the concept of money and cryptocurrency, how blockchain technology works and how to exploit it for their greater good.
Participants will also be expected to learn how they can position themselves in the cryptocurrency industry, gain the tools and right exposures, skills and competencies necessary to building a career in the crypto industry.
Speaking on the commencement of BCAT 2020, CEO of CryptoTVPlus, Tony Emeka said;
"The global pandemic must not stop us from spreading the word on blockchain and cryptocurrency. We owe it to those in the Nigerian community to continue our evangelical movement of crypto awareness. It's our goal to exploit available tools, to reach out to thousands of people across Nigeria, and help them come to understand how truly revolutionary the technology is and could be."
The Blockchain and Cryptocurrency Awareness Tour is yet again moving, bringing cryptocurrency education to those it matter most.
To register, click here
Join our Telegram Community