Final Testnet For Ethereum 2.0 Set to Launch on August 4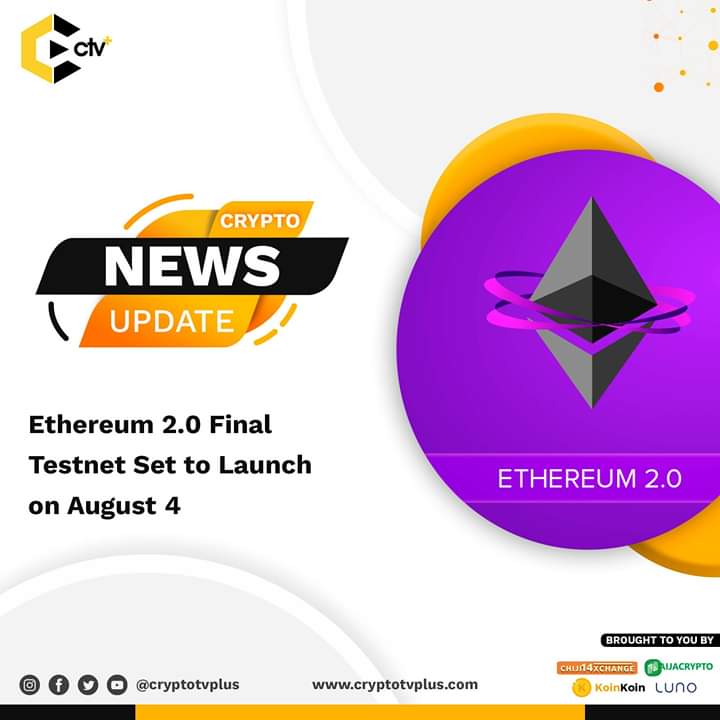 The final testnet of the second largest cryptocurrency by market capitalization is set to launch in two weeks time on the 4th of August.
This represents a move closer for the first smart contract platform to migrate from the Proof of Work (POW) consensus algorithm to the Proof of Stake (POS).
The news about the testnet was shared by the platform's launch coordinator Danny Ryan on discord who said "After discussions with client teams, the next multi-client testnet (mainnet config including min validator numbers) will have a min genesis time of August 4th,"
Continuing, Danny Ryan said further details would be made public in few days.
Ethereum, the largest smart contract platform has been trying to migrate from its current algorithm to the POS algorithm which will do away with Miners and allow the network to be secured by validators. While current miners could become validators, mining is essentially eliminated from the network. Instead, validators will be required to validate transactions based on their stake in the network.
The migration from POW to POS is expected to reduce network congestion considering the extensive applications that can be built on Ethereum and the fact that it had in time past been brought to its knees by network traffics. These congestions resulted in increased transaction fees and delay in transaction processing which resulted in some crypto projects to migrate to Tron, EOS amongst other chains.
With the multiple solutions are being built to ensure that Ethereum is able to accommodate the large volume of transactions that is expected to be made on the network from several projects, Ethereum may truly become the world computer.