SiBAN, Nigeria's Blockchain Association, Launches Free Membership Campaign

As part of its efforts to sanitize the Blockchain and cryptocurrency space in Nigeria, SiBAN (Stakeholders in Blockchain Technology Association of Nigeria) is inviting every stakeholder and player in the space to register as a member of the Blockchain association. To encourage as many Nigerians as possible, SiBAN membership is currently free. This was contained in a public notice released by Emmanuel Babalola, SiBAN Secretary and Co-Founder, Crypton.
"Blockchain is Africa's chance to transform the continent in a decentralised economy. SiBAN is committed to leading this transformation in Nigeria, powered by the engine of active, engaged, and functional membership. This is why SiBAN has introduced its membership campaign which is currently free to individual players in the space", says Paul Ezeafulukwe, SiBAN President and Founder BLOKgrup, who is presently in Port Harcourt for SiBAN's Blockchain Education Train, Port Harcourt Meet-up.
SiBAN membership will not remain free. "In the future, free membership is expected to be reviewed. So we encourage everyone to get on board the free Blockchain train before it leaves the station", pointed out the Vice Chairman (Membership & Strategic Partnerships), Jude Ozinegbe.
This open-membership campaign is a response to a good number of requests SiBAN has received in the recent past.
Blockchain and cryptocurrency developers, enthusiasts, entrepreneurs, experts, founders, Over the Counter (OTC) merchants, and other individual players in every aspect of the Blockchain technology are welcomed by SiBAN. SiBAN membership is also open to professionals with interest in Blockchain application across various industries, including agriculture, banking, finance, health, law, sports, etc.
To be a part of something not only big but impactful, a platform for Blockchain advocacy, collaboration, education, funding, and essentially self-regulation amongst players in the space, all active players in the Blockchain space in Nigeria are invited.
SiBAN is the Blockchain association for Africa's largest economy and biggest black population in the world. Community-driven, SiBAN's vision is to "transform Nigeria into the world's safest and biggest blockchain space with the largest blockchain solutions, investments, and adoption".
To become a member of Nigeria's Blockchain association, register here: http://bit.ly/join-siban
CryptoTVPlus Announces Campus Blockchain & Cryptocurrency Awareness Tour (Campus BCAT) 2019 – Press Release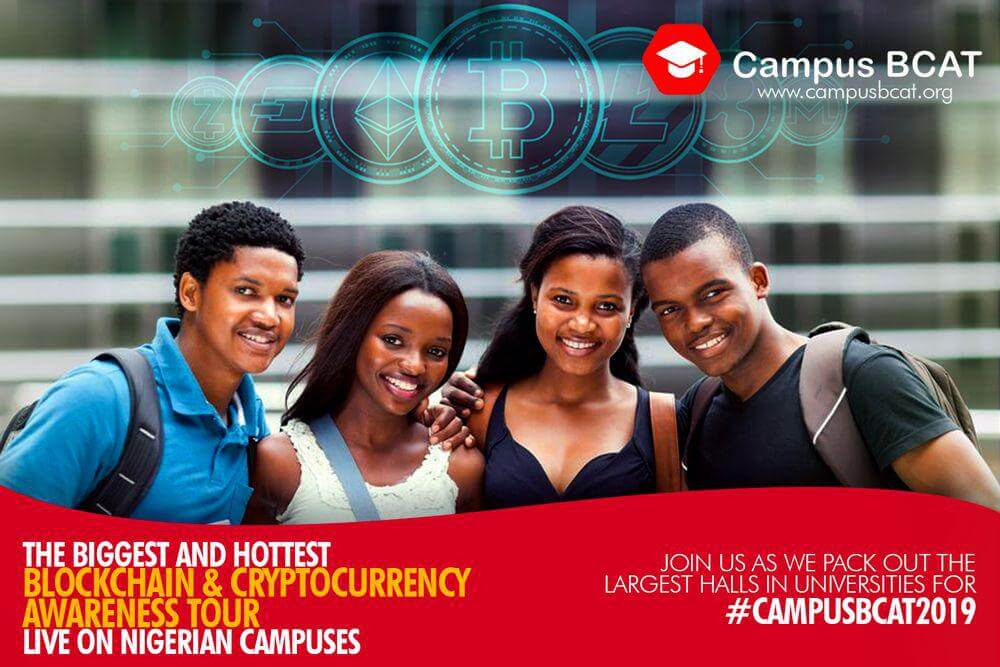 CryptoTVPlus, a top blockchain and cryptocurrency media house from Nigeria is set to commence its educative based Campus Blockchain & Cryptocurrency awareness Tour across major Nigerian universities starting from the 7th of September 2019 in University of Ibadan.
Campus BCAT is a university-wide education program aiming to teach and expose tertiary education students on the facts and misconception of blockchain and cryptocurrency. Over the years as the decentralized ledger technology continues to garner attention from different parts of the world and Nigeria becoming a hotbed for daily bitcoin trading and several other innovative solutions being developed, it has become clear that Africa can only achieve astronomical heights and not the usual catch up it has always played with any technology revolution through proper understanding of what blockchain and its varied applications presents through education.
The train is expected to start off from Nigeria's premier university, the University of Ibadan (UI) on the 7th of September, after which it leaves for Obafemi Awolowo University (OAU). The train is expected to touch at least five universities in Nigeria scattered across the geopolitical zones of the country.
Tony Emeka, the Co-founder, and CEO of CryptoTVPlus says;
"There are always meetups, conferences and others about blockchain which is good, but the enduring effects emanating from these events haven't really been felt. This is exactly our motivation behind the Campus BCAT initiative as we are well aware of the strategic roles youths and millennials play in the adoption of any new technology, social media is an example"

"With BCAT Clubs establishment at every one of the schools we touch, the underlying structure to help with the growth and awareness of the blockchain technology in Nigeria is put in place." – Tony Emeka
With the publicity of the events already gathering steam, some of the interesting features to watch out for in Campus BCAT 2019 are;
Features of Campus BCAT 2019
Opportunities for students to meet and connect with startups using Blockchain technology

Showcasing partners products session

Panel Session

Exciting prizes in cryptocurrency to students

Students learn about the digital currency evolution

Talent Hunt Session

Campus BCAT Club Establishment
Victor Ugochukwu, COO of CryptoTVPlus who is also in charge of the planning and smooth publicity of Campus BCAT 2019 speaking on the proposed event said;
"Africa is changing just like the rest of the world and I am particularly interested in seeing us play major roles at the center stage of disruptive technologies such as the blockchain. It is important that we adapt and reorganize our system to better fit into the more and effective knowledge-driven economies of the world. While we are educating our youths across campuses and giving them the opportunity to express their unique ideas around blockchain, we are also interested in making sure we remedy a deficiency in our system which is the lack of the availability of credible data. How many students in Nigeria are interested in blockchain? How many attended a blockchain/cryptocurrency event within the last quarter or even the previous years? How many have started building or even did their research project around blockchain technology? All these pertinent questions and more would be easily answered with the structure we would be establishing in these respective universities across Nigeria."
With initiatives like Campus BCAT, perhaps university and tertiary students as a whole would be better positioned on how to make lasting impacts on their societies with the myriad opportunities the blockchain technology affords its enthusiasts.
UI Campus BCAT – 7th September 2019
OAU Campus BCAT – 14th September 2019
Other Schools – Kindly visit the Campus BCAT official website for details.
To sponsor or become a partner of Campus BCAT in any university please visit www.campusbcat.org.