Roqqu Achieves 10k Users Milestone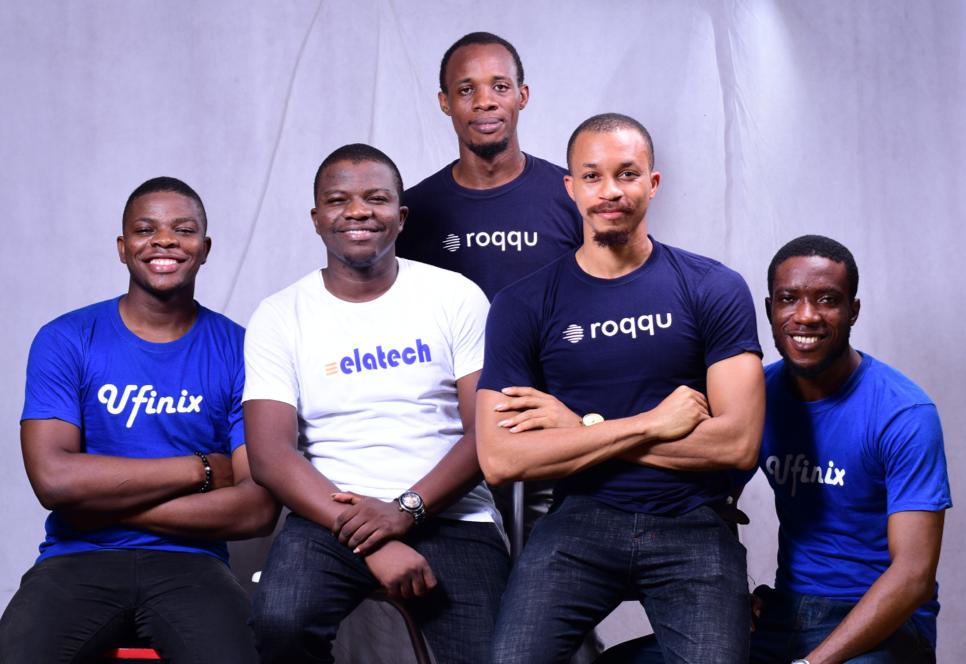 We at Roqqu, (a Nigerian-based cryptocurrency wallet providing its users with the fastest route between fiat and crypto) are pleased to announce that we have just reached a new milestone of Ten Thousand Users in our quest to bring a massive adoption of cryptocurrency in Nigeria and Africa at large.
About a month ago when we sent out our last Press Release we made our mission clear among other facts. In the article we also pointed out that we are currently experiencing an exponential growth in the last quarter since our launch.
It is a clear fact that cryptocurrencies and blockchain technology are still in their infancy in countries like Nigeria and other 3rd world countries. This being the fact; we, announcing a milestone of Ten Thousand Users (10,000) in the first eleven months of our launch is indeed a remarkable feat of which over 50% of such growth took place in the last two months. We must also stress that this feat was reached with zero marketing budget.
In spite of the spike in the request for our services by thousands of users, we will not fail to stress that we, as a team are still committed to our vision of bringing cryptocurrency adoption to the masses in Nigeria at the speed of light and best rates obtainable.
Above all these, we are committed to bringing our users more satisfaction by introducing new features as requested by customers through our consensus system. As of the date of this publication, we have successfully listed about twice the number of tokens we had when we launched last July.
We acknowledge the fact that it is because of our steady commitment to services and transparency in delivering the core values of blockchain technology that our customers choose us over our counterparts in the industry and we plan on keeping up with the quality of our services even with our growth now and in the future.
Roqqu is pleased to announce this growth and we urge all of our customers to stay with us as we promise to bring more ground-breaking news to their doorsteps in the coming months. It has been a great and exciting journey so far and we are more than confident to assert that we are ready to scale.
About Roqqu
Roqqu is the easiest way to buy, sell and accept cryptocurrencies.
Vision
Our vision is to help Africans benefit from the innovation that Blockchain technology provides.
Mission
Our mission is to provide the easiest onboarding process into Blockchain for all Africans.
How Cryptocurrencies make it easier to Send Money
Quidax, an African Crypto Exchange,has
listed Dash for Faster and cheaper
payments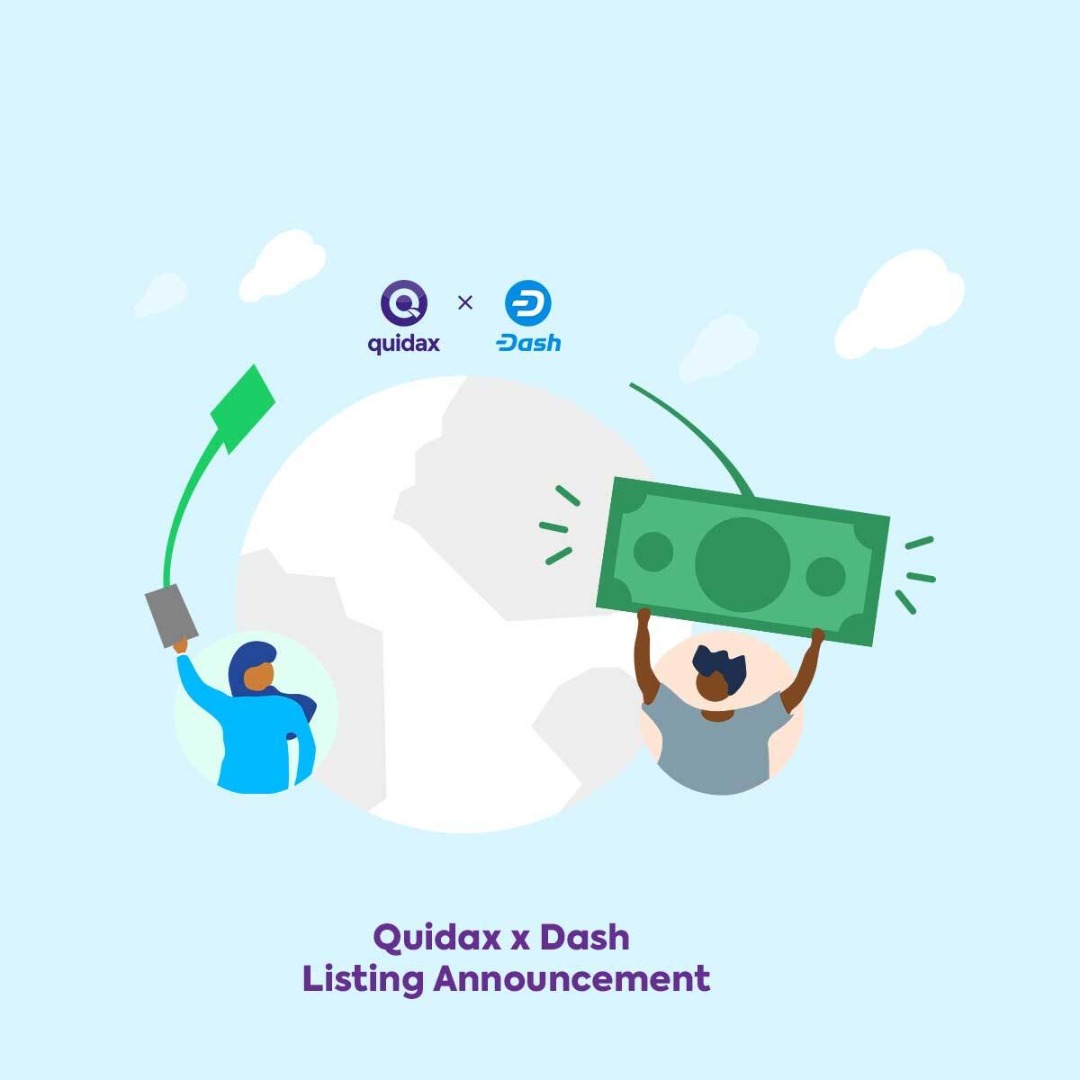 Lagos — December 03, 2020 — One of Africa's largest cryptocurrency exchanges, Quidax has added the Dash cryptocurrency to the list of digital currencies you can buy/sell with Naira.

Dash is a cryptocurrency that can be used to send money from one place to another just like Bitcoin. However, Dash transactions are faster (2 seconds) with optional privacy.

According to Uzo Awili, Chief Technology Officer (CTO) at Quidax, "in the last few months, we have seen an increasing number of businesses and individuals use cryptocurrencies to send and receive money from around the world faster and cheaper than ever before. A number of these businesses and individuals used cryptocurrency for the first time this year and continued using it after that."
"Naturally, adding another cryptocurrency that helps our customers perform their transactions faster and with almost zero transaction fees was a no brainer" Uzo stated.

According to a 2020 research by Chainalysis, Nigeria ranked eight out of 154 countries for crypto adoption and usage.

Speaking on this Nathaniel Luz, the Lead of Dash Nigeria mentioned "that in the face of Foreign Exchange (FX) shortage more and more people are turning to cryptocurrencies like Dash as a way to pay their suppliers and partners in other countries, as well as receive remittance. So it's no surprise that Nigeria ranks 8th in the world."
Nigeria is currently experiencing an FX shortage. If it continues, it will become harder for businesses who rely on FX for raw material importation to keep their doors open for business. For these businesses, cryptocurrencies like Dash are becoming an option they are starting to explore.
Dash which was designed to offer financial freedom to everyone enables millions of people across the globe to carry out instant and secure transactions with near-zero fees. With Dash now on Quidax, anyone in Nigeria can buy Dash using their Debit card or via Bank transfer and send it to anyone in any part of the world. Quidax also integrated Dash's InstantSend feature which makes it possible for transactions to be received in a second, an obvious edge over other cryptocurrencies.

Quidax which was one of 10 startups that participated in the Techstars Toronto program this year makes it possible for people to sell their Dash and get instant Naira credit in their Bank account.
About Quidax
Quidax
is an African-focused cryptocurrency exchange that makes it easy for you to buy/sell Dash, Bitcoin, USDT and other cryptocurrencies. Quidax also enables Fintech companies to offer cryptocurrency services to their customers via its
cryptocurrency API.
About Dash
Dash
is the leading decentralized payment solution: it is accepted at merchants globally, accessible via 1,600+ ATMs and 100+ exchanges worldwide. Dash has pioneered groundbreaking features including a two-tier network with incentivized nodes and decentralized
project governance (Masternodes), instantly settled payments (InstantSend), instantly immutable
blockchain (ChainLocks) and more.
The Dash Network's development is supported by Dash Core Group, the largest organization funded by the Dash Treasury, which supports and nurtures the continued worldwide development and integration of Dash.
For more information, visit
https://www.dash.org/ or follow the organization on Twitter @DashPay.
Blockchain and Cryptocurrency Awareness Tour #BCAT2020 Comes to an End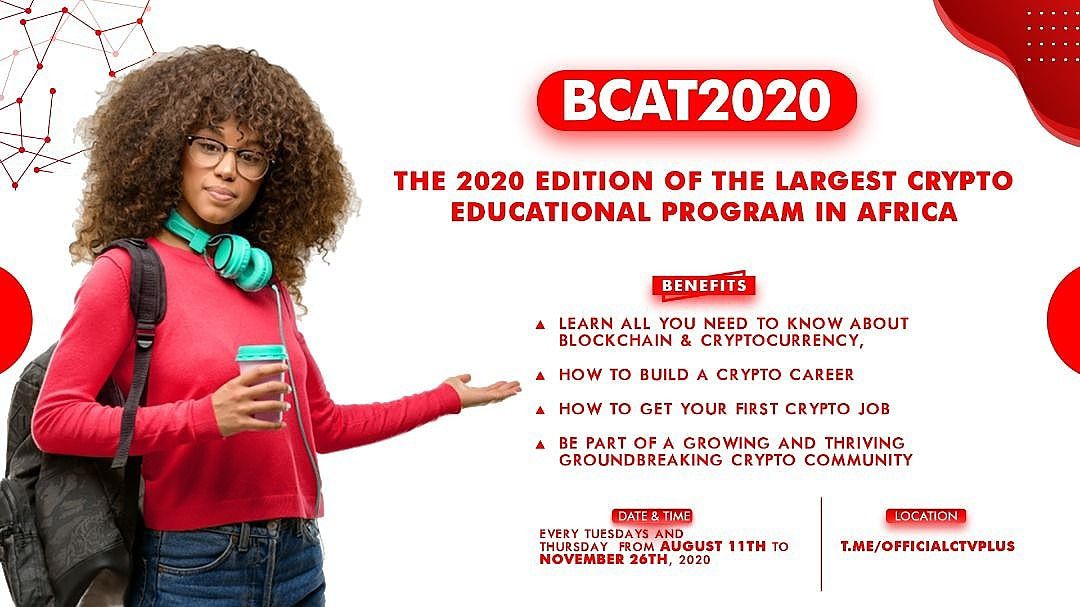 The Blockchain and Cryptocurrency Awareness Tour – #BCAT2020 has come to an end today day, October 20th,  2020.
The BCAT Program is the educational arm of CryptoTvplus and over the past 14 months has spread awareness on cryptocurrency and blockchain technology across the country even with foreigners joining to learn about blockchain and cryptocurrency and how they can plug into the revolution sweeping the world. 
The #BCAT2020 commenced on the 11th of August, 2020 with over 1500 registered participants across the country and grew even more to 2000+ participants. With seasoned and experienced facilitators sharing their deep knowledge and experiences and helping to expose the participants to blockchain and cryptocurrency, we've been able to receive and document testimonies numbering over a hundred. 
The 2020 Edition of BCAT held online on our Telegram Community and also via a Live show broadcasted across our social media platforms. The testimonies continue to warm our hearts. However, we must come to the end of this edition which was scheduled to terminate on the 26th of November, 2020.
What Next? 
As part of our mission in bringing cryptocurrency awareness to millions of people across Africa, BCAT will be restructured or reorganized to sharpen its focus and achieve even yet unprecedented successes. This will done via:
As the nation opens up to more economic activities such that academic institutions are reopened, the Campus BCAT team will continue to visit academic institutions, bringing the awareness to millions of students across the country and the continent.
While the Campus BCAT team will move from school to school just like in 2019, there will be the BCAT Miniseries which will hold once in a while with key focus on important and defining issues in the Blockchain and Cryptocurrency Industry. 
Speaking on the development, CEO of CryptoTvplus, Tony Emeka said:

"The desire to see millions of people learn and understand how the blockchain and cryptocurrency world has continued to be our driving force. We're not deterred in our commitment however, it's imperative we restrategize and push on again but with broader goals and greater impact. The next phases of BCAT will be defining. We enjoin everyone to be expectant. The launch of our BCAT Miniseries will no doubt help to push our education mission"

For every of our facilitators: Miracle Nwokwu, Joseph Tola, Dotun Awosika, Marvelous Akpere, Henry Lucky, Emeka Ezike and Nathaniel Luz, we and on behalf of all participants of #BCAT2020 appreciate you deeply for your experiences, knowledge and hidden truth shared on this year's edition of the Blockchain and Cryptocurrency Awareness Tour – BCAT2020.
We also appreciate the efforts of our volunteers, spreading the word and getting people to participate and learn about Blockchain and Cryptocurrency. 
To all participants of BCAT2020, we say thank you and wish you all the best as we all journey on in the most disruptive of industries. 
About BCAT
The Blockchain and Cryptocurrency Awareness Tour is an educational program by CryptoTvplus to spread awareness on blockchain and cryptocurrency across Nigeria and Africa. It started with its maiden edition in the University of Ibadan in 2019 after which it went across Nigeria to other institutions such as University of Port Harcourt, Obafemi Awolowo University and Covenant University and reached out to up-to 10,000 people. In 2020, owing to the global COVID-19 pandemic, it held online saw the up-to 2000 registered attendees.
Join our telegram Community 
Aurus Disrupts the Gold Industry – Today Its Ecosystem Lists at a Value of $75m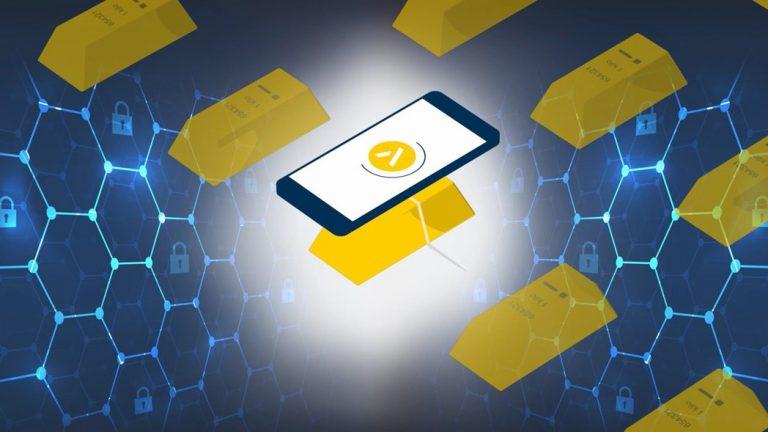 Visit Aurus.io
With the US dollar facing headwinds, notably the coronavirus pandemic and an upcoming presidential election that could be among the most contentious in recent memory, gold has taken over as the preferred store of value for many investors. The price of the yellow metal has soared by more than 30% this year and recently surpassed an all-time high of $2,000 an ounce, as investors once again responded to market volatility by turning to the most trusted and longest-serving safe haven asset.
Accessibility, however, continues to be a problem for gold as an asset class. Adding gold to a portfolio presents well documented logistical challenges, primarily the cost of storage and difficulty of transfer, which can discourage or exclude investors.
Various blockchain-backed projects have attempted to address these obstacles, but many have failed due to their reliance on a centralized process which involved the issuer minting tokens on their own platform. This model created a single point of failure risk because users had to trust the issuer to hold the correct quantity of underlying gold. 
In 2017, Aurus Technologies identified the need for a decentralized solution to this problem. The firm subsequently developed an open-ended blockchain platform which allows various stakeholders in the gold industry to independently mint their own gold-backed tokens, known as AurusGOLD (AWG). Each AWG token is redeemable for one gram of 99.99% gold sourced from LBMA-accredited refineries, held in independent vaults around the world. Direct Bullion was the first broker to participate in the Aurus ecosystem, tokenizing five kilograms in late 2019.
In addition to making ownership of gold more accessible, AWG also functions as a viable currency through the use of the firm's newly launched AurusGOLD Card. It meets the three core criteria of a currency – the tokens allow it to be used as a medium of exchange, and it benefits from gold's function as a store of value and unit of account. An inflation-hedged currency could prove valuable in the coming months and years following the unprecedented fiscal and monetary stimulus launched to offset the economic impact of the pandemic.
The ecosystem's revenue-sharing model encourages gold providers and vaults to mint AurusGOLD tokens, as they earn an equal share of 30% of the revenues generated from the usage of AWG, through its transaction and storage fees. The other 70% of generated revenue is distributed to holders of a secondary token called AurusCOIN (AWX) which presents a unique investment opportunity in the entire Aurus ecosystem.
The Aurus team has a strong track record in the blockchain, commodities and financial sectors. Managing Director Guido van Stijn has held senior positions in commodity brokerages, he sits on the board of a major Latin American NGO and has advised Dutch banks and pension funds about leveraging blockchain technology. The firm has also carefully recruited highly experienced non-executive directors, including a former board member of a regulated gold trader, a former director of the UK's biggest gold refinery and a former CEO of SPDR Gold Shares, provider of the world's largest gold ETF. You can read more about them here.
Investing in the Aurus ecosystem
Returning to the investment opportunity – AurusCOIN (AWX) gives investors a stake in the Aurus ecosystem by delivering a regular revenue stream paid in AWG. Thereby making it one of the first instruments to generate a dividend for gold investors. From the total supply of thirty million AWX tokens, Aurus is now offering institutional and sophisticated investors access to a maximum of five million AWX in an effort to raise $12,500,000. The first tranche of one million AWX is already on sale at a price of $2.50 per token.
Aurus will use the funds to develop and expand the ecosystem. The primary goal is to boost AWG's market capitalization to $10 million and daily traded volume to $300,000 by the end of the first quarter of 2021. The firm also plans to add more gold providers and vaulting partners to further increase the decentralization of the Aurus ecosystem, as well as introducing new distribution channels and other commodity backed tokens.
Aurus is playing a critical role in the democratization of the gold market. AurusGOLD (AWG) gives holders the chance to trade as little as a few cents worth of the precious yellow metal, and it functions as a sustainable and globally viable currency. Investing in AurusCOIN (AWX) not only supports the launch of this new product in one of the world's oldest industries, but it also provides valuable portfolio diversification and a passive revenue stream in the form of gold delivered by an innovative asset class.
For a copy of the Investor Brochure, click here.