Pornhub is Offering a Cloak of Invisibility with Verge (XVG)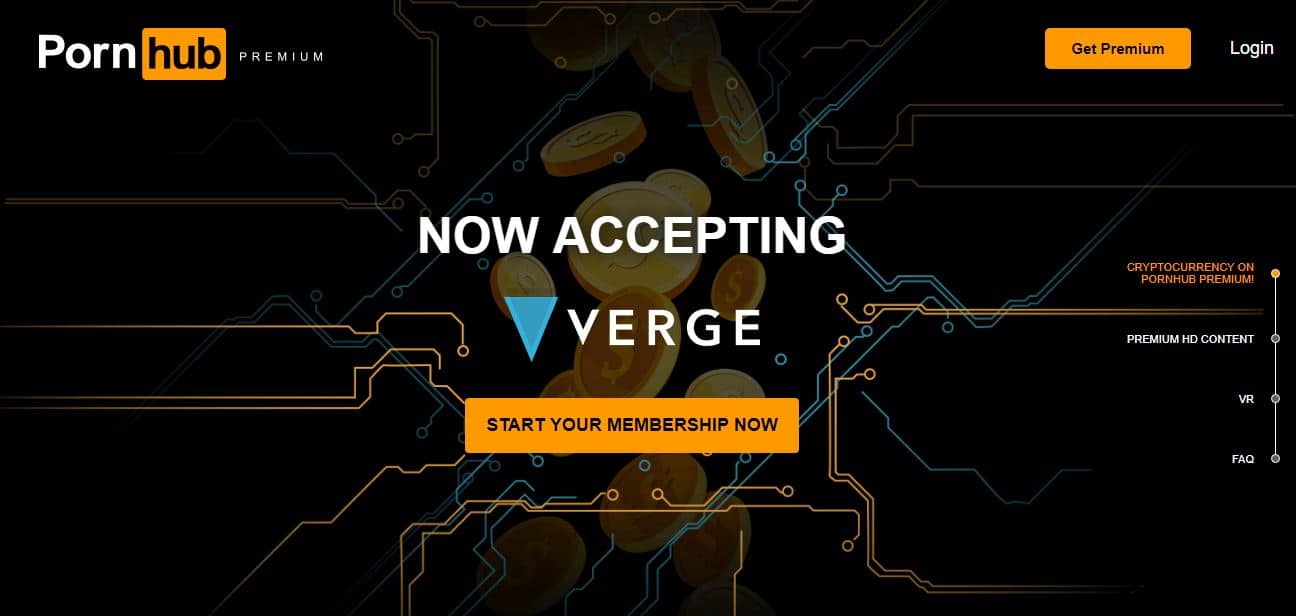 Adult website, Pornhub has spread its wings further and is now accepting cryptocurrency as the biggest porn site in the world partner with Verge (XVG). Although this is not the first time adult sites will be collecting cryptocurrency as a means of payment as Microsoft, Overstock and Expedia are already making use of cryptocurrency. But the merger between Pornhub and Verge means that cryptocurrency is heading towards being a legal tender.
Pornhub is offering its users payments without trails with Verge (XVG). Pornhub has been considering adopting cryptocurrencies for a while because of its convenience and security. VP Corey Price explains "Here at Pornhub, we're all about convenience and security, which makes cryptocurrency an attractive form of payment for us…We've been looking at crypto for quite some time and, while overall adoption is relatively low, we think it has gained enough steam for us to penetrate the market"
On the other hand, Verge is offering a little cloak of invisibility that the traditional legal tender doesn't offer. Verge will be utilizing Tor to hide your IP address, by encrypting your traffic and bouncing it through a chain of computers around the I2P which offer the same broad strokes peer-to-peer routing but have a different practice. Verge users can utilize public or private blockchain transactions since the Wraith Protocol will be employed by Verge.
Matthew Green, an affiliate of Zcash and a cryptographer at Johns Hopkins University states, "Tor and I2P are great. The problem is if you're using the public blockchain, you are leaving tracks that are completely traceable…Even if you connected through Tor, when you eventually cashed those coins in, people could track you." Pornhub and Verge are offering customers a means of stealthily conducting business and covering your tracks to protect yourself.
Considering Verge's past record, when in March, it had its social media accounts hacked and recently it had to hard fork its blockchain after attackers performed a 51 percent attack on its network. But then they have a working product which is why Pornhub is partnering with them, unlike CamSoda which teases a plan to launch own blockchain where customers can exchange nudes for payments.
Will the partnership between verge and pornhub
Nile University has partnered with Cryptography Development Initiative in Nigeria (CDIN)
Abuja based tertiary institution, Nile University has partnered with the Cryptography Development Initiative in Nigeria (CDIN) to help equip students of the University with the necessary tools needed in the current digital age.
The MoU which was signed on the 15th of October, 2019 with the attendance of the Vice Chancellor of the University, Professor. Dr. Osman Nuri Aras and Mr. Adeolu Fadele, the President of CDIN.
Also present were other officials of the institution such as the Deputy Vice Chancellors Professor Steve Adeshina and Professor Nurettin Can. Others from other facilities were also present.
The partnership according to the Vice Chancellor of the University, Prof. Nuri Aras believed will help prepare the students of the University to face the digital world with the necessary tools.
Deputy Vice Chancellor – Admin, Professor Nurettin Can contributing said "the partnership with CDIN will provide the University's students a wonderful opportunity to supplement their theoretical knowledge with valuable practical experience."
President of CDIN Mr. Fadele Adeolu speaking on the partnership said Nile University has shown foresight in partnering with CDIN as not very many academic institutions appreciate the value of skills offered by the initiative.
About CDIN
"The Cryptography Development Initiative in Nigeria is a non-governmental organization and a platform for bringing stakeholders in Nigeria to work on a common interest of addressing gaps in cryptography.
According to its website CDIN envision Nigeria among nations of the world leading advancements in cryptographic innovations and breakthroughs.
It's mission is to create a platform for encouraging the learning and practice of cryptography in Nigeria and collaboration among relevant stakeholders.