Pornhub is Offering a Cloak of Invisibility with Verge (XVG)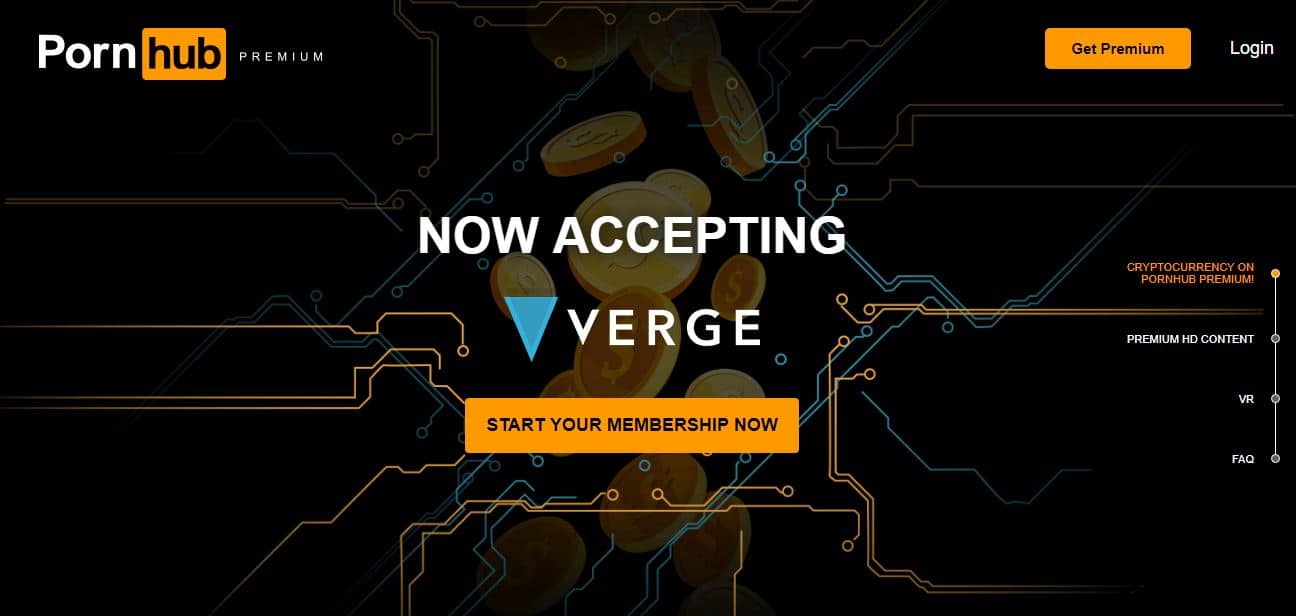 Adult website, Pornhub has spread its wings further and is now accepting cryptocurrency as the biggest porn site in the world partner with Verge (XVG). Although this is not the first time adult sites will be collecting cryptocurrency as a means of payment as Microsoft, Overstock and Expedia are already making use of cryptocurrency. But the merger between Pornhub and Verge means that cryptocurrency is heading towards being a legal tender.
Pornhub is offering its users payments without trails with Verge (XVG). Pornhub has been considering adopting cryptocurrencies for a while because of its convenience and security. VP Corey Price explains "Here at Pornhub, we're all about convenience and security, which makes cryptocurrency an attractive form of payment for us…We've been looking at crypto for quite some time and, while overall adoption is relatively low, we think it has gained enough steam for us to penetrate the market"
On the other hand, Verge is offering a little cloak of invisibility that the traditional legal tender doesn't offer. Verge will be utilizing Tor to hide your IP address, by encrypting your traffic and bouncing it through a chain of computers around the I2P which offer the same broad strokes peer-to-peer routing but have a different practice. Verge users can utilize public or private blockchain transactions since the Wraith Protocol will be employed by Verge.
Matthew Green, an affiliate of Zcash and a cryptographer at Johns Hopkins University states, "Tor and I2P are great. The problem is if you're using the public blockchain, you are leaving tracks that are completely traceable…Even if you connected through Tor, when you eventually cashed those coins in, people could track you." Pornhub and Verge are offering customers a means of stealthily conducting business and covering your tracks to protect yourself.
Considering Verge's past record, when in March, it had its social media accounts hacked and recently it had to hard fork its blockchain after attackers performed a 51 percent attack on its network. But then they have a working product which is why Pornhub is partnering with them, unlike CamSoda which teases a plan to launch own blockchain where customers can exchange nudes for payments.
Will the partnership between verge and pornhub
Japan's LIQUID Exchange Announces Telegram Digital Token Public Sale
Japan's top cryptocurrency exchange Liquid has announced the upcoming Public Sale launch of Telegram digital asset token for the (Telegram Open Network).
As reported by Finance Magnates, this development is made possible by Liquid's recent partnership with Gram Asia, the largest holder of the native token of TON blockchain in Asia. Public Sale for the TON token will commence by 10th of July 8 am UTC and is open to accredited LIQUID Exchange users. Interested participants in the public sale are also expected to have enough funds in their accounts.
Excited Mike Kayamori, co-founder and CEO of Liquid, "We are excited to be partnering with Gram Asia to launch the Gram token sale, which is wonderful news to our community who are native users of Telegram. We share the vision for a more secure and open value transfer system in order to enable the mainstream adoption of cryptocurrencies." said.
It should be noted Telegram organized a private sale in 2017 when it announced plans to launch its own Blockchain and native token via the no longer popular ICO. It raised a total of $1.7 billion via private sale as at March 2018 making it the second largest amount raised through ICO second only to Block.one's EOSIO which still ranks tops after raising over $4 billion.
"The TON Blockchain infrastructure can help enhance Telegram's current capabilities as a peer to peer network of value, with the launch of their cryptocurrency light wallets for Telegram's highly engaged user base," Kayamori continued.
As TON is expected on its own Blockchain, Liquid Exchange will make provision for integration of the TON compatible wallet where investors are expected to receive TON tokens upon the launch of TON Mainnet which is expected to go live by October 2019. As Japan's first FSA licensed global exchange, it assures its users of an unconditional refund should the initial plans not follow through by the TON Team.
"As the first Japan FSA licensed global exchange, Liquid has demonstrated strong governance capabilities for protecting its users; therefore, I firmly believe Liquid is the right partner to launch this historic token sale. We are excited to invite all believers in Telegram's vision, globally and in Asia, to build on top of TON, leveraging the critical mass of Telegram's user base." Dongbeom Kim, founder and CEO of Gram Asia, said.