SIBAN Is Sanitizing Nigeria's Blockchain And Cryptocurrency Space

Concerned about the rate at which scam, unsafe, or high-risk Blockchain and cryptocurrency projects are springing up in Nigeria, Stakeholders in Blockchain Technology Association of Nigeria (SiBAN)—Nigeria's Blockchain association—has inaugurated a Complaints, Inquiry & Disciplinary (CID) Committee. This decision was made based on one of the recommendations of SiBAN's Ad Hoc Committee which was recently set up and instructed to make an inquiry into AfroDex, a Blockchain and cryptocurrency platform founded in Nigeria. On 13 February 2019, the Ad Hoc Committee submitted an 11-page report, including recommendations, to SiBAN's Caretaker Committee. The Ad Hoc Committee's thoroughness—noticeable from parts of the report made public by SiBAN on Thursday 14 February 2019—was received with refreshing hope by members of the community.
Could SiBAN be the body Nigeria needs to sanitize the increasingly toxic space from the inside? The manner in which SiBAN's Ad Hoc Committee has addressed the complaint raised against AfroDex beams hope. If Nigeria's Blockchain and cryptocurrency community can be sanitized, it will significantly boost investor confidence and consumer protection. Nigeria needs this to maximize the immense potentials of the Blockchain. Scammers must be booted out.
Though the Ad Hoc Committee report confirmed that AfroDex was not a scam project, it pointed out that it was a "challenged project". Until its fundamentals were fixed, it would not enjoy support from SiBAN, recommended the Ad Hoc Committee.
Ten recommendations were made to AfroDex for implementation. As published in the Ad Hoc Committee's report, these recommendations, are:
"Whitepaper: To ensure consumer protection, AfroDex develops and publishes its whitepaper before raising funds from investors in whatever guise;
Business Model: To operate a business structure that is formidable enough to sustain AfroDex's promises to the public, AfroDex secures a Business Model which demonstrates knowledge of the market, technology, SWOT analysis, and proven ways of winning its niche;
Tokenomics: To protect AfroDex against avoidable risks and any negative perception or misgivings which may create doubts about the authenticity of the project, AfroDex reduces its token supply from the current quadrillion to a reasonable value proportionate and consistent with a solid tokenomics towards efficient management of demand and supply;
Proof of Concept: For the purpose of building its structure on a solid foundation, AfroDex revisits and restrategizes its proof of concept;
Focus: To protect AfroDex and its users against avoidable business and legal risks, AfroDex focuses on creating an acceptable MVP and not sales at this stage as selling tokens or any resemblance of it to the members of the public for exchange with their ETH or other cryptocurrency endangers the project;
Minimum Viable Product (MVP): To have a formidable business that can attract the right local and international investors and also boost public confidence in the project, AfroDex reworks its MVP as its current MVP is not a good entry point for a project that markets itself as innovative and disruptive;
Team: AfroDex make public its team profile via its website and whitepaper;
AML/KYC: AfroDex implements adequate KYC/AML into its plan and website;
Roadmap: AfroDex make available its roadmap on its website and whitepaper stating timelines and milestones; and
Business Registration: AfroDex registers its business or provide evidence that its business is registered, if this is the case."
Seeing that SiBAN's Ad Hoc Committee was not out to destroy its project but significantly de-risk it, AfroDex founder and president Mr. Adam accepted to implement the recommendations immediately, except the recommendation touching its quadrillion token supply. In fact, Mr. Adam had "already started work on most of the recommendations" by stopping self-drop sales, aborting its smart contract; informing its community that sales have been paused; and putting its uncompleted website on maintenance mode. Regarding AfroDex's quadrillion token supply, he promised to deliberate on the matter with his team and get back to the Committee with the team's decision. The Committee assured Mr. Adam that it would be watching closely and should AfroDex need help, it should reach out to SiBAN.
This is very laudable from SiBAN, genuinely showing interest in ensuring consumer protection and boosting investor confidence in Nigeria's cryptocurrency space, thereby reducing scams and minimizing risks. Bodies such as SiBAN deserve the support they need to self-regulate a space that is probably more "decentralized" than any decentralized ledger technology invented by man.
SiBAN has demonstrated that is not necessarily out to destroy projects but help de-risk them to boost consumer protection and investor confidence in blockchain and cryptocurrency projects. But when projects are found to be scam projects, they will be called out. This is indeed a welcome development and worthy of support. We hope that this self-regulatory initiative by SiBAN is sustained.
Towards having sustainable projects in Nigeria's Blockchain and cryptocurrency space, instructive are the closing words in the AfroDex report, "Regardless of the founder's good intentions, vision, mission, and ideas, a project without effective execution is a risk not only to investors and members of the public but also to itself. AfroDex should immediately implement the Subcommittee's recommendations. A stitch in time saves nine."
Disclaimer:
The Information provided on the website is designed to provide helpful information regarding cryptocurrency subjects. The content is not meant to be used, nor should it be used as a basis, foundational knowledge or prerequisite for decision making regards trading. Always do your own research and due diligence before placing a trade. We are not liable for any outcome based on any content found on the site.
Blockchain and Cryptocurrency Awareness Tour #BCAT2020 Comes to an End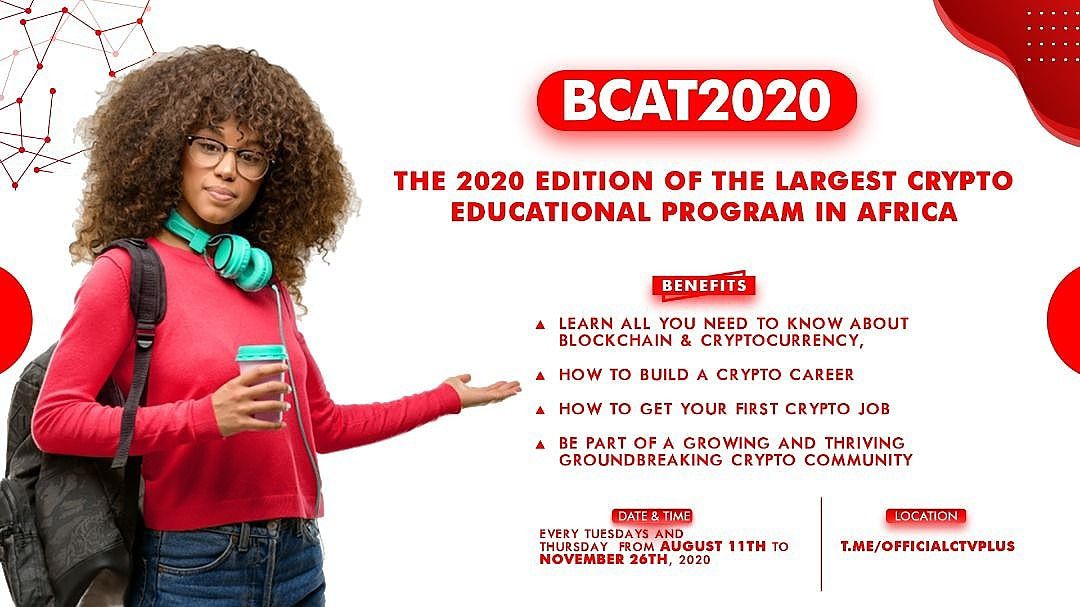 The Blockchain and Cryptocurrency Awareness Tour – #BCAT2020 has come to an end today day, October 20th,  2020.
The BCAT Program is the educational arm of CryptoTvplus and over the past 14 months has spread awareness on cryptocurrency and blockchain technology across the country even with foreigners joining to learn about blockchain and cryptocurrency and how they can plug into the revolution sweeping the world. 
The #BCAT2020 commenced on the 11th of August, 2020 with over 1500 registered participants across the country and grew even more to 2000+ participants. With seasoned and experienced facilitators sharing their deep knowledge and experiences and helping to expose the participants to blockchain and cryptocurrency, we've been able to receive and document testimonies numbering over a hundred. 
The 2020 Edition of BCAT held online on our Telegram Community and also via a Live show broadcasted across our social media platforms. The testimonies continue to warm our hearts. However, we must come to the end of this edition which was scheduled to terminate on the 26th of November, 2020.
What Next? 
As part of our mission in bringing cryptocurrency awareness to millions of people across Africa, BCAT will be restructured or reorganized to sharpen its focus and achieve even yet unprecedented successes. This will done via:
As the nation opens up to more economic activities such that academic institutions are reopened, the Campus BCAT team will continue to visit academic institutions, bringing the awareness to millions of students across the country and the continent.
While the Campus BCAT team will move from school to school just like in 2019, there will be the BCAT Miniseries which will hold once in a while with key focus on important and defining issues in the Blockchain and Cryptocurrency Industry. 
Speaking on the development, CEO of CryptoTvplus, Tony Emeka said:

"The desire to see millions of people learn and understand how the blockchain and cryptocurrency world has continued to be our driving force. We're not deterred in our commitment however, it's imperative we restrategize and push on again but with broader goals and greater impact. The next phases of BCAT will be defining. We enjoin everyone to be expectant. The launch of our BCAT Miniseries will no doubt help to push our education mission"

For every of our facilitators: Miracle Nwokwu, Joseph Tola, Dotun Awosika, Marvelous Akpere, Henry Lucky, Emeka Ezike and Nathaniel Luz, we and on behalf of all participants of #BCAT2020 appreciate you deeply for your experiences, knowledge and hidden truth shared on this year's edition of the Blockchain and Cryptocurrency Awareness Tour – BCAT2020.
We also appreciate the efforts of our volunteers, spreading the word and getting people to participate and learn about Blockchain and Cryptocurrency. 
To all participants of BCAT2020, we say thank you and wish you all the best as we all journey on in the most disruptive of industries. 
About BCAT
The Blockchain and Cryptocurrency Awareness Tour is an educational program by CryptoTvplus to spread awareness on blockchain and cryptocurrency across Nigeria and Africa. It started with its maiden edition in the University of Ibadan in 2019 after which it went across Nigeria to other institutions such as University of Port Harcourt, Obafemi Awolowo University and Covenant University and reached out to up-to 10,000 people. In 2020, owing to the global COVID-19 pandemic, it held online saw the up-to 2000 registered attendees.
Join our telegram Community 
Aurus Disrupts the Gold Industry – Today Its Ecosystem Lists at a Value of $75m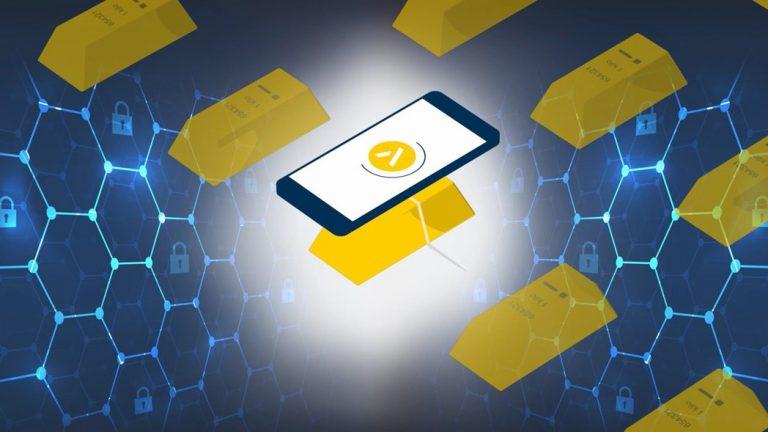 Visit Aurus.io
With the US dollar facing headwinds, notably the coronavirus pandemic and an upcoming presidential election that could be among the most contentious in recent memory, gold has taken over as the preferred store of value for many investors. The price of the yellow metal has soared by more than 30% this year and recently surpassed an all-time high of $2,000 an ounce, as investors once again responded to market volatility by turning to the most trusted and longest-serving safe haven asset.
Accessibility, however, continues to be a problem for gold as an asset class. Adding gold to a portfolio presents well documented logistical challenges, primarily the cost of storage and difficulty of transfer, which can discourage or exclude investors.
Various blockchain-backed projects have attempted to address these obstacles, but many have failed due to their reliance on a centralized process which involved the issuer minting tokens on their own platform. This model created a single point of failure risk because users had to trust the issuer to hold the correct quantity of underlying gold. 
In 2017, Aurus Technologies identified the need for a decentralized solution to this problem. The firm subsequently developed an open-ended blockchain platform which allows various stakeholders in the gold industry to independently mint their own gold-backed tokens, known as AurusGOLD (AWG). Each AWG token is redeemable for one gram of 99.99% gold sourced from LBMA-accredited refineries, held in independent vaults around the world. Direct Bullion was the first broker to participate in the Aurus ecosystem, tokenizing five kilograms in late 2019.
In addition to making ownership of gold more accessible, AWG also functions as a viable currency through the use of the firm's newly launched AurusGOLD Card. It meets the three core criteria of a currency – the tokens allow it to be used as a medium of exchange, and it benefits from gold's function as a store of value and unit of account. An inflation-hedged currency could prove valuable in the coming months and years following the unprecedented fiscal and monetary stimulus launched to offset the economic impact of the pandemic.
The ecosystem's revenue-sharing model encourages gold providers and vaults to mint AurusGOLD tokens, as they earn an equal share of 30% of the revenues generated from the usage of AWG, through its transaction and storage fees. The other 70% of generated revenue is distributed to holders of a secondary token called AurusCOIN (AWX) which presents a unique investment opportunity in the entire Aurus ecosystem.
The Aurus team has a strong track record in the blockchain, commodities and financial sectors. Managing Director Guido van Stijn has held senior positions in commodity brokerages, he sits on the board of a major Latin American NGO and has advised Dutch banks and pension funds about leveraging blockchain technology. The firm has also carefully recruited highly experienced non-executive directors, including a former board member of a regulated gold trader, a former director of the UK's biggest gold refinery and a former CEO of SPDR Gold Shares, provider of the world's largest gold ETF. You can read more about them here.
Investing in the Aurus ecosystem
Returning to the investment opportunity – AurusCOIN (AWX) gives investors a stake in the Aurus ecosystem by delivering a regular revenue stream paid in AWG. Thereby making it one of the first instruments to generate a dividend for gold investors. From the total supply of thirty million AWX tokens, Aurus is now offering institutional and sophisticated investors access to a maximum of five million AWX in an effort to raise $12,500,000. The first tranche of one million AWX is already on sale at a price of $2.50 per token.
Aurus will use the funds to develop and expand the ecosystem. The primary goal is to boost AWG's market capitalization to $10 million and daily traded volume to $300,000 by the end of the first quarter of 2021. The firm also plans to add more gold providers and vaulting partners to further increase the decentralization of the Aurus ecosystem, as well as introducing new distribution channels and other commodity backed tokens.
Aurus is playing a critical role in the democratization of the gold market. AurusGOLD (AWG) gives holders the chance to trade as little as a few cents worth of the precious yellow metal, and it functions as a sustainable and globally viable currency. Investing in AurusCOIN (AWX) not only supports the launch of this new product in one of the world's oldest industries, but it also provides valuable portfolio diversification and a passive revenue stream in the form of gold delivered by an innovative asset class.
For a copy of the Investor Brochure, click here.
PLAAS Appoints Emmanuel Adams As The New CEO
PLAAS Farmers' Chain, a Botswana based agri-tech blockchain technology company announced onboarding Emmanuel Adams as its new CEO along with launch of its new DeFI project pFARM governance platform.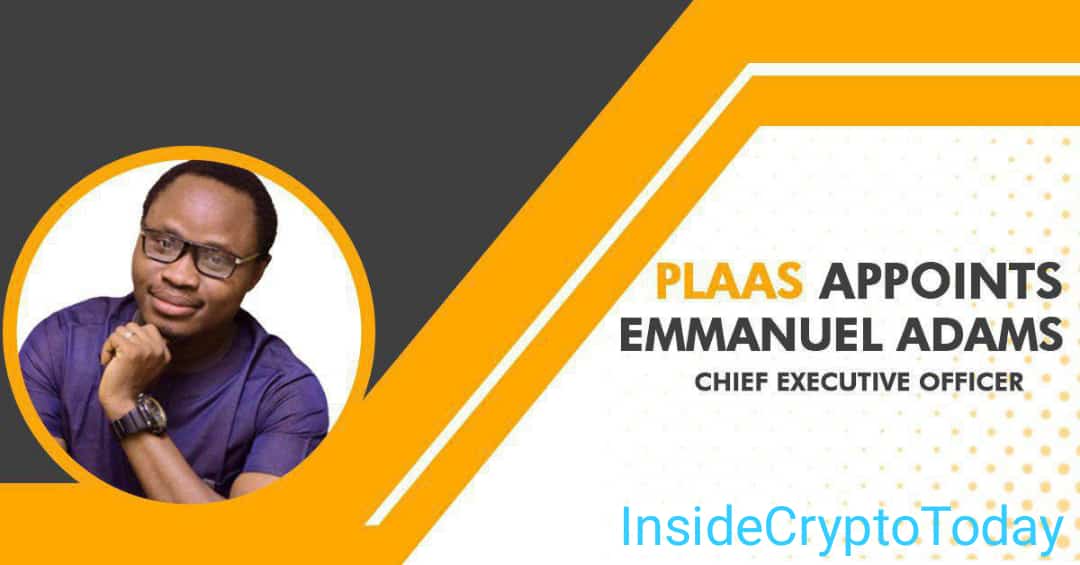 PLAAS Farmers' Chain, a leading agricultural tech blockchain company based in Africa, announced appointing Emmanuel Adams as the new Chief Executive Officer effective September 2020. Emmanuel Adams succeeds the founder and the current CEO Alakanani Itireleng as she relinquishes her present role to continue focusing on Bitcoin development in the region.
PLAAS also announced launching a state of the art DeFi project pFARM, which brings in an efficient governance platform that the various pFARM stakeholders and the PLAAS locked holders can use to vote on the proposals PLAAS platform. pFARM helps in streamlining the farming processes offering a high level of operational efficiency across the channels.
Emmanuel Adams, The New CEO Is An Industry Stalwart
Emmanuel Adams is a highly acclaimed and well-acknowledged name in agritech Blockchain, wherein he has played a pivotal role in consulting and mentoring several startups in the region. His extensive industry experience and
He joined PLAAS farmers' Chain in November 2018 as the Strategic Advisor and has since then served the company in several roles. Most recently, he held the position of Head of Partnerships and Integrations before rising to the role of CEO. Before joining PLAAS, he has worked with numerous startups and companies in Bitcoin and cryptocurrencies. He is also the founder and president of AfroDex Labs, a leading blockchain company in AFRICA. Based out in Nigeria, he is an ardent fan of technology, Blockchain, entrepreneurship and writing. Emmanuel Adams has coached several startups and serves as an advisor at the Refine Medium; he has also been part of the Lead Advisory Board for the TITAproject.io.
The New CEO Thanked God For The Opportunity
He took to his LinkedIn account to thank God for giving him the opportunity to serve as the CEO of Africa's most prominent agriculture technology blockchain firm. Further, he asked his contacts to share the ideas and what they expect from the firm in the future.
New DeFi Project pFARM for Higher Efficiency
The Decentralized Financing platforms help create a more accessible and permissionless system in which every stakeholder can easily interact with the system without the need for any middleman or agencies. PLAAS brings in the DeFi project pFarm, which creates a powerful and power platform for the agri-tech and boosts its significance in the market.
New Chapter for PLAAS
With the incoming CEO having extensive experience in the field and introduction of a new DeFI pFARM platform the company is aiming to diversify and expand its reach in the agritech.
About PLAAS,, A Front Runner In Blockchain in Agritech
PLAAS is Botswana, Africa based startup in the agriculture technology prudently developed the first of its kind blockchain-backed platform which helps the farmers across the continent to manage their farming operations and streamlines its processes efficiently. With its state of the art solution, PLAAS enables the farmers and the various co-operative agencies to easily manage and control their productions and stocks on a new age blockchain system.