Indians to Purchase Crypto on Binance with fiat as it Acquires WazirX Crypto Exchange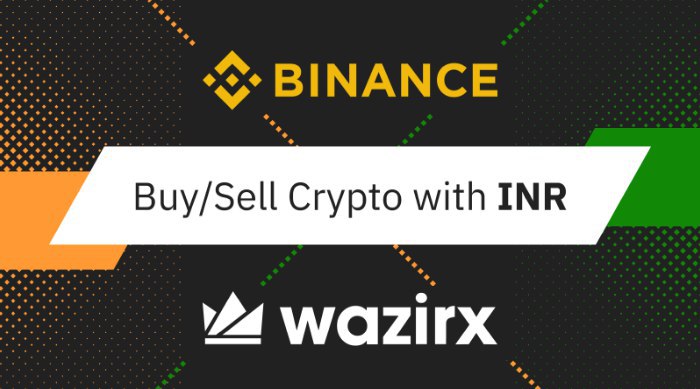 Indian to easily purchase cryptocurrencies using Rupees (INR) as local cryptocurrency exchange WazirX has been acquired by Binance.
The acquisition will allow users in one of the most populous countries on the planet to purchase cryptocurrencies using their fiat currency through the Binance Fiat Gateway starting from the 25th of November, 2019.
According to the Press Release issued by Binance, starting from Q1 of 2020, the auto-matching engine of WazirX will be integrated into the Binance fiat Gateway platform thus giving easy access to over a billion Indians to purchase cryptocurrency with their local fiat currency.
WazirX was launched in 2018 and featuring a unique auto-matching engine that enables users concert crypto to fiat and vice-versa. It has grown considerably recording over 200,000 mobile app downloads and having a distribution of its token, the WRX in possession of over 60,000 holders
Speaking on the acquisition, CEO of Binance, CZ, said "The young demographic in India give an edge to adopt and build on new financial technologies, and I believe this will play a vital role in making India a global blockchain innovation center to also spur cryptocurrency adoption throughout the larger public in the country,"
He went further saying, "The acquisition of WazirX shows our commitment and dedication to the Indian people and strengthen the blockchain ecosystem in India as well as another step forward in achieving the freedom of money."
The integration of WazirX will allow Indians to purchase USDT from WazirX digital asset marketplace and trade on Binance.com.
Nischal Shetty, WazirX CEO commenting said, "The next phase of mass adoption for Crypto will arise from developing nations around the world. India with more than a billion people is primed for massive crypto adoption and this acquisition by Binance gives us the opportunity to not only cater to India but every developing nation where fiat on-ramps have to be built. The acquisition is yet another step towards achieving our shared mission with Binance of decentralizing the world,"
According to Binance, the acquisition and integration of WazirX is part of its plan to provide easy access and options to people to purchase cryptocurrency with fiat currency in a fast and secure manner.
Binance has continued to grow globally as it onboards partners and acquires firms thus strengthening its position as a leading figure in the global cryptocurrency business.
Image: Binance
Binance Acquires Decentralized Application Platform DAppReview
Binance, a global blockchain ecosystem has acquired decentralising applications platform dAppReview. DappReview is the leading information and analytics platform for decentralized applications.
Binance through the acquisition of DappReview will support DappReview to further develop the dapps ecosystem and foster greater blockchain adoption.
Founded in February 2018, DappReview has become a platform for decentralized applications exploration and guidance with over 300,000 active users monthly spread across 9 dozen countries. Over its short time since inception, it has become the platform of choice for Dapp developers helping them to introduce their dapps to its global userbase.
According to Binance, DappReview will maintain its independence in technical development and operation, and Binance will offer support in non-technical fields including marketing and business development. DappReview will release a new suite of products in Q1 of 2020.
Speaking on the acquisition, Binance CFO Wei Zhou was quoted saying "On-chain applications are still the missing piece for mass blockchain adoption. The DappReview team has shown its commitment to dapps and strong execution in building a leading global dapps platform within a year of establishment. Binance and DappReview share a mutual goal of driving blockchain applications,"
The acquisition is part of Binance's consistent efforts in building a robust global blockchain ecosystem. This isn't the first acquisition in recent time. Less than a month ago, Binance in November acquired India based cryptocurrency exchange platform WazirX.
The acquisition of DappReview according to Wei Zhou , " marks a significant step into the dapps ecosystem, and we will have more exciting developments in the near future."
"The mission of DappReview is to build a vibrant dapps ecosystem and boost mass adoption of blockchain. Apart from dapps analytics services, we also provide full packages of support for dapps developers from fund-raising, product development to marketing and promotion," said Vincent Niu, Founder and CEO of DappReview.
The acquisition according to DappReview will empower it with more resources to accelerate its business growth while it aims to partner with more blockchain protocols and developers on dapp data integration, and push for the adoption of decentralized applications on a global scale.
Image: Binance